Ben started his sailing career at MHYC, age 4. In a special category of Tackers classes for the very young. It was all about having fun, forming relationships, as well as learning the basis of sailing.
Ben progressed through our club's Discover Sailing Tackers programs. He joined the Opti Squad at age 9 and is now competing at the top level of the Open Fleet. Last year he raced in a number of local and interstate regattas and was placed:
8th in the Australian at the Opti Nationals (230+ entries)

A member of MHYC's first Open Opti Teams Racing Squad. The team of 4 won the NSW Teams Racing Championships, now proudly displayed in the Youth Sailing Office.

Overall second in the U15 SailGP Inspire Sydney 2020 on a RS Cat14. They achieved 3 bullets, but we narrowly beaten by one point.

Ben was selected for the Australian Optimist Sailing Team in Tallinn Estonia in June 2020 – but we all know what happened to that.
Like many of our top sailors, Ben was planning to compete in a number of regattas around Australia and overseas this year, sadly we know that is not going to happen for a while. In the meantime he is being coached by Rob Brewer and will enter all available regattas. His parents, Carl and Bettina follow him with a great interest and are keen volunteers with our youth sailing program.
We have watched Ben grow into a remarkable young adult. Recently elected as Youth Sailing Captain of MHYC, he has been a great ambassador for our club, speaking at functions and writing reports. Ben is inspired to share his knowledge, experience, and excitement of sailing to help build our youth sailing.
There have been many disappointments for all of us this year, especially for Ben. As a member of the Scots College Scottish Band, Ben was supposed to perform at the Edinburgh Tattoo this year. He is a very talented drummer in this school band.
We hope this award will help his with his Opti and coaching expenses and perhaps in the future, his racing program.

About the FLYAS
FLYAS, formerly the Frank Likely Trust has now been incorporated into the MHYC Foundation, however its aims are still the same.
Frank Likely was a pioneer and driving force behind MHYC's junior sailing and safety programs. Although Frank is no longer with us, his spirit is still alive in the form of the FLYAS. The original Trust was formed by sailing and army mates from the war to:
To perpetuate the memory of Frank Likely in view of his many years of outstanding voluntary service to yachting and Middle Harbour Yacht Club.

To assist Middle Harbour Yacht Club members and young sailors selected at the discretion of the Committee to compete in yacht and dinghy racing.

To make awards to outstanding persons who have contributed valuable services to the Middle Harbour Yacht Club and Australian Yachting in the Frank Likely Spirit.
The award has been granted to a wide variety of recipients from supporting young sailing learning to sail, those who want to enter in ocean racing and to those that needed support in higher level competitions. In recent years it has also provided run Fundraisers to support our Youth Sailing Program.
Read more: MHYC Youth Club Captain Ben Crafoord Recipient of FLYAS Award
Why did you join Middle Harbour Yacht Club?
I was looking for a sailing club in Sydney and my wife eventually found MHYC through Google. On the last Thursday night of the 2019 Twilight, I turned up at the club. The club was buzzing and everyone seem to be having such a great time. Despite being terribly busy, both or Sailing Administrator (Catherine Rolfe) and Membership Manager (Christine Roberts) were able to spend time with me to explain the sailing and membership at the club. I joined that night.
Tell us a little about yourself and how you got into sailing.
My father Goran was active on the Finn circuit in Finland on a National and International level pre the 1980 summer Olympics. He just missed out on the Olympic Squad selection (he has a good story on this) that year. After this, he competed in STAR boats and Offshore racing in the Baltic Sea in Swan boats (38 and 40 feet).
I started sailing in Finland when I was about 7, however when we moved to Switzerland as a family and I traded sailing in for skiing.
Dad interrupted his competitive sailing largely due to us kids. He coached us in both dinghy and yacht sailing. Myself, my siblings, and many of our friends crewed for him on cruising holidays in the Mediterranean, Aegean, and Adriatic seas. It should be noted that he did not just like to go cruising, but was very keen to get us to trim the boat properly to go faster.
I studied medicine at Guy's and St Thomas Hospital in London and then worked both in Switzerland and Australia as a resident. We moved to live in Australia permanently in 2014. I had wanted to get back into sailing but as a medical registrar, could only sail casually due to work commitments on weekends.
My wife Mimi loves cruising and my kids love the boat. My eldest son Max is 5 and at the moment is happy just messing about on our boat and on the beach. I do no want to push him too soon, but we are hoping that in the future in getting into the club's Youth Sailing program and learn to sail on the club's Optis.
Why did you buy Stella Polaris?
I started becoming a burnt out working as a physician full time, so decided that it would be great to buy a yacht to sail casually around Sydney Harbour. I had not anticipated going into yacht racing.
We found Stella Polaris (formally known as Luna Sea) at Drummoyne. When I looked at her, she was definitely a racing boat and I thought it would be a crime not to race her.
We only subsequently found out about her illustrious career. She was originally the famous yacht AFR Midnight Rambler who won the disastrous 1998 Hobart race. The fleet was hit by the unexpected "weather bomb" off the coast of Australia. Instead of trying to manoeuvre around the storm AFR Midnight Rambler chose to head directly into its path. After battling mountainous waves and hurricane force winds, the diminutive 35-foot boat arrived safely in Tasmania. The crew was awarded the coveted race trophy, the Tattersall's Cup. She was the smallest boat in 10 years to win this iconic race.
I was also successful in roping my dad Goran into sailing the boat. I am in charge of most everything when tied up, however he is the skipper in charge once we hit the water.
This is your first boat and as boat owners know there is a steep learning curve. How is the support from the club been?
Although she was well looked after she was showing her age and we found out she needed a bit of work. There was some delamination in the hull and the deck needed repainting. We also modified her slightly to be a bit more comfortable for family cruising and even put in a fridge!
I was not that experienced working on boats, but have had some great advice from fellow members in the club.
Mitch White at the time was doing up his own boat, Plum Crazy and offered some great advice. He and our rigger Dion Hart also helped redo the rig. With a bit of advice from them and Billy Sykes (North Sails) we have simplified the rig and moved the jib setup.
There has been a huge support network from the club and some interesting positive constructive input from several members including Matt Pyne, Phil, David and the rest of the racing committee. I cannot recommend the club high enough. Even dad (who has been involved with a number of clubs across the world) said, it is rare to encounter a club like this.
We are nearly ready to rock and roll.
What are your current and future plans for the boat?
We have been sailing in some of the MHYC Winter Sprints and Pursuit races with mixed results.
At the moment we are building up the crew. The boat is doing well in the upwind legs, but we need more spinnaker work practise downwind. What we win in the beats, we lose in the downwind legs. In Pursuit races particularly, we have made a few spinnaker mistakes and sometimes have trouble recovering, but we are working on that.
In summer we are looking to do the MHYC Inshore and Short Ocean Race Pointscore races. Then, after we build up a more experienced crew, the following season we would like to get more into ocean racing – maybe also competing in the Ocean and eventually some of the Bluewater races.
Are you looking for crew? If so what sort of people are you looking for and in what positions?
Our current core race team is quite a a rooky team, but all are very excited and what we lack in skill, we make up in enthusiasm. At the moment, we are not assigning permanent roles. People move positions each week to build up their skills which enables them to feel more comfortable on the boat.
Catherine Rolfe and Vice Commodore Geoff Charters who introduced me to Deborah Dalziel (MySail) have all been a great help with finding crew. Bob Cox from Nine Dragons also came out for one race to provide advice on how to get the boat running.
We are not looking for crew who just want to sail casually. What we are looking for is people who want to commit more permanently and be part of our team. Once this core team is established, we will train to become ocean race ready and even to go to sail her in the Hobart once again.
What is on your Bucket list to do/achieve in sailing?
Ultimate aim to is to race her on the Sydney to Hobart Yacht race with a good regular ocean crew, unless Gosford to Lord Howe restarts!
Read more: Q&A with new member Sebastian Hultin (Stella Polaris)
PRIZE DRAWN AT THE CHRISTMAS CUP - DECEMBER 12, 2020
To win, be the skipper who's crew can raise the most money for sandpiper's replacement.
ASK YOUR CREW TO DONATE AT:
https://asf.org.au/projects/middle-harbour-yacht-club/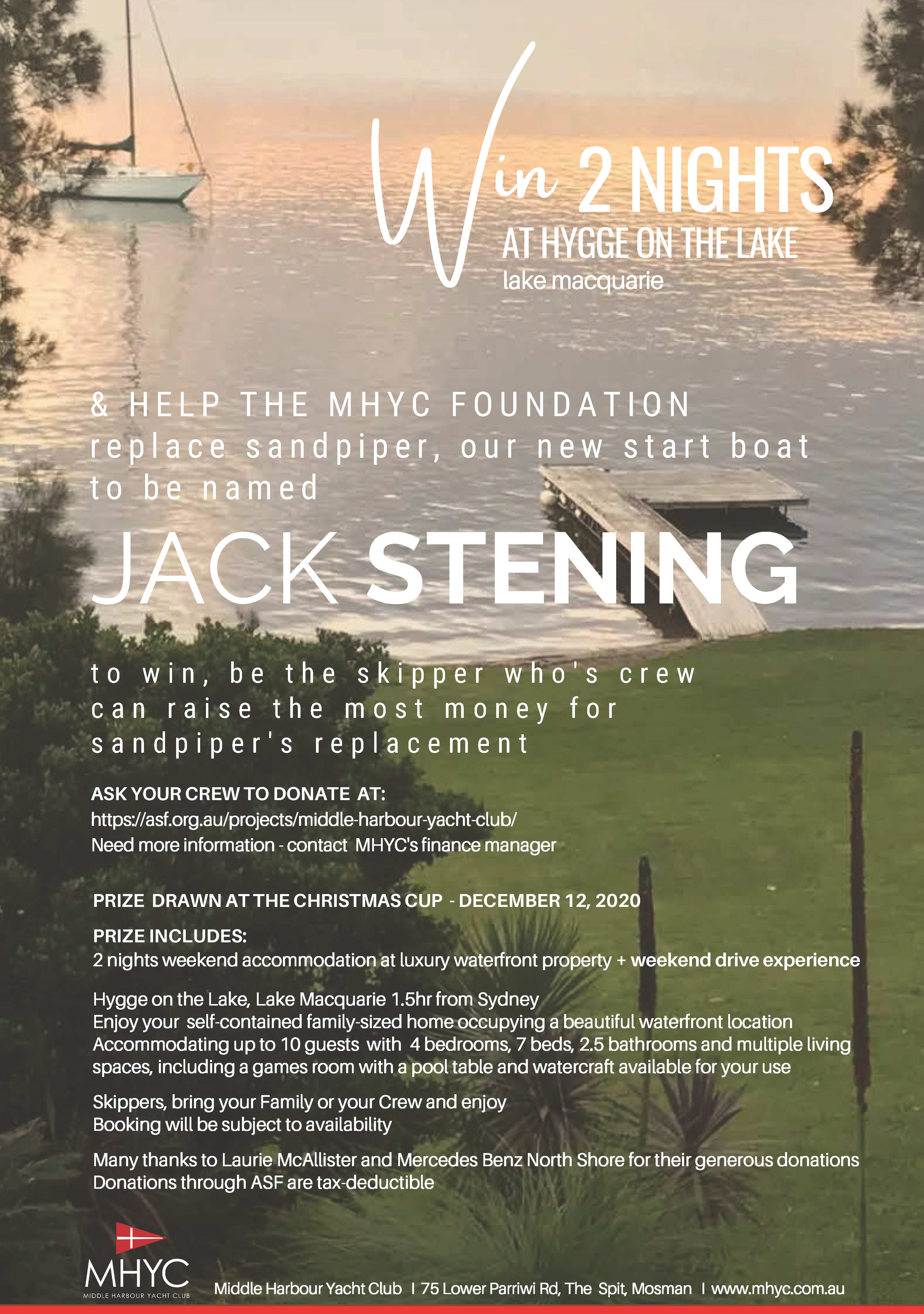 Read more: Raise Money for MHYC's New Start Boat and Win a Weekend Away
The final day of the MHYC Centreboard Spring Regatta saw light to moderate breezes from a variety of directions today. Racing initially got underway near Dobroyd Head in a gentle northerly but the breeze soon faded. Race Officer Steve Tucker reset the course in Balmoral in a building westerly which topped 15 knots at times in the final race. Despite being limited to sailors from Zone A, twenty two young sailors were on the water today.
In Division 3 (Optimists), Isaac Freeman posted 1-1-2 to come back from third overall after the first race day a forthight ago to claim a single point victory in the regatta. Second was Jacob Marks, three points ahead of Ben Crafoord. Sergey Phillips claimed the Opti Intermediate division win. Zoe Dransfield & Madeleine McLeay won both the 29er races today to post a perfect scorecard and claim a comfortable win in the series. Second overall were Sam and Hugh Stodart, with Jamie Stodart and Ed Coates third.
To view the results – click here
To visit the event page – click here
Many thanks to the race management and parent volunteers, and to Marg Fraser-Martin for the photos.
Read more: Isaac Freeman wins the Spring Centreboard Regatta
The Commodore's Front Up! Cup gets the 2020-2021 sailing season underway this Saturday starting at 1230.
For Sailing Instructions click here
For Online Entry click here
Read more: Commodore's Front Up Cup this Saturday 5th September
Subcategories
Events

Aloha..... Come and join us for our next twilight sailing adventure - Blue Hawaii

Thursday 18th February, 2021

Sailing

Sailing Index