Middle Harbour Yacht Club operates a local tender service for the convenience of it's full/senior members during sailing days and on weekends. The Tender Service is available to boats owned by full MHYC members kept on Club and some non-Club moorings in the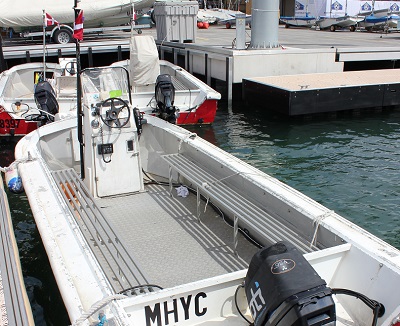 area of Middle Harbour from Clontarf Beach to the Spit Bridge and in the upper Middle Harbour area from the Spit Bridge to Pearl Bay by D'Albora marina.
Tender Service to boats on MHYC Moorings is included in permanent Mooring Fees.
Tender Service hours
| | | |
| --- | --- | --- |
| Day | Normal Hours | Daylight Savings |
| Monday | 9.00 - 16.50 | 9.00 - 16.50 |
| Tuesday | 9.00 - 16.50 | 9.00 - 16.50 |
| Wednesday | 9.00 - 16.50 | 9.00 - 16.50 |
| Thursday | 9.00 - 16.50 | 9.00 - 20.50 |
| Friday | 9.00 - 16.50 | 9.00 - 16.50 |
| Saturday | 9.00 - 16.50 | 9.00 - 16.50 |
| Sunday | 9.00 - 16.50 | 9.00 - 16.50 |
No service will be available on Christmas Day
Conditions of Use
For the convenience of Members and their guests a list of boats subscribed to the Tender Service may be posted on the Club's notice board. Tender operators are not authorised to operate to yachts who have not registered and paid for tender service.
Tender service hours are published above and on the Club's notice board and the club Newsletter and vary according to seasonal demand and the Clubs Racing Program. Members requiring the tender service midweek are advised that there may be a 30 minute delay in service.
Owners are requested to assist the operator by observing a maximum load of 6 passengers and ensure that all passengers remain seated until tender has safely docked. In the event of bad weather this number may be reduced or tender service may be suspended.
Members are asked to only contact the Tender Service when they are ready to disembark their vessel.
In cases of emergency, the MHYC Tenders are not equiped to tow vessels. Members are advised to drop anchor and contact the Rescue Aurthorities (refer to MHYC Sailing Handbook, Safety and Emergency Plan for Competitors).
Pearl Bay Service
Tender service to Pearl Bay and West of the Spit Bridge operates 30 minutes prior to Bridge Opening, on demand. Please contact MHYC prior, to confirm pickup. During peak load passengers may be discharged at Pearl Bay pontoon to speed service. For up to date information on Spit Bridge Opening Times go the the RTA's Spit Bridge Opening Times Website
Communication Options
Tender Service is available on mobile 0451 466 157 or VHF Channel 73 ("MHYC Tender, MHYC Tender, MHYC Tender, this is (yacht), await response from Tender, Response received, "MHYC Tender, requesting a pick up from (location)".