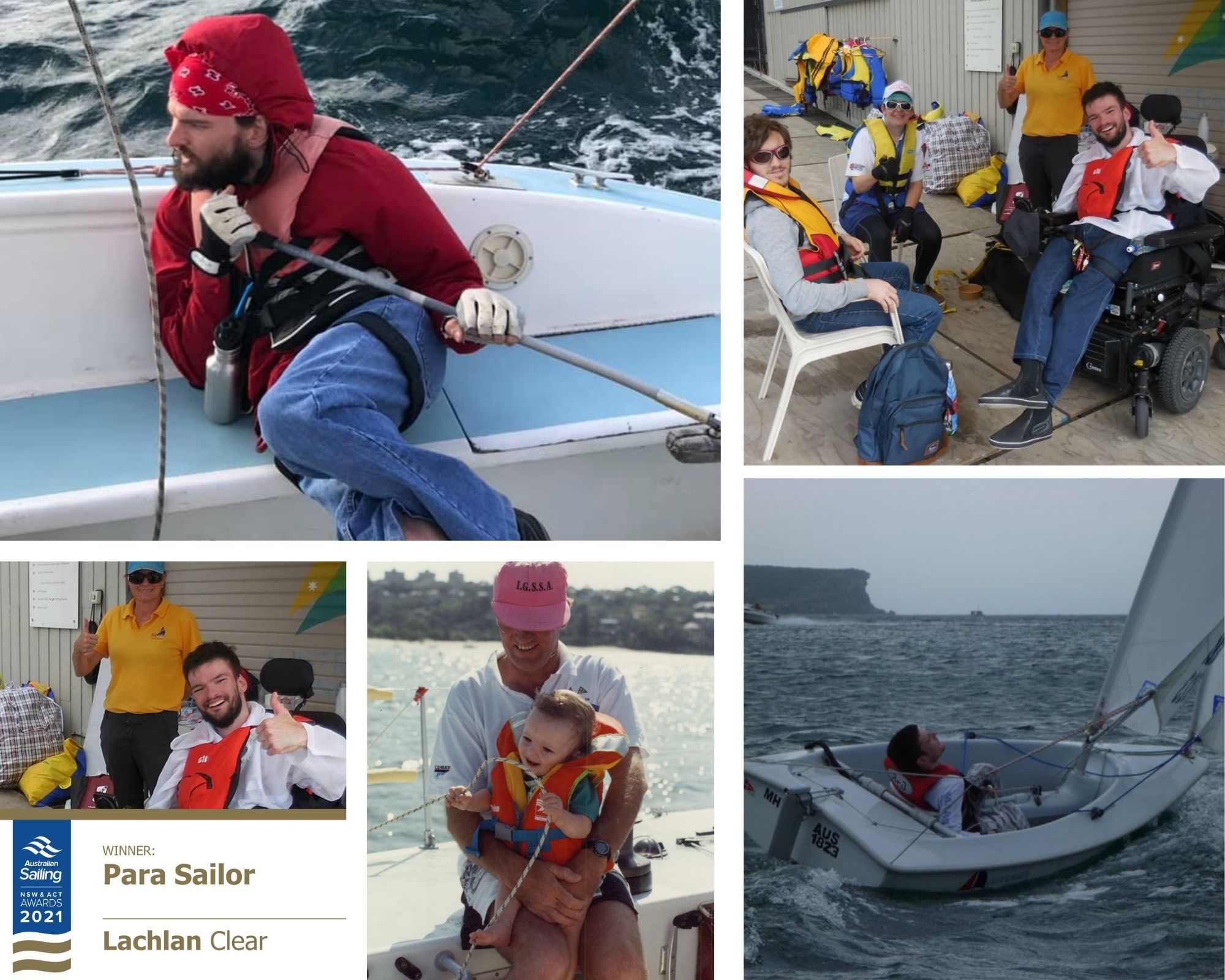 I have known Lachlan since he was a baby and watched him grow into a confident young man who always seems so positive and who endeavours to overcome all the obstacles in his life.

In 2010 he won a Frank Likely Trust Award which helped him (in a small part) to compete in the 2010 Access Worlds in the UK. At that event he convinced the organisers to bring the championships Down Under and thus he was instrumental in the 2012 Access Worlds coming to MHYC. This was one of the best events I have ever been involved in and I thank Lachlan for that.

As part of those championships, we (with Lachlan's help) were able to obtain a NSW Government grant to build the accessible lift, that has not only helped people like Lachlan, but many others in our club access our top level.

Lachlan has just been awarded the winner of the 2021 NSW & ACT Para Sailor of the Year. We ask Lachlan:

Tell us a little about yourself and how you got into sailing.
I'm Deaf and have Cerebral Palsy. I was influenced to go sailing by my dad (Tony Clear) when I was 7 months old. He was sailing on a boat called "Ex-tension" which won the Sydney to Hobart in 1986. Also, my dad's family were sailors and fisherman. That's how sailing led me to my destiny - it has always been in my blood.

What has been the hardest obstacle that you have had to overcome to pursue your interest in sailing?
Before 2020, communication with the other sailors was my biggest barrier because sign language (known as Auslan) is my first language. There are not many sailors who know sign language because they do not have a lot of involvement with the Deaf Community. So I always had to ask my dad to do me a favour and to help. But dad is very busy with family and work, and for that reason I haven't had much time sailing with him recently.
After 2020, I got an interpreter and support worker through my NDIS fund. It's been great communicating via them. I have learned that some boats are not suitable for my physical capabilities, like a 23ft sailboat without seat track and maintenance parts! My support worker has done an amazing job to help me move around on the boat.

Can you list your major achievements over the years?
Oh, there were many achievements for about 15 years…
In early 2006, when I was 15 years of age, I sailed for my first time alone on 303 Hansa at MHYC.
In 2008, I sailed in my first regatta with my dad in Hansa Australia Championship.
In 2010 I went to the UK with my dad for Hansa World Championships and then also sailed in the 2012 Worlds at MHYC.
Taking my 303 Hansa alone, sailing for adventure a few times - like across the lighthouse in Middle Head, once Gosford to Saratoga and from MHYC to Manly.
In 2013, I sailed for 2 weeks on the Lord Nelson Tall Ship from Fremantle in Western Australia to Adelaide in South Australia.
Then I brought Liberty and sailed in a regatta in Melbourne. In 2018, I won 1st place in NSW Championships and 3rd place Australia Championships.
In 2020, I sailed on a 23ft sailboat at Rushcutters Bay with my interpreter and support worker for the Twilight Regatta.
What do you like most about sailing?
It's part of nature in my mind as I love to read the sky and water like puzzle games. I can't help myself with these kinds of feelings. My sailboat has taken me further to the sea and makes me feel connected to its spirit and its creatures. I can leave all the problems around me. This is the way to freedom - like the spirit of an albatross.

Are there times in all those adventures you have had that really stand out because they were enjoyable; or frightening; or just memorable?
One time in the Rushcutters Bay Twilight Regatta, I experienced a mixture of these feelings. We came first place and I felt sheer delight facing the strong winds. Then suddenly the mast broke, and I almost died as the boom hit the side of my face. It was very scary, and I was lucky to be alive as the boom actually hit my shoulder. Then I had a flashback about my dad's old film of myself as a tiny boy crawling about on a sailboat. After the mast broke, I was crawling about, and my support worker helped me into the cabin before the mast came fully down to crush me. I ended up in emotional tears as I thought that at that moment I was dead and I might never sail with my dad again!

What has been your proudest achievement on water and at MHYC?
My proudest achievement was recently when I became the President of Deaf Sailing NSW and set up an event "Come and try sailing day" at MHYC. Many Deaf people came and were inspired by me. It was then that I realised my determination, for over 30 years, to become successful.

What is the one thing that you love about MHYC?
I love to have peaceful drinks and enjoy sitting at the club viewing the sunset, sailboats and luxury modern houses nearby. It is like living in paradise. The club has wheelchair accessible facilities and heaps of great people around me that say hello. It makes me feel at home. MHYC has always been in my heart for the whole of my life.

What is still on your Bucket list to achieve in sailing?
I would love to have a job in Maritime area and also compete in sailing regattas with Deaf people at Rushcutters Bay, Pittwater, Dobroyd, and Newcastle. Then I want to set up a Deaf crew to sail in the Sydney to Hobart Yacht Race. Also, as a great challenge, I want to go sailing on my Liberty from Melbourne to Geelong.

After that, I would like to buy a bigger sailboat and do more great adventures and probably raise a family and go sailing around the world in 10 or 20 years from now. It'll be a good story in my life as I am writing a book.

What do you enjoy doing outside of sailing?
Meet heaps of sailors at the different sailing clubs and make new friends.

Julie Hodder
Membership Committee
Dear Member,
Marine Area Command have issued the statement below clarifying that the new gathering rules of 5 people outdoors DO NOT apply to any kind of boat.
We have been advised that this includes sailing boats whether open or with a cabin.
Marine Area Command Published the following on 14 September:
The easing of restrictions within the Greater Sydney 'stay at home' area effective yesterday, 13 September, whereby; you can attend an outdoor gathering in a public space of up to 5 people for exercise or outdoor recreation (aged 16 years or over and fully vaccinated) DOES NOT relate to boating.
See here
Boating is still limited to the same household members or if from different households a maximum of 2 people. Vessels are considered a 'premise' therefore this outdoor easing does not relate to vessels.
See Sailing Australia NSW COVID page here
Mark Maybury
CEO
14 September 2021
Due to current COVID Restrictions the MHYC Annual General Meeting scheduled to be held at 1900hrs on Wednesday 28 July 2021 will now be held online only via Zoom.
All eligible Members wishing to attend the meeting must register in advance:
Register here, or email the Club, This email address is being protected from spambots. You need JavaScript enabled to view it. providing your Name, Membership Number & Membership Category.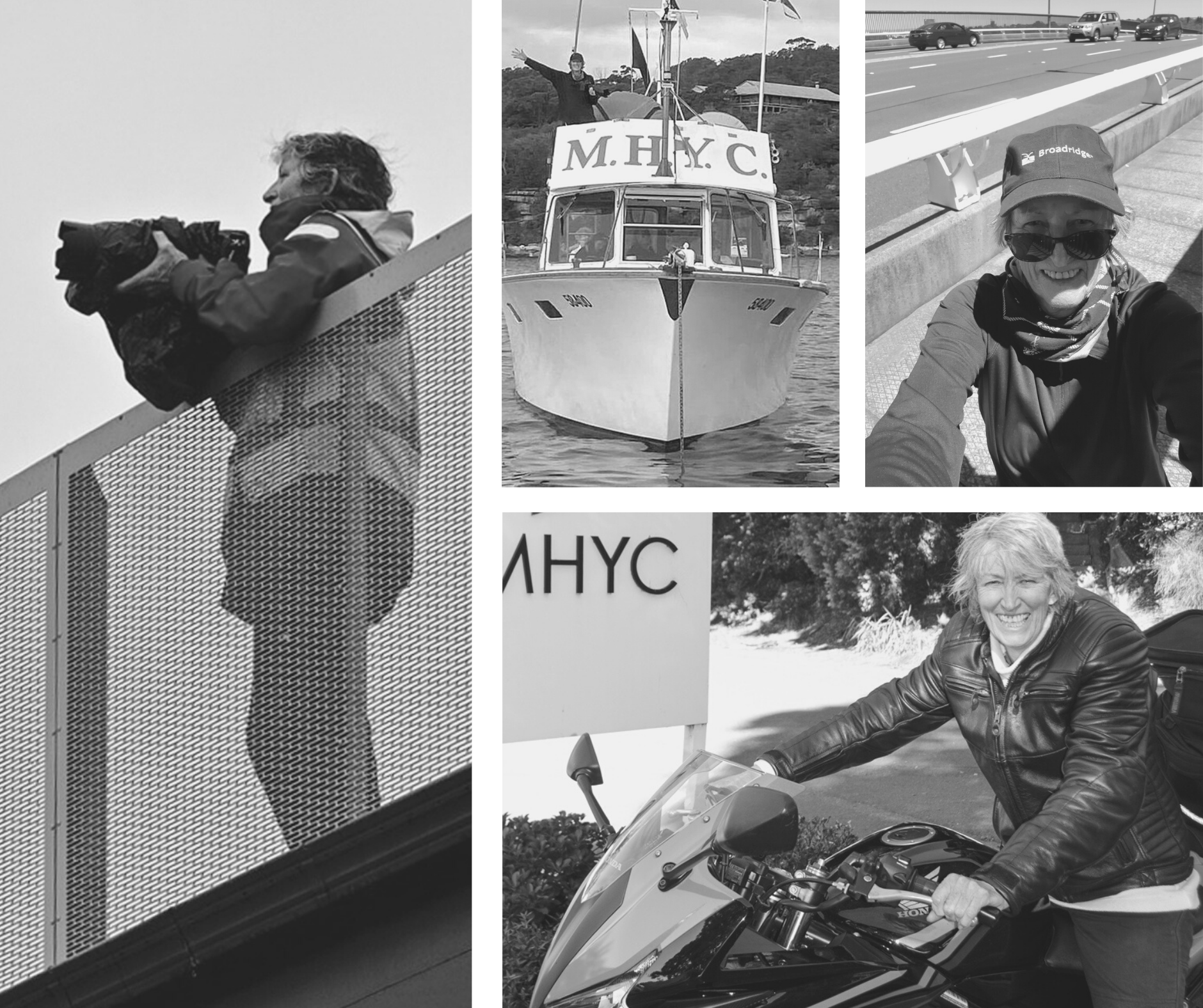 Have you ever wondered about the woman that is pointing a camera at you from either the starters boat or whizzing around in an inflatable safety boat? She always seems to get you at a great moment or sometimes not!

Marg always seems to be out there, rain, hail, or shine and thanks to her, club members have been able to view the many wonderful shots she has taken of our boats. Many of us have been lucky to be out there with Marg and get to know her. She is always so enthusiastic and happy and does this all on a volunteer basis.

This week we turn the camera around on Marg Fraser-Martin and let you know a bit more about her. I asked her to tell us a little bit about herself, what drives her passion and what other interests she has. So, when you see her arriving on that big bike or wandering around the club, come up and say "Hi" and I am sure she would love to be treated to her favourite tipple.

Please also visit and like her great Facebook "Marg's Yacht Photos" with so many wonderful photos of our boats. One of her ways of keeping busy during Covid, is to try to put up race per day!

This is Marg's story:

Photography: Photography is my retirement career. I like to take photos of people doing awesome stuff, being passionate about what they are doing and having fun.

Along with yachts and sail racing photography, have also done several golf tournaments (Charity), cars and people having fun doing laps at Eastern Creek Raceway and Charity gala dinners. All I need is an invite and some sandwiches and water on the day.

Photos are a good way to show people what an awesome time you are having and encourage them to give sailing a try, starting as a crew member.

Sailing, to me, is one of the few sports that anyone at any age can do and compete. Many sports depend on a genetically blessed body. Sailing is more brain than brawn.

Sailing experience: While hiking in the Himalaya's (Annapurna Hike), I met a chap who had a yacht. Seemed like a good plan to meet up, learn how to sail and see where all that went. Had lessons, have sailed a couple of Hamilton Island race weeks and also Airlie Beach Race Week. Best to describe my sailing as "takes instruction well".

Sailing photography: Was invited to MHYC to photograph an event in 2017, based on my interest and qualification in sailing and photography. I just keep coming back.

Favourite Tipple: Hot Chocolate with plenty of marshmallows (Sandbar Café, best ever).

Bribery: See above, and don't be mean with the marshmallows.

Optimist or pessimist: Realist, I always look to the worst possible outcome, so any outcome always looks good.

Happy/Sad/Grumpy: Generally happy (aiming for 80% happy). I can see humour in most situations. I mumble when grumpy, just need a hot chocolate.

Good Pandemic stuff:
Local Library did home delivery, brilliant, I also let them choose the authors, brilliant; I got whole pile more authors to enjoy reading. Love serial killer books.
Met up with young Michela (sails with Garth on Sirius and Gambler). Lives close, our meeting point for exercise is a cemetery.
Purchased a Hot Chocolate making machine.
Favourite Films:
The Hunt for Red October, Sean Connery and the line "Andrei... you've lost another submarine?"
Master and Commander, Russell Crowe and the line "Never mind the manoeuvres, just go straight at 'em."
Other sports: Kayaking, hiking, climbing, biking, "walking" Hunter (my dog), used to run in half marathons (good training for walking Hunter).

Union or League: I am from New Zealand and you are asking me that???

School years: Endured.

Motorbikes: licensed at 15. Started on a Honda 50cc, chucked out the p plates and quickly jumped up to my favorite bike of all time "Honda Dream 305". My present bike is a Honda 500 CBR.

Favourite place in the world: Patagonia. The hiking and the climbing. It is my soul place. I think I was kidnapped from there as a child.

Dog or Cat: Have a dog called Hunter (Kelpie/Border Collie).

Leaving NZ: Small town, finished Uni. 21 single, gotta get out of there. Still a New Zealander at heart very conflicted at Bledisloe Cup Time.

Mountains or the Ocean: I belong to both villages.

Working Life: My career has taken me to many places in the world to work and live. Very happy to be back living in Australia.

"Marg's Yacht Photos" Facebook: Remember if you like it, put a thumbs on it. Those with the most thumbs up get the most/best photos.

Julie Hodder
Membership Committee
NOTICE is hereby given that the Annual General Meeting of Middle Harbour Yacht Club [ABN 95000 248 877] will be held at the Middle Harbour Yacht Club premises at 75 Lower Parriwi Road, The Spit, Mosman, New South Wales on Wednesday 28 July 2021 commencing at 7.00pm.
To read more click here
Subcategories
Events

Aloha..... Come and join us for our next twilight sailing adventure - Blue Hawaii

Thursday 18th February, 2021

Sailing

Sailing Index