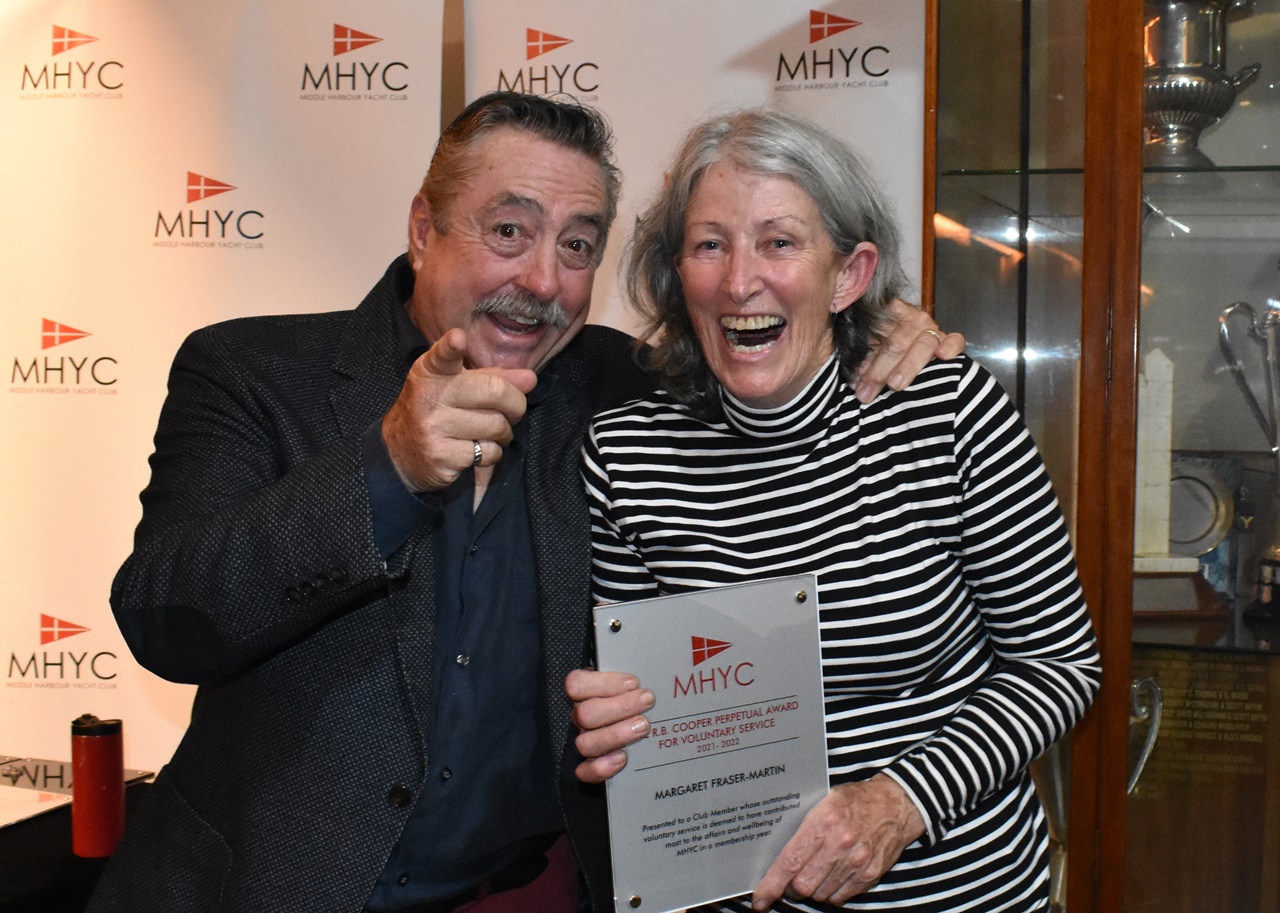 The MHYC Annual Presentation Night was held on Saturday the 14th May for the 2021-2022 season. Skippers and crew got together for a night of celebration in the Harbourview Room overlooking the Marina on a star lit night.
Trophies were awarded and achievements recognised across the Offshore and Inshore Divisions, Cruising and Twilights Series including Women's Helm. The hard work of volunteers, committee members and staff was recognised along with the wonderful support of the club's sponsors.
A number of special awards were announced, including Crew Member of the Year awarded to Matthew Miles, a regular sailor on Innamincka, Waterborne Again and Kaotic and the MHYC Flag Officers Participants Award for the MHYC Yacht having participated in the greatest number of MHYC Events in the Winter and Summer Seasons going to Neil Padden on Wailea for the second year in a row.
The R.B. Cooper Perpetual Award for Voluntary Service is presented to a Club Member whose outstanding voluntary service is deemed to have contributed most to the affairs and wellbeing of MHYC in a membership year was a very popular winner this year being presented to Marg Fraser-Martin by MHYC Chairman Special Events Ian Box. Marg's images capturing the club's broad range of on-water activities rolled across the screen during the evening and have populated our Facebook posts, website and publications across the year.
The Norman G. Booth Trophy (nominated for consistent racing with the MHYC and with emphasis on enthusiasm, improvement, sportsmanship and Clubmanship throughout the season) is to be awarded at a later date.
The very special Tig Thomas Memorial Trophy to recognize MHYC members who have competed in interclub events
and major championships was this year awarded to youth sailor Will Wilkinson for his many achievements racing the Optimist.
Also this year we crowned the inaugral 'Jule's Trophy' for MHYC Yachtswoman of the Year trophy to Tracy Richardson.
For a full list of Perpetual Tropy Winners click here
Congratulations to all of our winners!