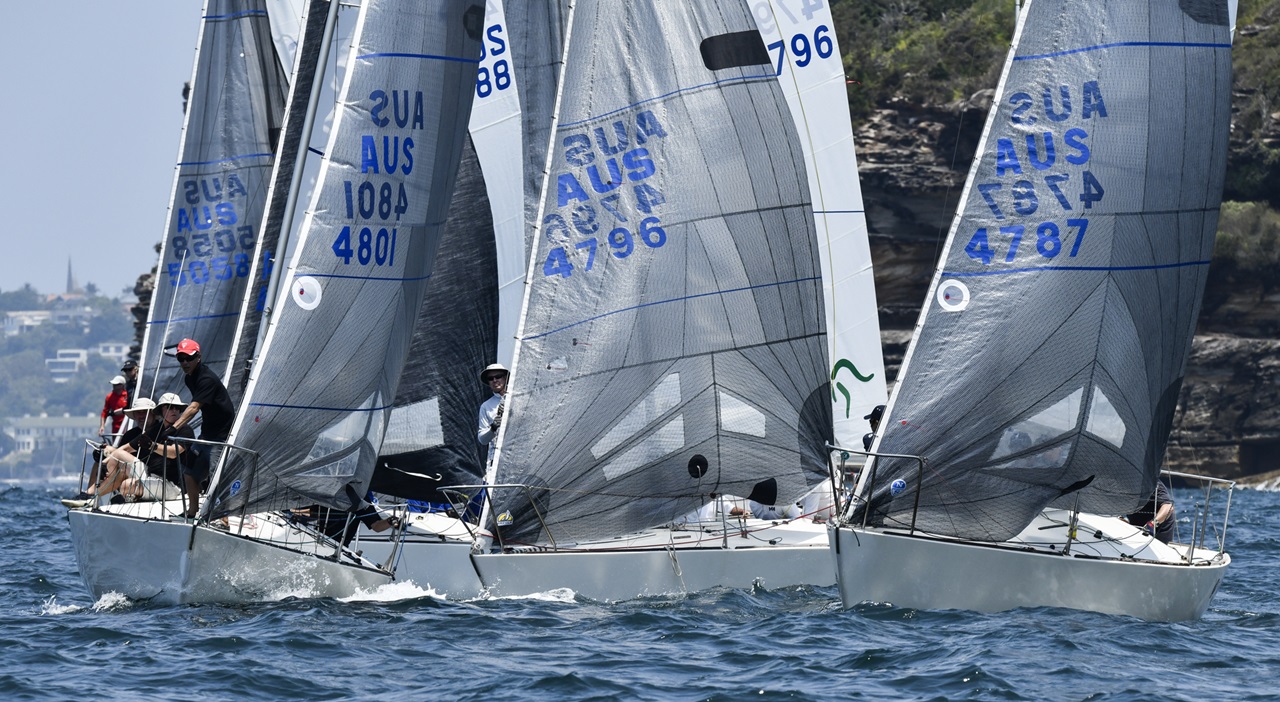 Australian J24 Championships Report for Friday January 3
As the morning southerly slowly turned east and then north-east and freshened, the smoke haze cleared over Sydney Harbour to provide some good racing conditions for Day Two of the 2020 Australian J24 Championships. The Middle Harbour Yacht Club race management team set a course between Middle Head and North Head for another three races today.
Race 4, the first race of the day, was completed in an unsettled breeze with Steve Wright's Tinto (Cronulla SC) the winner by 11 seconds from Checkmate (Brendan Lee / SYC) and Vortex (Chris Lee / MHYC). The breeze had increased slightly for Race 5 but it was still fluky close to the top mark. David McKay and Stamped Urgent (Cronulla SC) made the best of the conditions to finish ahead of Middle Harbour's David West in Ace and Tinto in third.
Race Officer Steve Tucker "tweaked" the course for Race 6, but there was some excitement on the start line with a number of boats making contact. Calypso (Paul Donnelly / RMYC) and Phoenix (Joanna Lecka / CYCA) both suffered damage, with Phoenix later sinking on Clontarf Beach within sight of the Middle Harbour Yacht Club marina. The boat was eventually re-floated and will hopefully be back on the racetrack to continue its championship campaign tomorrow. Back on The Sound this afternoon, Steve Wright's Tinto claimed another win, this time ahead of Warren Slater's JAB and Brendan Lee's Checkmate, both from Sandringham YC.
Two wins today for Steve Wright and the Tinto crew have moved them to the top of the series table, one point ahead of 2019 Champion Brendan Lee's Checkmate and eight points clear of the top local boat, Ace, helmed by David West. There are six more races scheduled before the championships conclude on Sunday.
For the latest results and event information, go to https://www.mhyc.com.au/sailing/regattas-championships/australian-j24-championships-2020
Photos by Marg Fraser-Martin