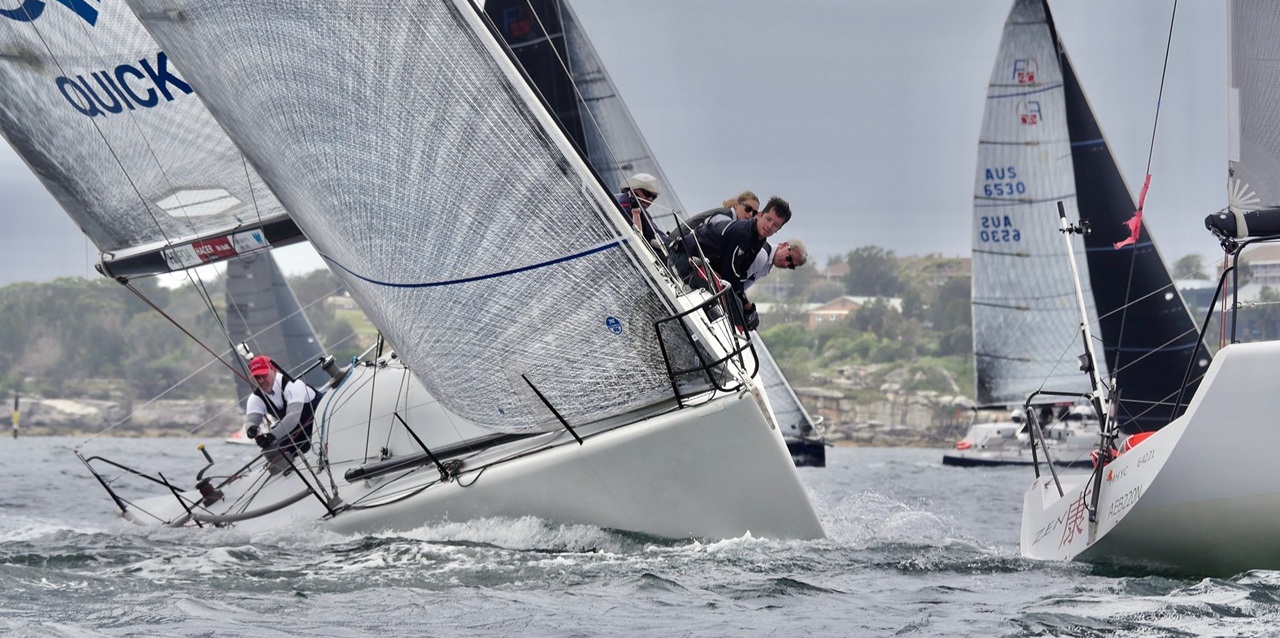 By Jennie Hughes, Farr 40 Australian Class Administrator, as amended by MHYC
After four races offshore yesterday and another four races inside the harbour today, Tom and Alan Quick's Outlaw have won the first pointscore regatta of the 2018/19 Farr 40 One Design Trophy Series at Middle Harbour Yacht Club.
In what is quickly becoming a regular outcome, the Outlaw team have roared into this season at the top of the leaderboard. Tactician David Chapman has put together a team back from his days with the Voodoo Chile programme based in Hobart, Tasmania. Wulf Wilkens, Tim Roberts and Phil Armstrong were part of the winning crew at the Nationals in 2015. Chapman complimented his fellow comrades, "We have a very experienced crew. They hike hard and are loyal team players. We don't train, given the distance between crew members, so today was a great result for us".
Outlaw recruited two new crew members for the final four races of the regatta, who just happened to be Chapman's relatives. "My father came out of retirement today and raced with us, his first Farr 40 race since the 2005 Sydney Worlds aboard Ivan Wheen's Sputnik . We also had my Uncle, Bob Wilmot aboard, so it was a real family affair and nice to come out on top." Chapman also paid tribute to Class newcomers, "It was great to see Jason and Mary King getting stronger and stronger and hopefully they can convert their top mark performances into finishes soon".
Racing today took place between Middle Head and Neilson Park with 12-22 knots providing perfect conditions for the Australian fleet to fight it out for the trophy.
With just two points separating Double Black from Outlaw at the end of yesterday's racing, the Victorian team were hot on their heels, scoring a second in Race 6 and a first in Race 7, finishing second overall.
The stiff competition of the Farr 40 Worlds in Chicago proved good practice for the Zen team who had their most consistent regatta ever, achieving third place with the following scores over eight races 2-2-5-2-2-4-3-3.
It was the first regatta of the season for Melbourne entry Nutcracker with co-owners Rob Davis and Andy Baker. Rob Davis, Immediate Past Commodore of the Sandringham Yacht Club (SYC) is looking forward to a great season. "It's been a long time since the team have sailed together and we were just trying to find our feet this weekend. It was a shake-down regatta for us as we are back sailing with our original SYC team. We are now locked in for the rest of the series at Pittwater, Newcastle, the States and Nationals and I'd like to thank my co-owner, Andy Baker for his commitment to the Class and our sailing programme. We can't wait to get back into racing in a few weeks at Pittwater and are looking forward to a great season."
Exile owner, Rob Reynolds has been enjoying some holiday time with his family and the Class appreciates his efforts in organising substitute helmsmen, so his Exile crew can still compete. Joe de Kock from Newcastle stepped into the Skipper role this weekend and did a great job, the highlight, winning Race 5.
To view the latest results - click here
Photos at Farr 40 facebook - click here
DAY 2 VIDEO HIGHLIGHTS BY TILLY LOCK MEDIA