It gives me great pleasure to welcome you to the 2016-17 season as the 23rd Commodore of MHYC.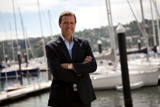 MHYC is very fortunate to be the home of the Australian Sailing Team, with improvements that are transforming the Club, with the opening of the rigging deck, crane and hardstand that now provides an on-going legacy for the Club. We congratulate all members of the Australian Sailing Team on their fantastic efforts this year in the 2016 Olympics in Rio, bringing home 7 Olympic medals - well done! Membership at MHYC is currently open, with our membership year running from 1st September through to 31st August, each year.
We encourage anyone who is looking to join the sport of sailing, whether it be racing, or cruising, or is just wanting a place to enjoy the atmosphere whilst enjoying the cuisine, to consider MHYC as their Club! We have a variety of membership types to suit everyone.
I look forward to seeing you on the water or enjoying yourselves down at 'our' Club.
John McCuaig
Commodore