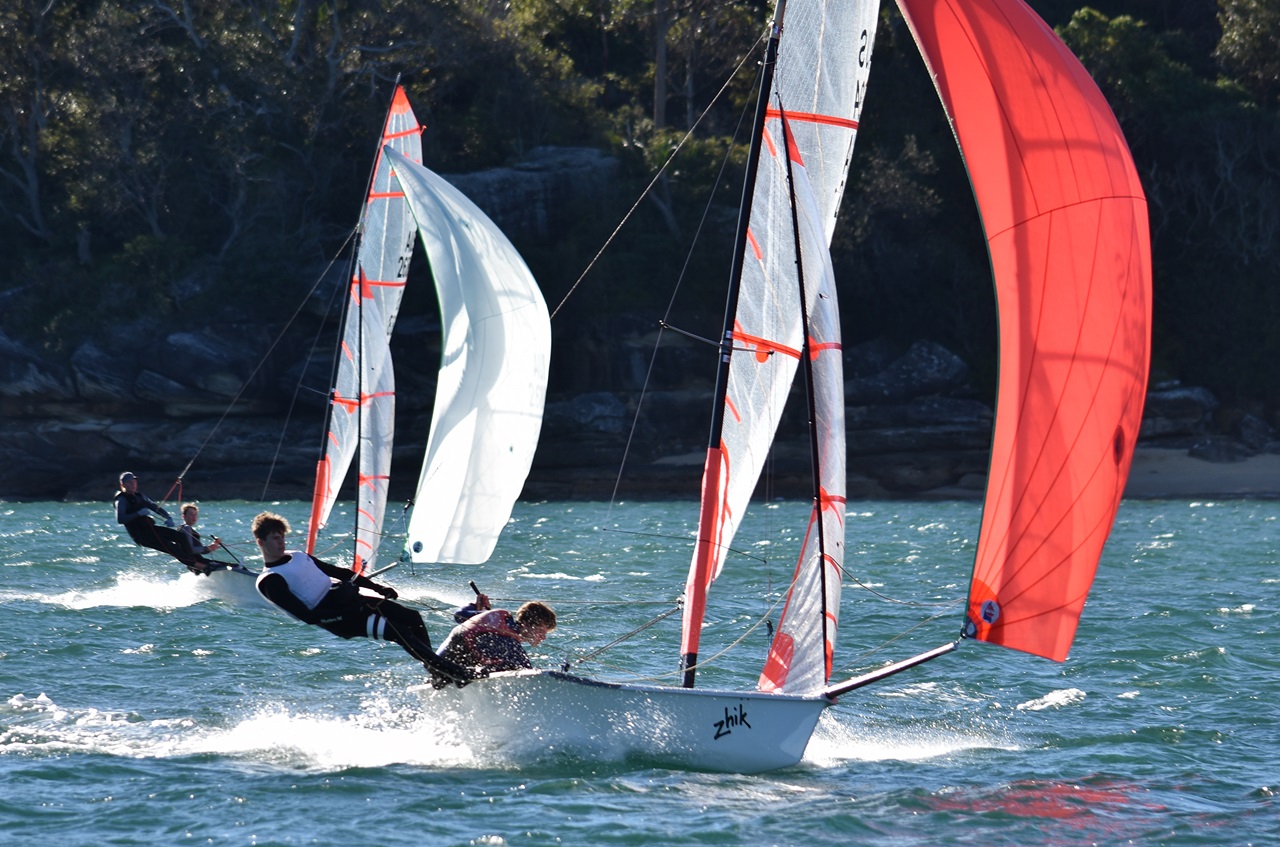 A small fleet of 29ers and International Cadets braved a fresh and cool Sunday afternoon on June 17 for the MHYC Winter Series for Centreboard Divisions.
Three races were completed on a short windward-leeward course between Grotto Point and Chinaman's Beach, but the gusty winds and cold water took its toll, with the final race abandoned for the Cadets.
Max Giffney & Madeleine McLeay made a clean sweep of three 29er races. In the Cadets it was a win each to Zac Nisbet & Ethen McFarlane in Seaquence and Ben Harrington & Mia McFarlane in Piranha.
To view the Series Results – click here
Middle Harbour Yacht Club and the NSW 9ers Association are conducting a 29er Sprint Regatta on the 2nd & 3rd of July 2018.
Twelve short races are scheduled over the two days with sailing in Hunters Bay, Balmoral or The Sound depending upon breezes.
For race documents and competitor information, visit the event webpage - click here
NSW 9ers facebook - click here
MHYC yachts Kayimai (Rob Aldis) and TSA Management (Tony Levett) were starters in the PONANT Sydney Noumea Yacht Race which started at 10am on Sunday June 3.
Unfortunately, on Sunday evening TSA Management had to retire with battery issues. Today, with 425nm to go, Kayimai is 8th on line honours, 6th on PHS and 9th on IRC.
The CYCA event website features a yacht tracker - http://noumea.cyca.com.au/
Photos by Andrea Francolini
Middle Harbour Yacht Club is holding a Volunteer Information Night on Wednesday the 27th of June at 7pm. Anyone in the local community who is interested is invited to attend along with existing MHYC members and volunteers.
Like all community based clubs, MHYC relies upon a large group of volunteers to operate its sporting and social program. The roles for volunteers at a sailing club are numerous and diverse, suiting people with a wide range of skills and interests.
MHYC conducts a busy program of club racing and regattas through the year and volunteers are sought for both on-water and onshore roles. People with a sailing and boating background can bring some valuable skills, but there are also plenty of opportunities for novices to learn the sailing related skills. The club arranges a variety of accredited and non-accredited training to help support and develop its volunteers.
Some of the important on-water roles undertaken by volunteers include race management, time-keeping , flags and signals, recording finishes, course laying and safety boat crew. Onshore, volunteers can be equipment safety auditors, measurers, maintenance crew and on a range of committees. Our Sailability volunteers work both afloat and ashore.
Volunteers at MHYC are enabling a people of all ages and abilities to participate in competitive and recreational sailing and at the same time enjoy working and socialising with a team of like-minded people.
To find out more about volunteering at MHYC, come along to the information night on Wednesday 27 June. To register your interest, or for more information, contact Catherine Rofe at the MHYC Sailing Department on 9969 1244 or This email address is being protected from spambots. You need JavaScript enabled to view it..
Read more: Volunteer Information Night Wednesday 27th June at 7pm
Notice is hereby given calling for nominations for the following positions for 2018-2019:

Board of Directors
Commodore Vice
Director
Director Vice

Flag Officers
Vice Commodore – Racing
Vice Commodore – Cruising
Vice Commodore – Youth Sailing
Club Captain
Click Here for official notice and further information