LEARN TO SAIL
The Junior Sailing Program at MHYC is designed to provide a safe and enjoyable introduction to dinghy sailing for children aged 7-12 years, through the Australian Sailing endorsed 'Tackers' program, a fun, games-based sailing program.
Looking for Teens Learn to Sail?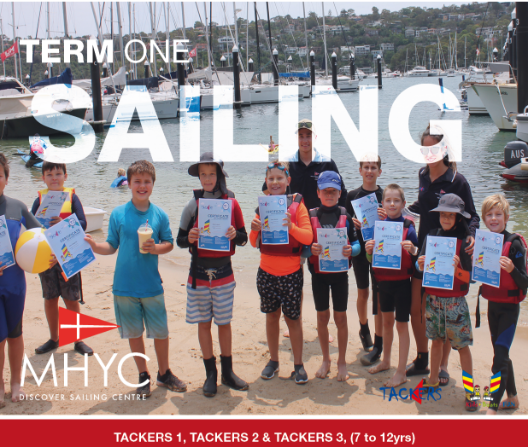 The Steps
Fun and games for 4-6 year-olds. Little Tackers is run in small groups of no more than 6 participants with close supervision from qualified Tackers Instructors.
Step 1 - Tackers 1 (Having Fun!)
This course aims to provide children aged 7-12 with a fun, safe and affordable way to get into sailing. Kids sail in pairs in smallboats, plus it's a great way to meet new friends.
Step 2 - Tackers 2 (Tricks & Techniques)
This course aims to build on the fun participants had in Tackers 1, to progress their sailing skills. If kids are confident, they can sail a boat on their own with lots of support, supervision and encouragement from the Instructor and Assistant Instructors.
Step 3 - Tackers 3 (Sailing Fast)
This course aims to build on skills learned in Tackers 2 and focuses on advanced sailing skills through games and adventures on the water. This is a chance for the kids to sail boats on their own, learning how to make the boat go faster and playing more games, all whilst still under the guidance and supervision of the Instructor and Assistant Instructors.
---
DEVELOPMENT PROGRAMS
---
The Squads
Optimist Green Fleet Squad
This program is aimed at sailors who have completed 'Tackers' and are keen to get racing with their newly purchased Optimist. Green Fleet is a skills and drills activity, including an introduction to fun racing, where kids learn how to go round a race course with sailors of similar ability.
Optimist Racing Squad
This program is aimed at sailors who have progressed from 'Green Fleet' and are independently comfortable racing against others in Club run racing. Sailors will have a mix of Skills and Drills sessions, plus active coaching on Club race days. Additionally, some sailors may wish to compete at various Regattas, including NSW Optimist Association events, plus State and National Championships.