Our Junior Sailing Program at MHYC is designed to provide a safe and enjoyable introduction to dinghy sailing for children aged 7-12 years through Tackers, a fun, games-based sailing program.
Step 0: Little Tackers. Little Tackers is a short experiential introduction to Tackers. Little Tackers can be aged 5-7 and don't need to have any sailing experience but it helps if they are water confident. All equipment is provided.
Step 1: Tackers 1 – Having Fun. Kids sail in pairs in small boats. It's a great way to meet new friends and kids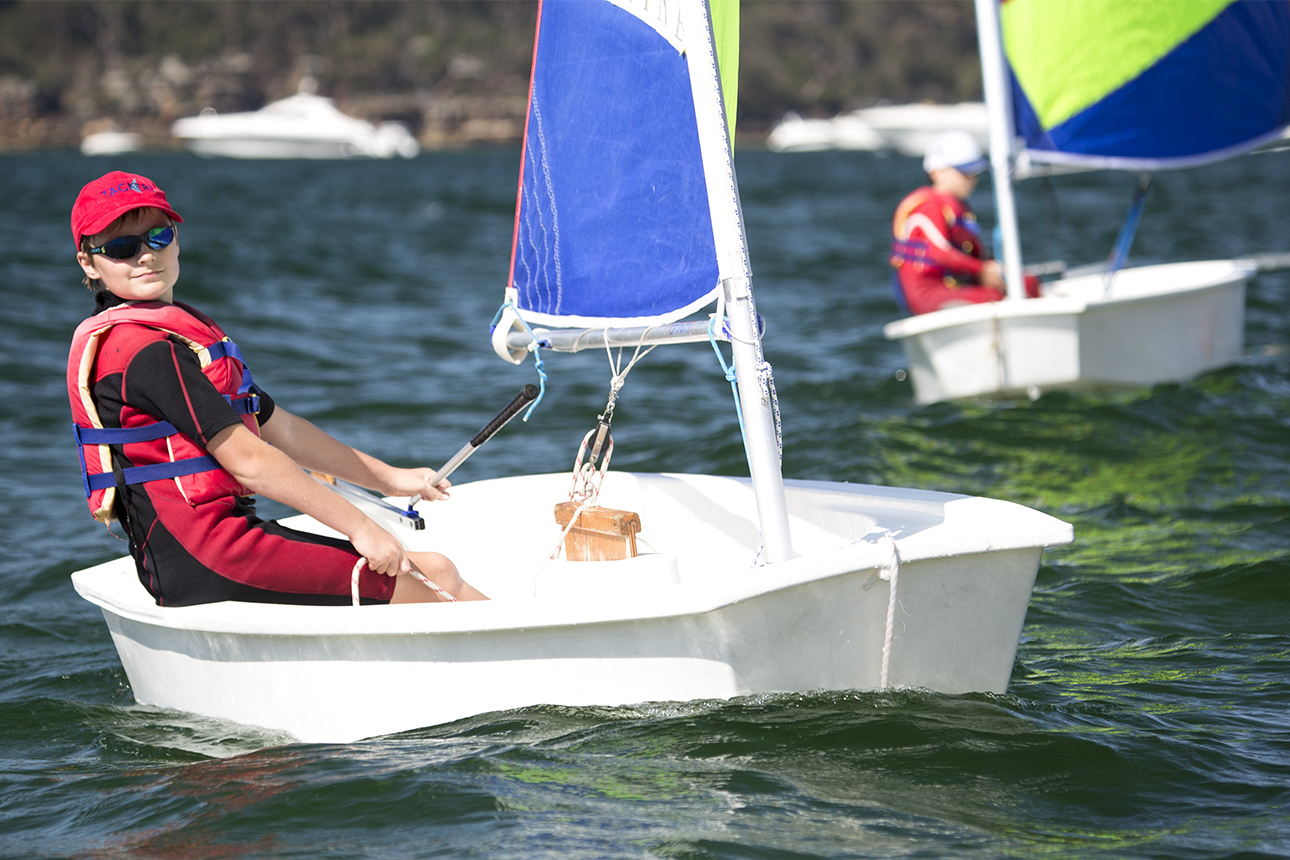 have the chance to sail with others in their group.
Step 2: Tackers 2 – Tricks & Techniques. If kids are confident, they can sail a boat on their own with lots of support, supervision and encouragement from the Instructor and Assistant Instructors.
Step 3: Tackers 3 – Sailing Fast! This is a chance for the kids to sail boats on their own, learning how to make the boat go faster and playing more games, all whilst still under the guidance and supervision of the Instructor and Assistant Instructors.
Our Tackers program follows the
A
ustralian Sailing Syllabus which takes the sailors through the 3-step program using club-supplied OziOptis which are ideal for new sailors. After the sailors have completed Tackers 3, they are invited to
join our Optimist Green Fleet Squad. Full information on the Australian Sailing Tackers Program
can be found
here.

Step 4a: Adventure Squad
For young sailors who have completed Tackers 3 or Better Sailing, the Adventure Squad aims to develop young sailors' confidence, seamanship and boat handling skills through adventure sailing in the club's fleet of OziOptis and 420s. Using the Australian Sailing Discover Sailing framework as a basis, the program fosters an enjoyment of sailing in its recreational and competitive forms. Sailors can then progress to coaching and development programs in their own boats
Step 4b + Step 5: Optimist Green Fleet + Optimist Race Squad
Members of these squads have usually come through the complete Tackers program and are ready to take the next step into beginner racing in their own boats. Sailors have a mix of race coaching and adventure sailing around the harbour on Sundays and also have the option of attending regattas such as the NSW Youth Championships, Queensland Youth Week, Optimist Nationals and Australian Youth Championships in the green fleet (for beginner racers) or the intermediate fleet.
Upcoming Courses......
2018 October School Holiday Program
Junior and Youth Discover Sailing Camps
(Incorporating Tackers 1,2,3, Start Sailing 1 & 2 and Better Sailing)
Week One
Tues, 02 October 2018

Wed, 03 October 2018

Thur, 04 October 2018

Fri, 05 October 2018
Week Two
Mon, 08 October 2018

Tue, 09 October 2018

Wed, 10 October 2018

Thur, 11 October 2018
All Session Times: 9.00am - 3.30pm
All Levels Fees: Members $450, Non-Members $551 (Registrations Now Open)
Please note that the Junior and Youth Sailing Program requires MHYC Youth Membership (2018 / 2019 Season $101.00). Please select "Member" or "Non-Member" during online registration. Non-Members can download the application form here. Please email the completed form to This email address is being protected from spambots. You need JavaScript enabled to view it. or drop it in to the office.
2018 Term 4: Junior Sailing Program
(Incorporating Tackers 1,2 and 3)
Sunday, 14 October 2018

Sunday, 21 October 2018

Sunday, 28 October 2018

Sunday, 04 November 2018

Sunday, 11 November 2018

Sunday, 18 November 2018

Sunday, 25 November 2018

Sunday, 02 December 2018 (Final Session)
Tackers 1 and Tackers 2: Sunday Mornings 09.00am - 12.00pm
Tackers 3: Sunday Afternoons 1.00pm - 4.00pm
All Levels Fees: Members $450, Non-Members $551 (Registrations Now Open)
Please note that the Junior and Youth Sailing Program requires MHYC Youth Membership (2018 / 2019 Season $101.00). Please select "Member" or "Non-Member" during online registration. Non-Members can download the application form here. Please email the completed form to This email address is being protected from spambots. You need JavaScript enabled to view it. or drop it in to the office.
2018 Term 4: Optimist Green Fleet
Sunday, 14 October 2018

Sunday, 21 October 2018

Sunday, 28 October 2018

Sunday, 04 November 2018

Sunday, 11 November 2018

Sunday, 18 November 2018

Sunday, 25 November 2018

Sunday, 02 December 2018 (Final Session)
Optimist Green Fleet Session Times: Sunday Afternoons 1.00pm - 4.00pm
Optimist Green Fleet Fees: Members $, Non-Members $ (Registrations Opening Soon)
Please note that the Junior and Youth Sailing Program requires MHYC Youth Membership (2018 / 2019 Season $101.00). Please select "Member" or "Non-Member" during online registration. Non-Members can download the application form here. Please email the completed form to This email address is being protected from spambots. You need JavaScript enabled to view it. or drop it in to the office.
2018 Term 4: Race Squads (Int. Optimist or Int. Cadet)
Sunday, 14 October 2018

Sunday, 21 October 2018

Sunday, 28 October 2018

Sunday, 04 November 2018

Sunday, 11 November 2018

Sunday, 18 November 2018

Sunday, 25 November 2018

Sunday, 02 December 2018 (Final Session)
Race Squad Session Times: Sunday Afternoons 1.00pm - 4.00pm
Race Squad Fees: Members $, Non-Members $ (Registrations Opening Soon)
Please note that the Junior and Youth Sailing Program requires MHYC Youth Membership (2018 / 2019 Season $101.00). Please select "Member" or "Non-Member" during online registration. Non-Members can download the application form here. Please email the completed form to This email address is being protected from spambots. You need JavaScript enabled to view it. or drop it in to the office.