Middle Harbour Yacht Club's longstanding Sydney Short Ocean Racing Championship (SSORC) will go ahead over the weekend of November 28-29, another positive bounce back from the New South Wales major sailing event doldrums.
Last week the Cruising Yacht Club of Australia announced its intention to keep working towards staging the Rolex Sydney Hobart Yacht Race in December. The Saturday SSORC ocean race, part of the CYCA's Ocean Pointscore Series, is a chance for Hobart race crews to meet some of their opposition on a start line for a valuable hit-out, particularly given the reduced schedule of lead-up races.
Following their Sydney Harbour start on Saturday, the Premier and Performance class and One-Design divisions, including the Sydney 38s and TP52s, will head offshore for a passage race. On Sunday November 29 the competition will switch gear to short course windward/leewards off Sydney Heads, ideally in sparkling summer sunshine and a classic afternoon nor'easter Sydney is renowned for.
Premier division 1 skipper Bob Cox (Nine Dragons) says: "Keiran and Elizabeth Mulcahy's Soozal and Gerry Hatton's Bushranger are among the best IRC racers on the east coast, and both have indicated that next month's SSORC will bring them to the harbour from the Royal Prince Alfred Yacht Club."
Bushranger beat Nine Dragons into second at last year's SSORC, then the tables turned in March 2020 at the club's annual Sydney Harbour Regatta, the state's last key sailing event before the coronavirus pandemic dramatically curtailed the sport.
"Nine Dragons is also looking forward to lining up against our old adversary and sistership, Khaleesi, under new owners Rob Aldis and Sandy Farquharson. Once again Khaleesi is showing great speed and will be more than a challenge for us," Cox added.
Coinciding with SSORC is a new Super Group Spring Regatta, six windward/leeward or short passage races for the Super 20 and Super 30 divisions over the two days. The traditional Seven Islands Race on the Saturday accommodates mixed keelboats with a really interesting course that takes the fleet into confined waterways and fickle winds west of the Sydney Harbour Bridge.
A call for interest and entry has gone out to the TP52 class while Sydney 38 spokesperson Mike Logan is talking up his class' patronage of this year's SSORC. "There are twenty Sydney 38s between Lake Macquarie, Pittwater and Sydney; if we can get half of them that would be great."
The Sydney advantage will well and truly be exploited by "the burglar" adds Logan, referring to Peter Sorensen, owner/skipper of Advanced Philosophy and winner of the most recent CYCA Winter Series Sydney 38 division, just one of countless victories from decades of campaigning. "Sorro knows the harbour upside down. He's sailed on it so many times his results are no longer due to luck.
"For SSORC we will most likely run the Sydney 38 division like the state champs in that we'll follow class rules in terms of sails but not the crew weight maximum," advised Logan, the owner of Sydney 38 Thirlmere. "I'm expecting a couple of Pittwater boats, hopefully Risk and Conspiracy. Add in CYCA, MHYC and the Balmain boats and there should be 10-12 Corinthian teams, which are the cornerstone of the class."
MHYC Special Events Chairman and owner of Toy Box 2, Ian Box says, "SSORC has a fabulous history that we work hard to preserve, while staying innovative. This year we have developed a wider weekend offering to cater for the diversity of racing preferences, and we continue to nurture the heart of SSORC, the Premier and One-Design boats. I encourage everyone to get an entry in and participate."
Standard entry for the 43rd edition of SSORC applies until 2359hrs on Friday November 20 and thereafter a late entry fee will apply, up until Wednesday November 25 at 2359hrs.
The Notice of Race is now available at https://www.ssorc.mhyc.com.au/ and sailing instructions will be posted to the same website by November 27. SSORC is conducted by MHYC at The Spit with the assistance and support of the CYCA.
Key SSORC sponsors include Helly Hansen, Club Marine, Robert Oatley Wines and Short Marine.
How to follow the SSORC:
Website https://www.ssorc.mhyc.com.au/
Facebook: @MiddleHarbourYachtClub
Instagram: @middleharbouryachtclub
Read more: 43rd Sydney Short Ocean Racing Championship open for entry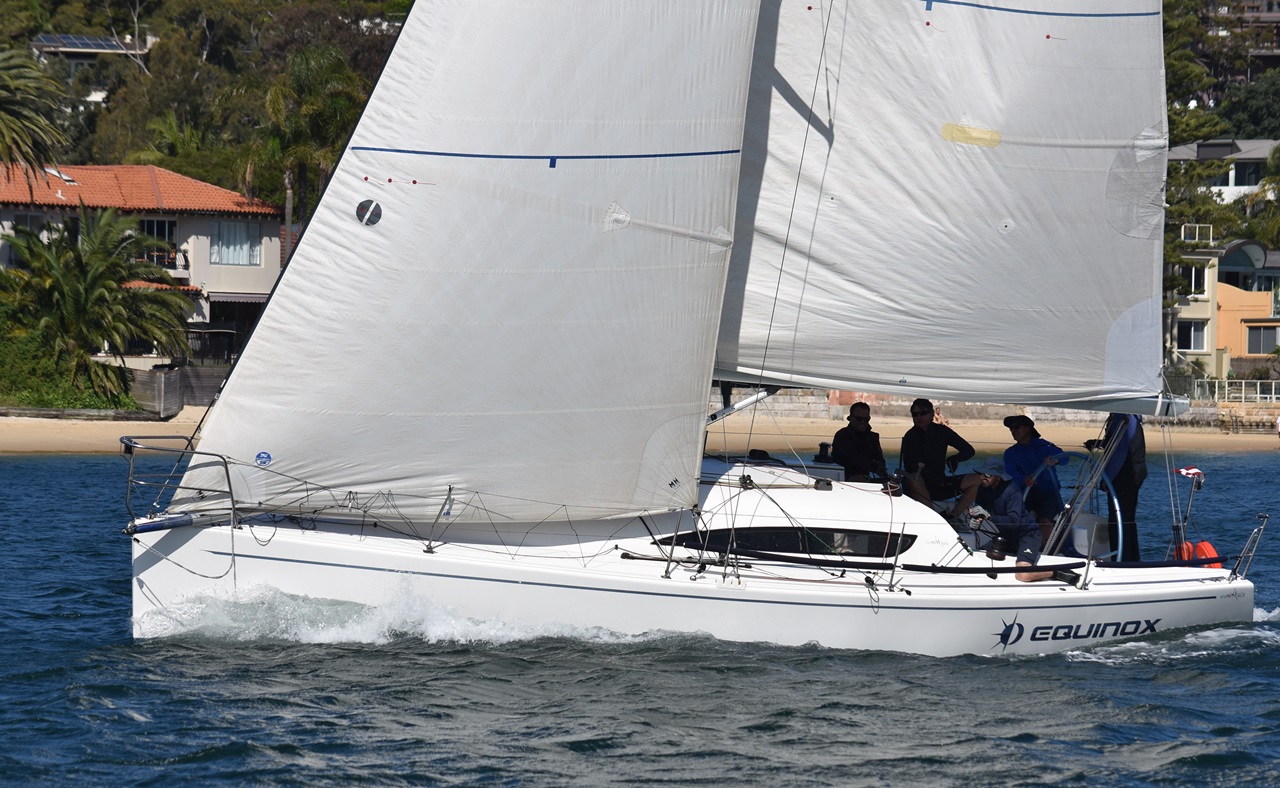 It was a lively Race 8 today for Series 1 of the Pacific Rigging Non-Spinnaker Series with twenty six boats heading off on Course 11 in a solid 20 -25 knots Nor' Nor' Easterly breeze.
In Division 1, Ian Box took the gun on Toy Box 2 followed by Little Nico ( Adrian Walters) and The Gambler (Stewart McGeady).
Todd Trenear on Equinox was first across the line and the lead Division 2 boat followed by Another Dilemma (Jim Vaughan) in 2nd place and Rumba in 3rd place.
For full results - click here
Eight boats from Sydney Harbour ventured up to the Gosford Sailing Club for the J24 Regatta over the long weekend.
This included four MHYC boats, Ace, Innamincka, Waterborne Again and Okavango Delta.The breeze was a North Easterly sea breeze with blue skies and sunshine and no sign of the rain that has been endured in the past.
Eleven boats battled it out for the prize on the beautiful Brisbane Waters with 4 races completed on the first day taking advantage of the fresh breeze followed by 2 races on the Sunday.The scratch winner of the regatta was Ace, skippered by David West who was on equal points with Innaminka, skippered by John Crawford. The final result was decided on a count back. Third was Sailpac skippered by Sean Kirkjian with his team from Pacific Sailing School.
4th Kaotic – Garth Riley, 5th Okavango Delta – Janette Syme, 6th Blackjack – Alvaro Mejia, 7th Bandit – Terry Wise,
8th Starpac – John Gardner, 9th Pacatack – Wendy Tuck, 10th Waterbourne Again – Matt Miles, 11th Artesia – Cameron Cooke.
The handicap winner was Blackjack skippered by Alvaro Mejia from Pacific Sailing School, second on handicap was Okavango Delta skippered by Janette Syme in her new boat co-owned by Rhoslyn Humphres. Third was Kaotic skippered by Garth Riley in his first J24 Regatta.
Congratulations to winner Dave West, sailing consistently fast with many top places.
A big thanks was passed on to John Crawford who was at the NSW Association head for over 10 years and welcome given to new president Chris Lee for MHYC.
To the Race Regatta team headed again by Peter Walsh, we thank you for arranging the perfect conditions and perfect race starts.
All the boats and crew are looking forward to the State Titles to be held at RPAYC at the end of the month.
For more information click here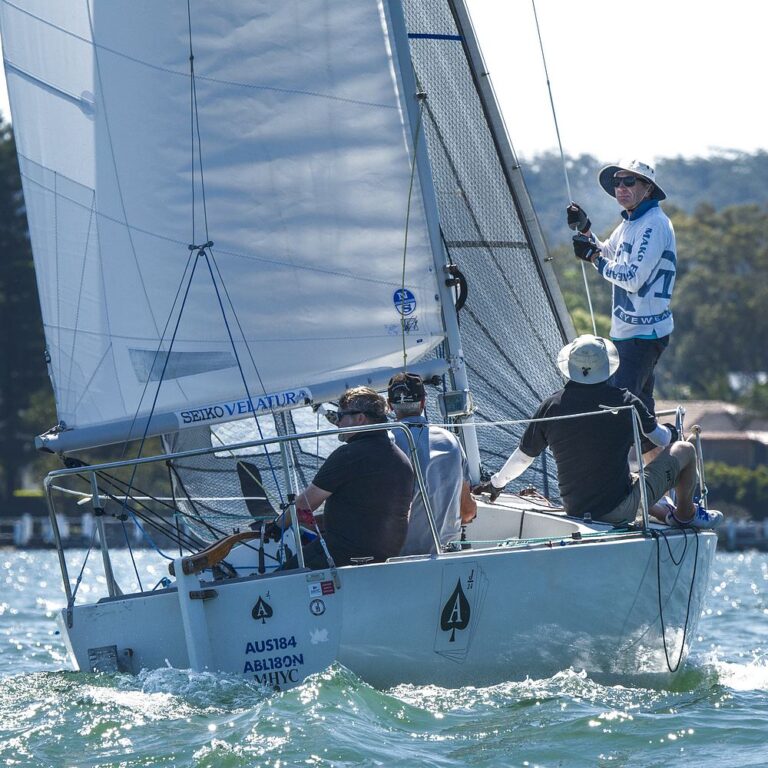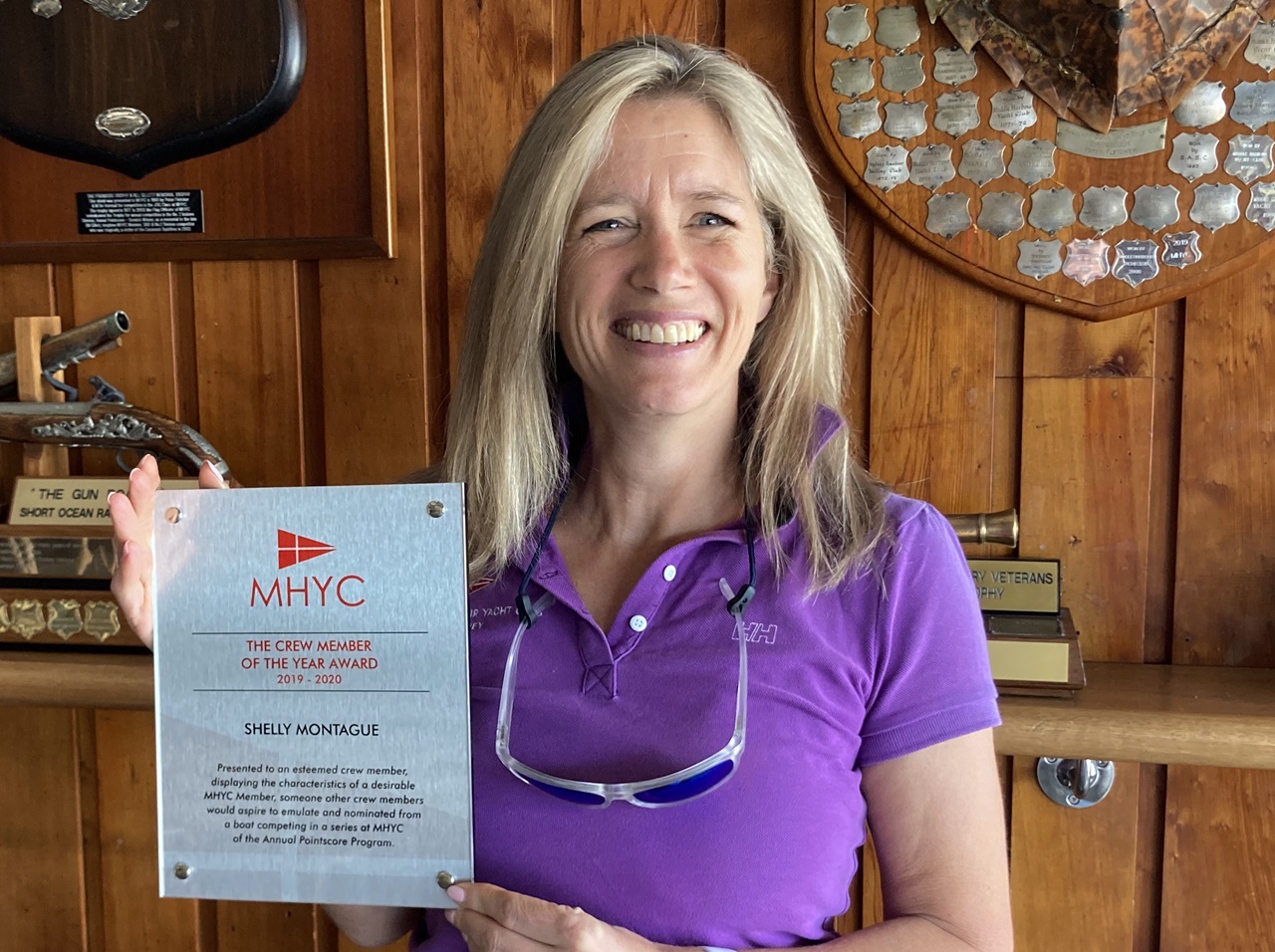 As the Annual Presentation Night to celebrate MHYC's 2019-2020 season was not possible due to Covid-19, we are announcing the award winners online over a period of 5 weeks.
In our fifth and final instalment, we celebrate:
Shelley Montague – recipient of the Crew Member of the Year Award
Kayimai (Rob Aldis) – Ocean Series Perpetual Trophy Division 1 and the Winter Rug Up Cup Division 1
Toy Box 2 (Ian Box) – The Premiers Cup, Selo Cup Division 1 and Chaos Cup Division 1
Shelley Montague – Crew Member of the Year
The Crew Member of the Year Award is presented to a crew member in a division of the Annual Pointscore during the season who displays the characteristics desirable of a MHYC Member and someone other crew members would aspire to emulate.
This year's recipient is Shelley Montague, crew on the J/24 Innamincka. Shelley is an enthusiastic and reliable crew member who has developed her speciality as a main trimmer. Innamincka was the only J/24 competing in this season's one-design regattas with a female trimmer. Shelley has also joined the committee of the NSW J/24 Class Association, helping to organise their events.
Kayimai (Rob Aldis)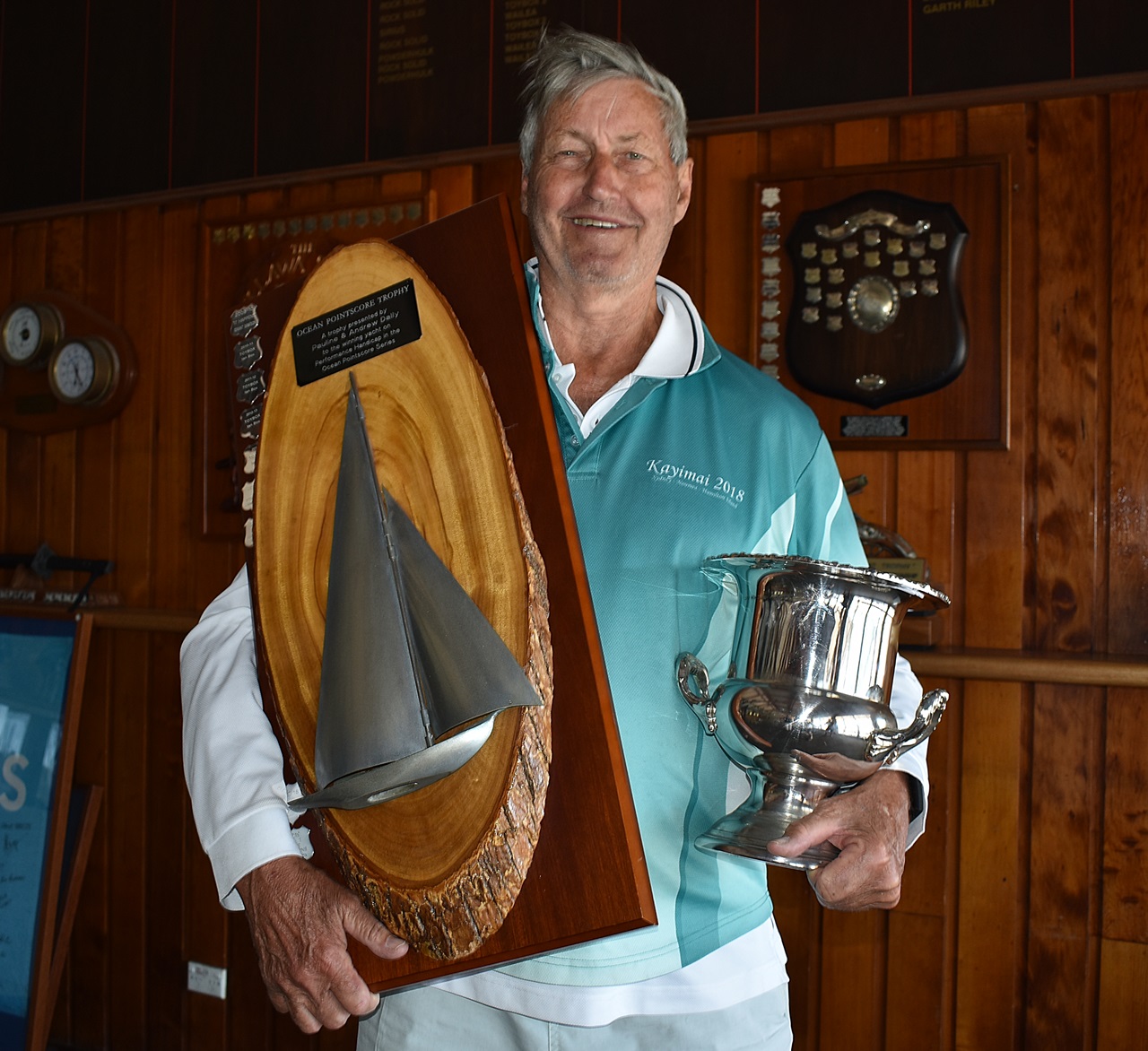 Rob Aldis' Dehler 46 Kayimai enjoyed a successful 2019-2020 season winning the Ocean Series PHS pointscore and placing third on IRC. A win in the Winter Pursuit Series also earned Kayimai the Rug Up Cup for this year. Kayimai is also a regular competitor in the Thursday Twilights and Feature Race program at MHYC.
Toy Box 2 (Ian Box)
The Premiers Cup is presented annually to the winning yacht in the Club's IRC Inshore Annual Pointscore. This year's winner was Ian Box and his XP44 Toy Box 2. Additional trophies earned by Toy Box 2 in 2019-202 include the Selo Cup for a win in the IRC Offshore Division 1 competition and the Chaos Cup Trophy for Division 1 boats.
Congratulations to all the trophy and award winners for season 2019-2020.
As the Annual Presentation Night to celebrate MHYC's 2019-2020 season was not possible due to Covid-19, we are announcing the award winners online over a period of 5 weeks.
In our fourth instalment, we celebrate:
Shaun Lane – recipient of the Norman G Booth Trophy
Sail Exchange (Carl Crafoord) - The Nigel Holman Trophy and Salamander Cup
Perception (Charles Caskey) - Seven Islands Race
Rock Solid (Mitchell Miller & Andrew Gunton) - Sydney Harbour Trek
Shaun Lane – Norman G. Booth Award
The Norman G. Booth trophy is awarded to a skipper or crew, other than an Annual Pointscore winner, from any Division, nominated for his/her consistent racing with MHYC and with an emphasis on enthusiasm, improvement, sportsmanship and clubmanship throughout the season.
Shaun Lane is a worthy winner of the Norman G. Booth trophy this year - an active MHYC member who has campaigned the MC38 Lazy Dog over the past two seasons.
After a concerted effort over the previous 12 months to develop the crew and boat, Lazy Dog claimed the 2020 Australian Championship. This followed a string of strong placings throughout the season of MC38 Events in this highly competitive class. As a volunteer, Shaun is President of the Australian MC38 Class Association and a Board Member of Middle Harbour Yacht Club.
Sail Exchange (Carl Crafoord)
MHYC member Carl Crafoord and co-owner Tim Horkings from CYCA are keen competitors in offshore series with the Cookson 12 Sail Exchange. This year, they claimed 1st Place ORCi Division 3 and 2nd Place IRC Division 5 in the Rolex Sydney Hobart Yacht Race, earning MHYC's Nigel Holman Trophy. Sail Exchange also won the Salamander Cup for the best placed MHYC boat in the Cabbage Tree Island Race.
Perception (Charles Caskey)
Charles Caskey's Perception is a regular starter in MHYC's Wednesday, Thursday Twilight and Feature Event races and won Division 2 of the Seven Islands Race in November last year.
Rock Solid (Mitchell Miller & Andrew Gunton)
Mitchell Miller & Andrew Gunton's Adams 10 Rock Solid is a high performing boat both in Championships and MHYC's inshore series. They were third overall on One-Design in the season Adams 10 pointscore and won Division 1 of the Sydney Harbour Trek last October.
The final day of the Farr 40 One Design Trophy was sailed on Sydney Harbour and Nutcracker, with substitute helmsman Ray Roberts, held onto their substantial lead from yesterday to take out the regatta. The standard has now been set, so Melbourne Owners Rob Davis and Andy Baker, whilst ecstatic, will be no doubt be feeling under pressure to similarly perform to this level at the next regatta in November.
Conditions were light and smoky on The Sound today with aerial choppers continuing to put the fires out on North Head. The hazy conditions provided by the fires certainly gave indication of the variability on the first race, which was won by Nutcracker.
Rob Pitts right hand trimmer Mal Parker took over the helm of Double Black this weekend and didn't disappoint. The crew did an excellent job in the extremely challenging and difficult conditions yesterday, which had even the most experienced owner/drivers having their turn at wipeouts. With consistent scores over two days and placing five out of eight races in the top three, a second place overall and boat of the day was well deserved, no doubt leaving another owner with an ambitious goal to be achieved for the next regatta.
Due to the variability and the wind disappearing, PRO Phil Yeomans made the excellent decision to shorten the final three races to one lappers, thereby ensuring all eight scheduled races were achieved. Communication from the race committee, during difficult starting procedures with an out flowing current, was second to none.
Four races produced four winners today with Gordon Ketelbey's Zen taking out Race 6, Jeff Carter's Edake winning race 7 and Joe de Kock winning the final race, positioning Good Form in third place overall.
Due to Covid, this weekend's regatta which was originally scheduled to be sailed in Newcastle, was moved back to Sydney. A spot on the podium will surely appease our Newcastle owner for the change of venue away from his home town.
Farr 40 Owners and the Class administrator wish to thank Rob Davis, Andy Baker and Rob Pitts for entering their boats this weekend ensuring great, close racing and a decent line up at the start line.
Thank you to all the wonderful staff at Middle Harbour Yacht Club and special thanks to the Race Committee headed by PRO Phil Yeomans and to John and Sandy on the mark boat for a hectic day and a job well done moving marks for all four races.
The Farr 40 Class will next reconvene on the 14th and 15th November 2020, where, if the Victorian borders are open, the postponed 2020 National Championships will be held. If the borders are closed and Victorian owners are unable to travel, the regatta will take place and become part of the 2020/21 series point score.
RESULTS
1st – Nutcracker (Ray Roberts)
2nd – Double Black (Mal Parker)
3rd – Good Form (Joe de Kock)
4th – Outlaw (Tom and Alan Quick)
5th – Edake (Jeff Carter)
6th – Zen (Gordon Ketelbey)
7th – Exile (Rob Reynolds)
By Jennie Hughes
Farr 40 Australian Class Administrator

After a long and frustrating off season navigating Covid rules and restrictions, the Farr 40 Class has been given the green light to hold their first point score regatta of the season on 17 & 18 October 2020, hosted by Middle Harbour Yacht Club.
Australian Sailing and NSW Health zoning restrictions have now been lifted, and the Class is keen and committed to get all future regattas away with no further postponements.
Both Victorian teams, Double Black and Nutcracker have committed to this weekend's regatta. Owners Rob Pitts and Rob Davis have appointed substitute helmsmen for what promises to be a great first regatta of the season with seven boats on the start line.
Lang Walker has recently sold the iconic Kokomo to a local owner and she will now join the ever-increasing fleet at MHYC. A number of yachts have changed hands recently, which is positive news for the Australian Class with Sydney fleet numbers on the rise.
Due to Covid, the 2020 National Championships which were scheduled to be held back in March were postponed until next month. If the Victorian borders are re-opened, allowing Double Black and Nutcracker owners to travel, the Nationals will go ahead as planned with this regatta the only lead up event. Jeff Carter's Edake and Tom and Alan Quick's Outlaw are the two teams vying for the National Champion crown and the infamous red championship blazer.
"It's been a strange year for everyone and Dad (Alan) and I will be sharing the helm this weekend. We are really looking forward to being back on the water and competing with all our Farr 40 mates. It's a shame our fellow skippers from Melbourne won't be joining us, however, we appreciate their commitment to the Class by entering their boats and we look forward to welcoming them back hopefully next month." Quick said.
After what has been a difficult year for our sport, owners and crew have never been more keen to hit the water and PRO Phil Yeomans has scheduled up to eight races being sailed offshore on Saturday and back inside the harbour on Sunday.
List of entries:
Double Black (MHYC) - Rob Pitts
Edake (MHYC) - Jeff Carter
Exile (MHYC) - Rob Reynolds
Good Form (NCYC) - Joe de Kock
Nutcracker (SYC) – Rob Davis and Andy Baker
Outlaw (CYCA) - Tom Quick
Zen (MHYC) - Gordon Ketelbey
By Jennie Hughes - Farr 40 Australian Class
It was a busy weekend at MHYC with inshore, offshore and regatta racing on October 17 & 18.
The Farr 40 One-Design Trophy Series kicked off for season 2019-2020 at Middle Harbour this weekend with seven boats enjoying close and competitive racing.
Saturday's offshore races were sailed in the Manly Circle with a fresh north-easterly enabling four good races to be completed. Sunday's weather was a different matter, making hard work for Phil Yeomans and the race management team. A very light and fluky westerly backed all the way to north-east during the day, making for plenty of course changes.
In the end, a full program of eight races were completed. The Victorian boat Nutcracker, owned by Rob Davis but helmed by Ray Roberts and crewed by a local team, came out on top by four points ahead of Double Black (Rob Pitts) and Good Form (Joe deKock).
To view the Farr 40 Results and photos by Marg Fraser-Martin – click here
Race two of the MHYC Ocean Series was held on Saturday in conjunction with the CYCA Short Ocean Pointscore. Rob Aldis and Khaleesi claimed the Division 1 IRC win, while Ian Box and Toy Box 2 won on PHS. In Division 2, Jack Stening & Colin Gunn's Stormaway took IRC and PHS winner was Chris Canty's Galaxy III.
To view the MHYC Ocean Series results – click here
To view the CYCA SOPS race results – click here
The Inshore PHS Series for Divisional Keelboats and the Adams 10 Series also continued on Saturday with 15-20 knots blowing down the harbour and providing some lively racing. Adrian Walters' Little Nico took the gun for Division 1, John McGrory's Forty Two was number one in Division 2 and John Crawford's Innamincka to top boat in Division 3. David West and the crew of Ace were the best of the J/24 One-Designs. Mitchell Miller's Rock Solid was first home in the Adams 10s ahead of Sirius (Garth Riley) and Another Dilemma (Jim Vaughan). Garth Riley and Sirius took the PHS win.
To view the Inshore PHS Series results – click here
To view the Adams 10 results – click here
Inshore Racing on 17 October 2020
A magnificent sunny spring day for the Harbour Trek feature event today with a solid fleet of twenty eight boats heading off down the harbour. With a very light breeze leading up to the start time the race committee went with a short course 3.
The leading boats had a very slow start but as the wind picked up above forecast the fleet made short work of the course.
In Division 1 Peter Sorenson got the gun on Advanced Philosophy followed by Kukukerchu (David Ross) in second and Bluetack (Patrick Delany) in third place. Well done to Rob Aldis and Peter Winter on Kayimai for their 7th place two handed.
In Division 2, two handed racers Evan Hodge and Kelly Nunn-Clarke got the got on Sanctum followed by Farr N Away (Chris Lee) in 2nd place and Galan (Mike Gallagher) in 3rd.
For full results click here
Thanks again to Marg Fraser-Martin for her awesome photos.....
It was a perfect evening to kick off the MHYC Women's Helm Twilight Pointscore with a fresh north-easterly and comfortable temperature.
Winners were Skye Patton / Kayimai (Div 1), Samantha Gallagher / Galan (Div 2), Anna Alvsdotter / Slac-n-off (Div 3) and Catherine Thornton-Rofe / Kaotic (Div 4).
Divisional winners in the open fleet of 46 boats were Highly Sprung (Mark Spring) for Div 1, Galan (Samntha Gallagher) for Div 2, Arawai (Derek Minihane) for Div 3 and Thiseldo (Kevin Bloor) for Div 4.
For the Women's Twilight Results - click here
For the ThursdayTwilight Results - click here
As the Annual Presentation Night to celebrate MHYC's 2019-2020 season was not possible due to Covid-19, we are announcing the award winners online over a period of 5 weeks.
In our third instalment, we celebrate:
Neil Padden & Wailea – recipient of the Flag Officers' Participation Award
Sirius (Garth Riley) - The NSW Police Association Trophy
Stormaway (Jack Stening & Colin Gunn) - The Ocean Series Perpetual Trophy - Division 2, Selo Cup – Division 2 and Cock of the Club Team Challenge Trophy
Tempo (Michael Smith) Christmas Cup
Neil Padden & Wailea – Flag Officers' Participation Award
Congratulations to Neil Padden and his yacht Wailea for winning the MHYC Flag Officers Participant award.
When Neil retired to Sydney, the plan was always to own a yacht, and he bought Wailea, a Beneteau 40.7. The idea was to carry on sailing in cruising and picnic mode with the occasional race thrown in, but says "when I started racing, I got hooked and quite soon the racing overtook any cruising. We bought our house in Clontarf, so MHYC was the obvious choice of Club, and John Hurley, David Lee and others helped me enormously to get started in racing".
Neil now enjoys his racing at MHYC most Wednesday, Thursday Twilights as well as Saturday racing. Neil is a great supporter of new sailors joining MHYC. He has recruited several good sailors through the MHYC crew board, and folk just turning up out of the blue. He also uses MHYC's Skipper and Crew Meet and Greet, Pacific Sailing website, and MySail.
Neil has been a tremendous supporter of our club. He was on the Board, most of the time as Treasurer, for ten years. Having served his time on the Board, he still helps ensure the smooth running of our club. He is a member of the Finance and Risk Committee, Chair of the Funding Committee, and a Director of the MHYC Foundation. Neil enjoys our club and says "MHYC, has been a very important social thing for me as a recent immigrant with no family here".
High on his bucket list is… "I want to do consistently well on IRC, which we have always struggled to achieve, and I want to beat I more often!". Watch out Stormaway!
Sirius (Garth Riley)
The NSW Police Association Trophy is awarded in memory of Ben Nossiter to the yacht in the Adams 10 Class with the most line honour successes in the Sprint Series. The trophy uses part of the shotgun used by the MHYC race management team until 1999. When the gun licensing laws changed, the Club was forced to surrender their starting shotguns. The Police Sailing Association had a trophy made using one of the butts and donated it to Club in appreciation of our close relationship over the years. As well as claiming the Police Sailing Association Trophy and winning the Adams 10 Sprint Series, Sirius was 1st on PHS and 3rd on One-Design in the Spring Pointscore and 2nd on both One-Design and PHS in the Annual Pointscore.
Stormaway (Jack Stening & Colin Gunn)
Stormaway is a regular and strong competitor in the club's Ocean and Inshore series, in Feature events and for Wednesday non-spinnaker racing. In 2019-2020, Stormaway had another successful year, winning the Ocean Series for Division 2 on IRC (Selo Cup) and PHS (Ocean Series Perpetual Trophy) and was part of the winning team who claimed the Cock of the Club trophy for the Chaos Cup in January.
Tempo (Michael Smith)
The Christmas Cup trophy was originally presented to MHYC by the Captain and Crew of the Golden Hawk in 1988 and is awarded in memory of Gordon Reynolds. Tempo was the Division 1 winner in December and also went on to claim a win in the Division 1 Twilight Annual Pointscore.