There was a south-easterly breeze and a magnificent evening for twilight sailing last Thursday.
Over forty boats enjoyed the conditions but with the moderate wind fading to light as it came closer to 8pm, a number unfortunately did not finish within the time limit.
First boat home in Division 1 was Graeme Lee's Farr 'n Away ahead of Toy Box 2 and Pearl 2. In Div 2 it was Starstruck (Scott Lawson), then Moonshadow V and Mortgage Choice Rumba. Laurie McAllister's Zeusus claimed the Division 3 win from Bula and French Connection, while David & Ben Field's Bluebottle led Cutting Loose and Single Malt home in Div 4.
Back at the club, it was Mad Hatters night with prizes for the best hats and live entertainment.
Thanks to Marg Fraser-Martin for the on-water photos......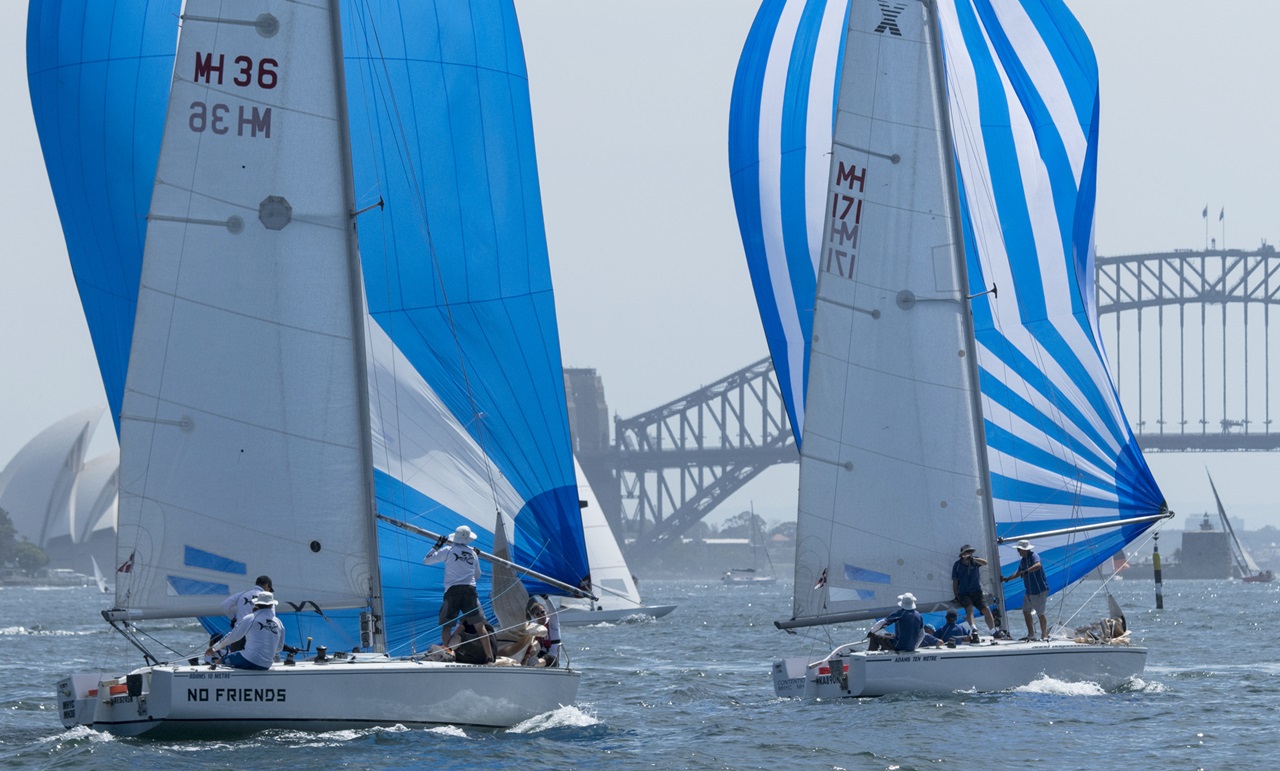 It was a hot spring day with difficult flukey winds for the MHYC Short Series and Adams 10 race on Saturday 3rd November.
In the Adams 10s, Patrick Delaney's Powderhulk took the One Design win with Lumine Lunae (Raoul De Ferranti) and Rock Solid (Mitch Miller) in 2nd & 3rd place. Lumine Lunae also winning 1st place in the PHS division.
Forty Two (John McGrory & Mike Coleman) won Division 1 from Lazy Dog (Shaun Lane) and Galan (Mike Gallagher).
Congratulations to our three Division 2 J24's that headed down to Cronulla to compete in the J24 NSW State Championships. A great result for Waterborne Again (Brendan Lee) with a 2nd place finish on one design after the 6 races over 2 days. A strong showing for the other MHYC competitors with Ace (David West) in 4th followed by Vortex (Chris Lee) and Innamincka (John Crawford) in 5th and 6th respectively. Vortex claimed the win on handicap.
Congratulations also to the Open division boats competing in the Morna Cup, which is Race 3 of the SOPS Series. In Division 1 Nine Dragons (Bob Cox) took 1st place in the IRC category with Just a Dash( Phil Dash ) winning 3rd place in both the IRC and PHS categories. In Division 2 Stormaway (Jack Stening) won 1st place in the IRC as well as 2nd place in the PHS categories. Third place in the PHS category went to Mortgage Choice Rumba (Rob Carr and Kerry Burke).
To view the latest results for the Adams 10 Division - Click Here
To view the latest results for the Short Series – Click Here
Photos - Marg Fraser-Martin was on the water again today to capture some of the action....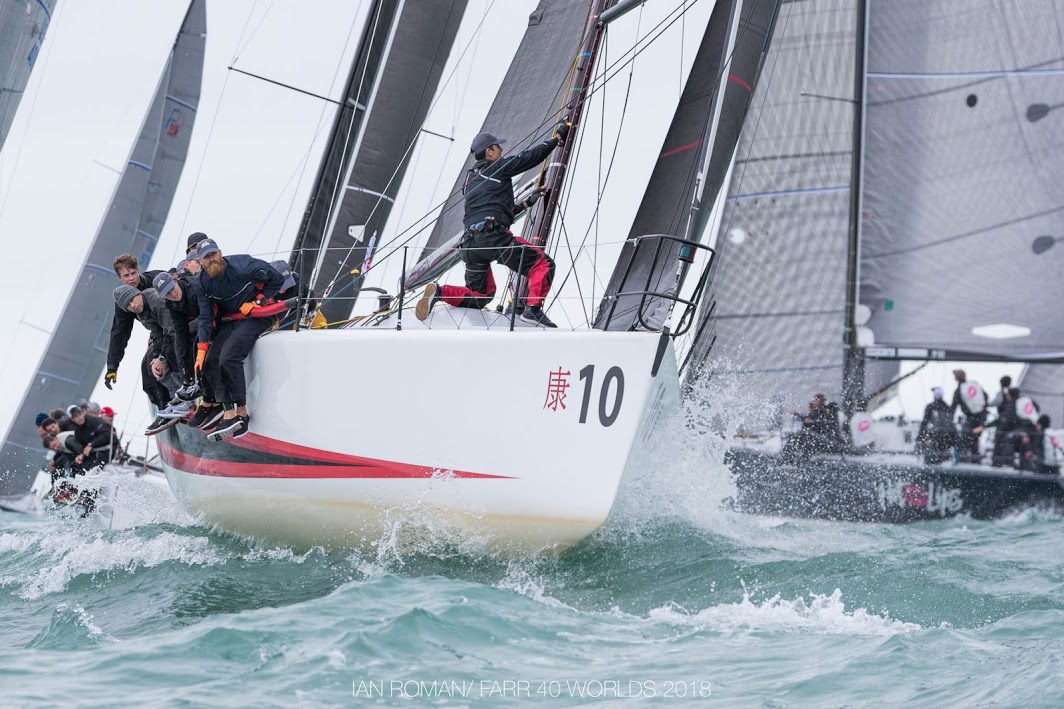 Congratulations to the skippers and crews of Zen and Edake, who have finished 2nd and 3rd in the Farr 40 World Championships Corinthian Division.
Eleven races were contested by a quality fleet of 14 boats, with 10 in the the Corinthian fleet.
Gordon Ketelbey's Zen finished 6th overall and Jeff Carter's Edake 7th.
To view the final reslts - click here
To view the event website - click here
It was a perfect north easterly breeze building from 12 to almost 20 knots this afternoon for the MHYC Inshore race and 25 boats had an enjoyable two and a half hours on the water.
Phil Dash's Just A Dash took the IRC win in the Open Division, with Neil Padden's Wailea taking top prize on PHS ahead of Just A Dash and Toy Box.
In the Adams 10s, Patrick Delaney's Powderhulk took the double win on PHS and One Design, with Rock Solid and Kick 'n Chase 2nd & 3rd in the OD results.
Mortgage Choice Rumba (Cook / Carr / Burke) won Division 1 frrom Forty Two and Optimum. Dania took the prize for Division 2 ahead opf Innamincka and Waterborne Again. John Crawford's Innamincka was the quickest of the J24s.
At the prize presentations, Vice Commodore Racing, Geoff Charters, announced that Martin Hill, the inaugural recipient of the Tig Thomas Trophy for International competition, has just won the 2018 International Etchells World Championship in Brisbane. Congratulations Martin and crew!
To view the latest results for the Open Division - Click Here
To view the latest results for the Adams 10 Division - Click Here
To view the latest results for the Inshore Divisions - Click Here
Photos - Marg Fraser-Martin was on the water again today to capture some of the action....
By Jennie Hughes
Farr 40 Australia Class Administrator
8 October 2018
Edake wins first race of Day 3
At the end of yesterday's sailing, the Chicago Yacht Club race committee protested US boat Norboy in race 5 for a roll infringement in the zone resulting in a 10% penalty, allowing Zen to move back into the Corinthian leader position of the 2018 Farr 40 World Championships in Chicago. Unfortunately, Gordon Ketelbey's team were unable to hold onto their lead after two races today, the third race suspended due to unstable winds.
Jeff Carter and the Edake crew won the first race of the day in style and whilst the Corinthian gap is narrowing, the consistency of the professional boats is paying off and the top four have a good lead going into the final day of racing tomorrow. Plenty is in first place on joint points with Struntje Light, Enfant Terrible is in third and Flash Gordon in fourth.
Carter is pleased to be back in the mix going into the final day of racing. "Following on from our third place in race 6 yesterday, we were happy to go out today and get ourselves a good start. We were sixth around the top mark on the first leg and most of the boats went to the left. We went right to keep our air clear and were in second position, just behind Struntje. Jud (Smith) picked the shifts on the first downhill leg very well and we maintained our position to the top mark and then on the next leg downhill we knew it was going to be difficult to keep the pro boats at bay. We continued to work the boat hard and were able to cross Struntje and beat them over the line for first place. We are very happy to make up some points from yesterday."
Carter added, "We got a good start at the pin end of the second race and were forced to be on the left side of the course, with four other boats holding us back from tacking. Unfortunately, the wind shifted right over 40 degrees which meant game over for us and the other three boats on the left side. We were surprised with such a wind shift. We are really looking forward to getting three races completed tomorrow with clean starts and hope to continue decreasing the sizable deficit to the other two Corinthian boats. We have the speed and crew ability to do it. "
Corinthian leaders Norboy, Zen and Edake will battle it out tomorrow for the Corinthian Trophy. Farr 40 Class President, Leif Sigmond's Norboy is four points ahead of Zen and Edake has made it into the top half of the fleet in seventh position.
It was a much warmer day today on Lake Michigan with no rain and the lighter, shifty winds of 10-12 knots.
Racing commences at 10.30am tomorrow, Tuesday, 9 October 2018 on Lake Michigan, Chicago.
Day 3 Video: Click Here
Day 2 Video: Click Here
Results: Click Here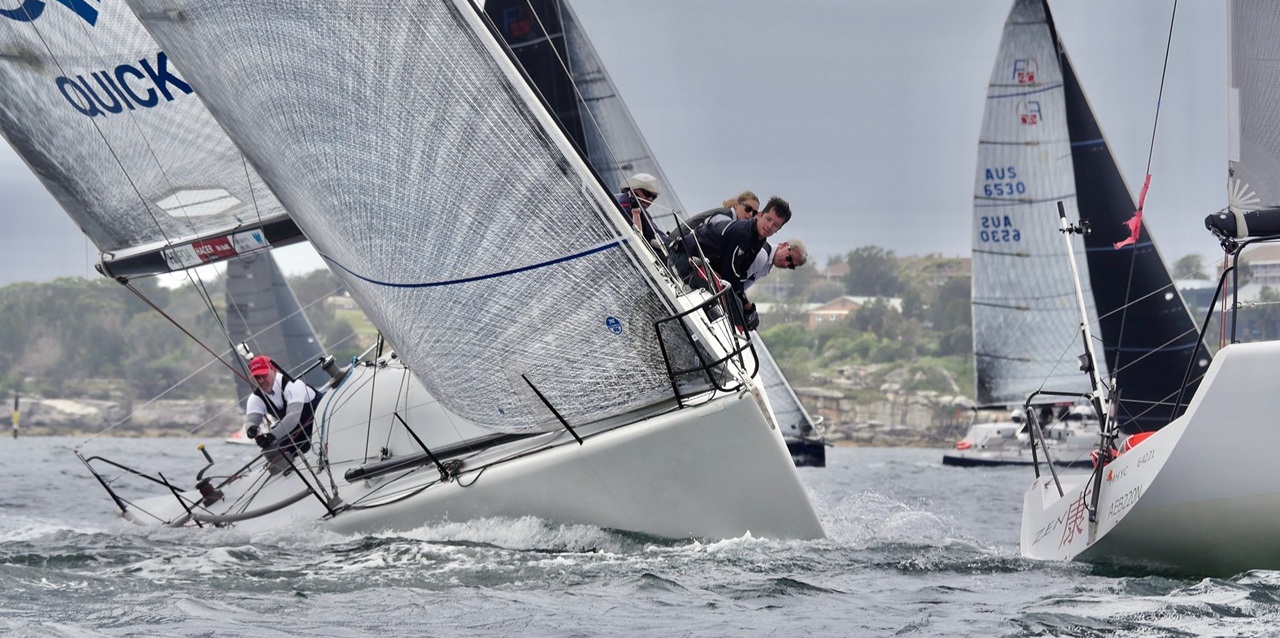 By Jennie Hughes, Farr 40 Australian Class Administrator, as amended by MHYC
After four races offshore yesterday and another four races inside the harbour today, Tom and Alan Quick's Outlaw have won the first pointscore regatta of the 2018/19 Farr 40 One Design Trophy Series at Middle Harbour Yacht Club.
In what is quickly becoming a regular outcome, the Outlaw team have roared into this season at the top of the leaderboard. Tactician David Chapman has put together a team back from his days with the Voodoo Chile programme based in Hobart, Tasmania. Wulf Wilkens, Tim Roberts and Phil Armstrong were part of the winning crew at the Nationals in 2015. Chapman complimented his fellow comrades, "We have a very experienced crew. They hike hard and are loyal team players. We don't train, given the distance between crew members, so today was a great result for us".
Outlaw recruited two new crew members for the final four races of the regatta, who just happened to be Chapman's relatives. "My father came out of retirement today and raced with us, his first Farr 40 race since the 2005 Sydney Worlds aboard Ivan Wheen's Sputnik . We also had my Uncle, Bob Wilmot aboard, so it was a real family affair and nice to come out on top." Chapman also paid tribute to Class newcomers, "It was great to see Jason and Mary King getting stronger and stronger and hopefully they can convert their top mark performances into finishes soon".
Racing today took place between Middle Head and Neilson Park with 12-22 knots providing perfect conditions for the Australian fleet to fight it out for the trophy.
With just two points separating Double Black from Outlaw at the end of yesterday's racing, the Victorian team were hot on their heels, scoring a second in Race 6 and a first in Race 7, finishing second overall.
The stiff competition of the Farr 40 Worlds in Chicago proved good practice for the Zen team who had their most consistent regatta ever, achieving third place with the following scores over eight races 2-2-5-2-2-4-3-3.
It was the first regatta of the season for Melbourne entry Nutcracker with co-owners Rob Davis and Andy Baker. Rob Davis, Immediate Past Commodore of the Sandringham Yacht Club (SYC) is looking forward to a great season. "It's been a long time since the team have sailed together and we were just trying to find our feet this weekend. It was a shake-down regatta for us as we are back sailing with our original SYC team. We are now locked in for the rest of the series at Pittwater, Newcastle, the States and Nationals and I'd like to thank my co-owner, Andy Baker for his commitment to the Class and our sailing programme. We can't wait to get back into racing in a few weeks at Pittwater and are looking forward to a great season."
Exile owner, Rob Reynolds has been enjoying some holiday time with his family and the Class appreciates his efforts in organising substitute helmsmen, so his Exile crew can still compete. Joe de Kock from Newcastle stepped into the Skipper role this weekend and did a great job, the highlight, winning Race 5.
To view the latest results - click here
Photos at Farr 40 facebook - click here
DAY 2 VIDEO HIGHLIGHTS BY TILLY LOCK MEDIA
Read more: Outlaw wins first pointscore regatta of Farr 40 season
Tony Levett's TSA Management & Charles Caskey's Perception have come out on top this Wednesday with the Yacht Sales Australia Non-Spinnaker Pursuit sailed in light and variable conditions. With a north-easterly that came and went throughout the afternoon, the course was shortened at Edwards Beach in order to get all boats finished inside the time limit of 4.30pm.
The Division 1 podium was TSA Management from Exile (Rob Reynolds) and Philosophers (Peter Sorensen), while in Division 2 it was Perception ahead of Lumine Lunae (Kim Darling) and Another Dilemma (Jim Vaughan). The fastest Adams 10 on elapsed time was Lumine Lunae.
To view the latest results - click here
Thankyou to Marg Fraser-Martin for the photos...
Read more: TSA Management & Perception on top this Wednesday
The Waitangi Cup Interstate Challenge for the Adams 10 Class has concluded at Middle Harbour Yacht Club with racing abandoned on the final day.
Four windward-leeward races were conducted yesterday, with the NSW team dominating the placings and taking a 4-0 lead in the teams race score. Conditions were a fresh 14-19 knots with plenty of chop and a slight swell on The Sound.
Skippers for each of the boats were Monica Jones, Grant Botica & James Heywood for VIC and Mitch Miller, Patrick Delaney & Geoff Charters for NSW.
The Waitangi Cup trophy will remain in NSW for another year and the event will be hosted on Port Phillip in 2019.
Final Results - click here
Event Webpage - click here
Action Photos by Marg Fraser-Martin
MHYC members Gordon Ketelbey and Geoff Carter, along with the crews of Zen and Edake, are at the Farr 40 Worlds in the USA.
Chicago Yacht Club is hosting the Pre-Worlds Regatta on October 3-4 ahead of the World Championships from October 6-9.
After two races on the first day of the Pre-Worlds, Zen is 4th Overall and 1st Corinthian while Edake is 8th Overall and 4th Corinthian.
To view the Farr 40 Worlds Website - click here
To view the Pre-Worlds Results - click here
After four quick races offshore on day one of the Farr 40 Australia One Design Trophy at Middle Harbour Yacht Club, Tom and Alan Quick's Outlaw team are Boat of the Day after scoring two bullets and two third places.
Skipper, Tom Quick was pleased with today's result. "It was a great team effort today. The Double Black guys were jumping all over us in the last race defending their lead with enthusiasm. It was tricky conditions in the chop but we came out on top, just. We will enjoy tonight's beach party and look forward to hopefully getting some racing in tomorrow."
Quick added, "A quick shout out to Jason and Mary King and the SolYmar team who sailed brilliantly today, given they were two crew short and minus a tactician. Great effort".
MHYC PRO Phil Yeomans ran four efficient races today off Harbord Diggers with an average of 10-12 knots, dropping to 8-9 knots. With tomorrow's forecast in mind the PRO said, "We wanted to get four races in today and get a result in preparation for the southerly change overnight. Whilst the Class doesn't have an official wind limit, we've always pulled the pin when winds get over 25 knots."
The men in black from Melbourne had a great day on the water scoring a 1-4-3-1 placing them in second place, just one point behind regatta leader Outlaw. Double Black Skipper Rob Pitts was pleased with the result. "We are stoked with today's result. Winning the first race gave us a sense of confidence and we had great consistent upwind sailing in a tricky sea state. Our tactician Joe Turner did a great job and the team all sailed above the line today, so well done guys".
The Melbourne and Sydney based builder has been racing his Farr 40 in Sydney for three years and enjoys the camaraderie of the Class. "I love the Farr 40 Class. We have such a great bunch of owners and crew and it's always so well organised. All teams are downstairs now at the Beach Party and we couldn't ask for more. The staff at MHYC are wonderful and always make us feel so welcome."
Australian Class President Gordon Ketelbey and the Zen crew have just arrived back in Sydney from the Farr 40 Worlds in Chicago. The competitive racing against the international fleet resulted in some consistency today with the team scoring three seconds and a fifth, placing them in third place overall at the end of day one.
Janey Treleaven's Finn was a late scratching due to the newly appointed CYCA Rear Commodore's involvement in the Invictus Games, leaving just six boats to battle it out and take the lead at the first pointscore regatta of the season. Tomorrow's racing will commence at 11am inside the harbour.
To view the latest results - click here
To view the Farr 40 Website - click here
Archie Cropley & Max Paul have won the NSW Youth Championships in the 29er class.
Organised by Australian Sailing and hosted by South Lake Macquarie Amateur Sailing Club, the Championships were held over the Labour Day weekend September 29 through October 1. The event attracted 430 competitors with 332 boats of 12 classes. Nine races were held for the 29ers over the three day regatta.
Archie & Max finished 11 points clear at the top of the results table for 26 boats in the 29er fleet. MHYC sailors were on 7 boats in the top 15. Lachie Brewer & Flynn Twomey were 3rd overall, Zoe Dransfield & Jack Luketina 5th, Hugo & Darin Taranto 10th, John-Mark Paul & Martyn Oliver 11th, Grace Powers & Conor Weare 12th and Max Giffney & Kieran Bucktin finished 13th. Well done to all.
To view the NSW Youth Championships Results – click here
To view the NSW Youth Championships Website – click here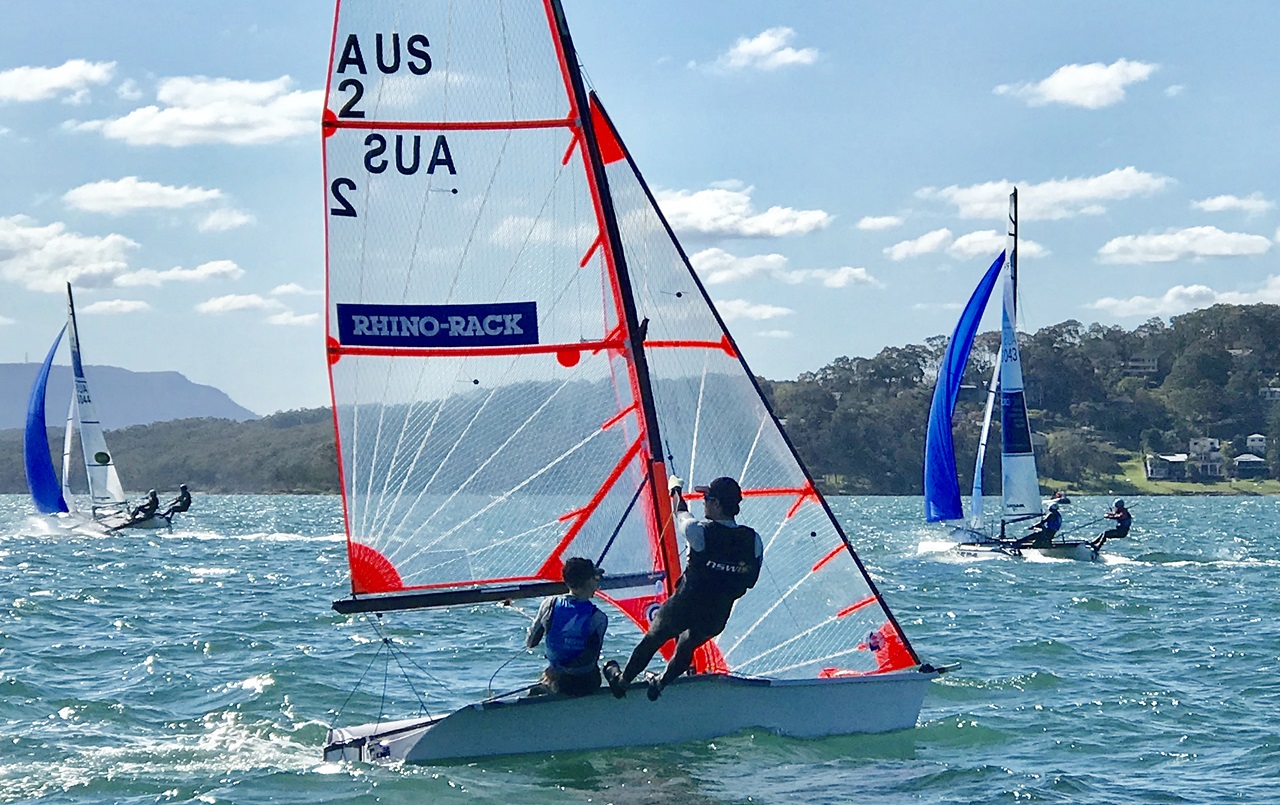 Read more: Archie Cropley & Max Paul win 29ers at NSW Youth Championships