By Jennie Hughes
There was absolutely no stopping Jeff Carter and the Edake crew today as they smashed out two quick wins in races five and six, putting them so far ahead they had won the regatta before the last race had begun.
Carter had the win in the bag after the most spectacular finish in race six, where down to the last fifty metres Exile were three boat lengths ahead. Never to be underestimated, Carter caught a small vein of pressure giving them a hotter angle to the finish, where they pipped Exile by less than a quarter of a boat length as the race finished with cheers from spectators and crew.
"Today was very close racing. In race six we were able to work our way into second place behind Exile. We had to be patient on the last leg downhill and felt the boat end was favoured, so we broke away to the pin. Exile came back a little later and that's when Harry (Price) and Alice (Tarnawski) decided to let them have the pin, while we put the speed throttle down to the boat end.
We worked the lumpy conditions and crossed in first by the smallest of margins to take the win. We were not sure of how many points we had on the others but as it turned out we didn't need to finish the last race of the day. We played it safe and gave Outlaw a run for their money and finished second. The back to back regatta wins is a good start to the season, however, we still have room for improvement.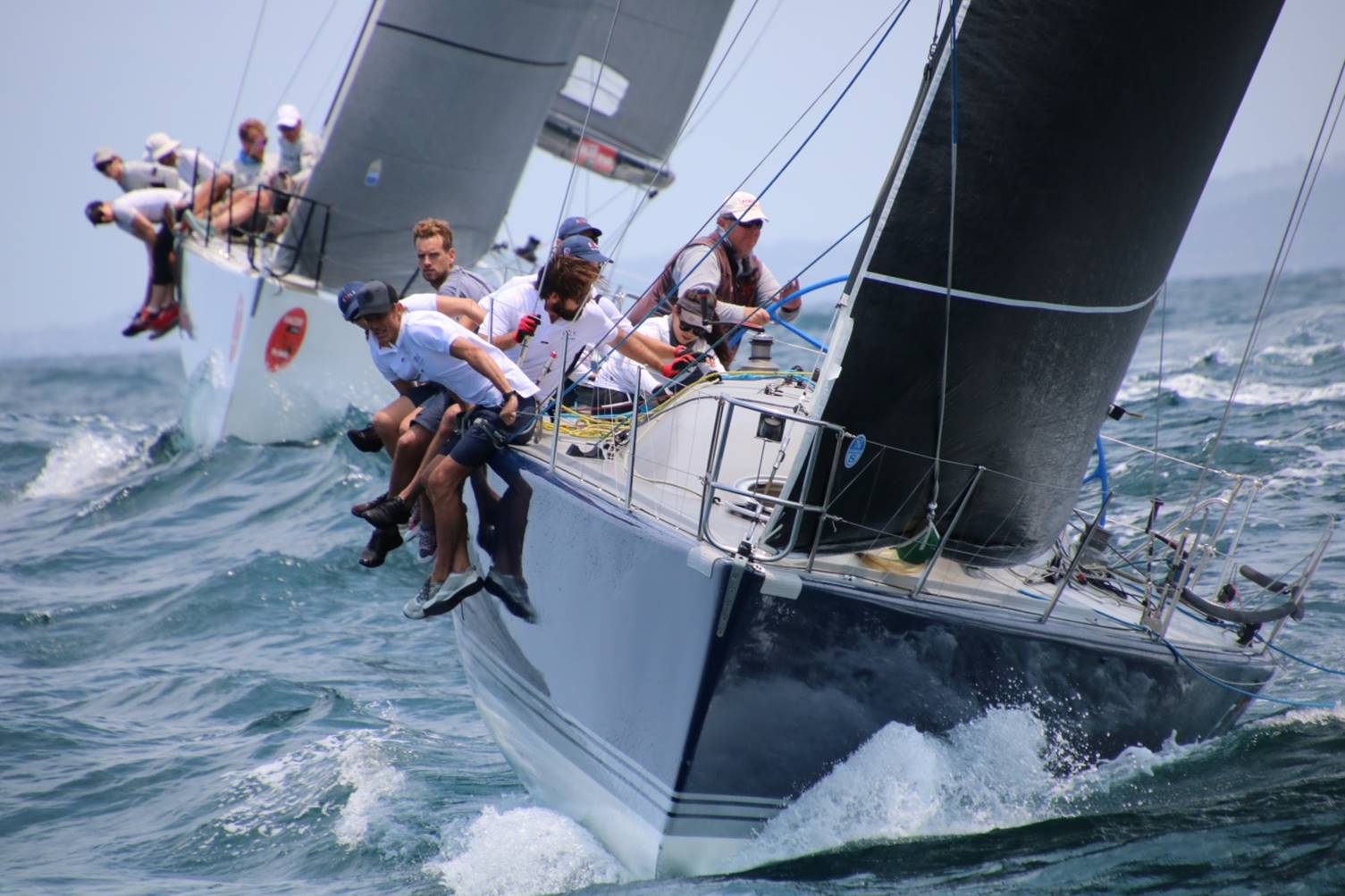 Reigning National Champion Tom Quick's Outlaw narrowly snuck into second place and whilst they are not dominating as they did last season, they are always on the podium and the competitive team will be on the hunt for a win in January.
The Exile crew, with substitute helmsman Sam Hill, along with his rock star tactician Finn Alexander, were strong all weekend and just missed out on second place to Outlaw by one point.
Hats off to Bob Bennett and Tommy Spithill for organising the Youth Development Team on Enigma who impressed all competitors.
That's a wrap for 2019! The next Farr 40 regatta will be held in January at Middle Harbour Yacht Club where eleven entries have been confirmed, as the rest of the fleet reunite and get down to business in the lead up to a massive year with the NSW State Titles, National Championships and then the big one, the Farr 40 Worlds 2020.
The Class would like to thank Royal Prince Alfred Yacht Club and all the wonderful staff for their superb hospitality and PRO Steve Merrington and the race management team, who are so committed to our great sport.
RESULTS
1st – Edake (Jeff Carter) 13 points
2nd – Outlaw (Tom Quick) 18 points
3rd – Exile (Rob Reynolds and Sam Hill) 19 points
4th – Double Black (Rob Pitts) 20 points
5th – Enigma (Bob Bennett) 35 points
The Farr 40 Australian Class is proudly sponsored by Hacer Group.

Farr 40 Australia Website: www.farr40.asn.au
Despite the rather melancholy weather, the competition was as stiff as ever in the 42nd running of the Sydney Short Ocean Racing Championship (SSORC), hosted by Middle Harbour Yacht Club (MHYC) over the weekend.
Gerry Hatton's Bushranger crew came down from 'The Alfreds' on Pittwater and conquered in IRC Division 1. Hatton is away, so Michael Fountain was left in charge of the Mat 1245, and after finishing third in the passage race yesterday, pulled out all stops with 1-2-1 results to beat nearest rival, Bob Cox's DK46, Nine Dragons by three points. Darryl Hodgkinson's Carkeek 40, Victoire, was third on countback after winning the passage race.
"Bushranger has had a fantastic relationship with Nine Dragons. Bob Cox was pretty persistent that we should come and compete at the SSORC," he said of the Middle Harbour Yacht Club yachtsman who won Division 1 of the regatta last year and is a regular on the podium.
"Bob loves the fact that there is hardly ever 30 seconds between us on the race track; you make one mistake and you're gone," he continued. "We enjoy racing against each other and enjoy each other's company. There is good spirit between the two of us."
Competitors at the SSORC were put through their paces in a very shifty and light 6 to 10 knots of breeze for yesterday's passage race, followed by a soft 10-knot south-easterly on bumpy seas for the three windward/leeward races, Fountain admitting, "Bushranger loves the bump."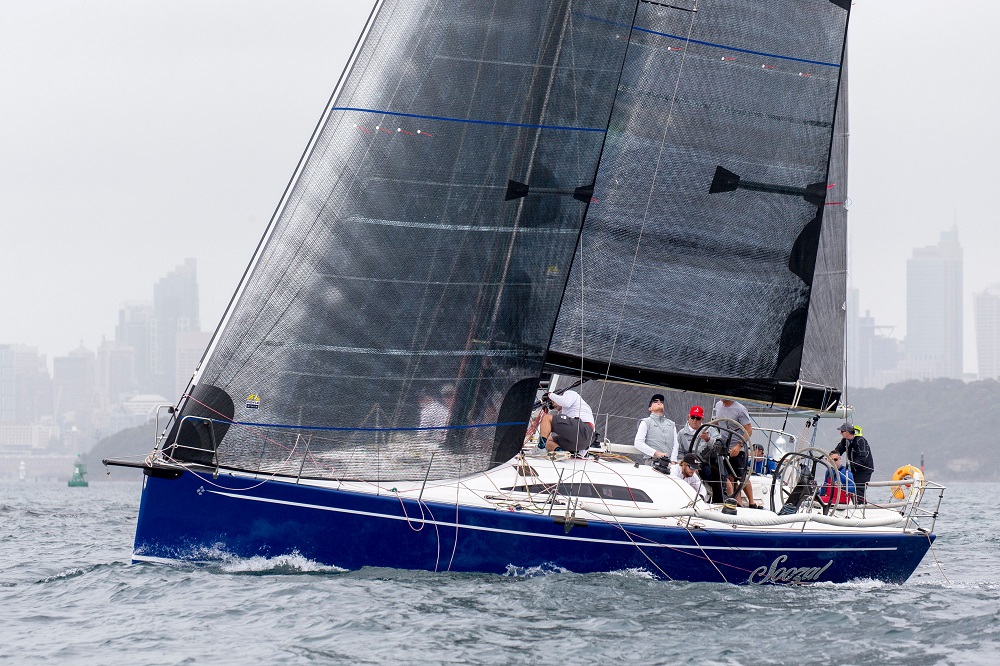 Division 2 went to newcomer, Soozal, the King 40 skippered by Keiran Mulcahy who with his wife, recently imported the boat from California. He could not have been more pleased with the outcome of Soozal's Australian offshore debut.
"We're all a bit stunned," Mulcahy confessed. "We went out there a little apprehensive, it being our first regatta. We're thrilled. We didn't know what to expect, or what was going to happen. It turned out to be a good exercise."
Mulcahy, who next month takes on the 628 nautical mile 75th Sydney Hobart, said: "It turned out to be the right decision to bring the boat from California. Twelve years old and it races like a rabbit. It's proved itself over the last weekend."
In her first outing, Soozal cleaned up, scoring three wins from four races to defeat nearest competitor and local, Jack Stening and Colin Gunn's Sydney 36, Stormaway, which also finished bridesmaid last year. Stormaway won Race 2, to finish three points in arrears, while Chris Heraghty's Sydney 38, Risk, was third, a further two points behind.
Speaking on Day 1's soft breeze, Mulcahy said, "The boat was designed for 15-20 knot winds, so it was a surprise to win the opening passage race. Today was more designed for us weatherwise. Soozal is a quirky boat and a sistership to the Mat 1245. They share the same designer, Mark Mills, but the designs are slightly different."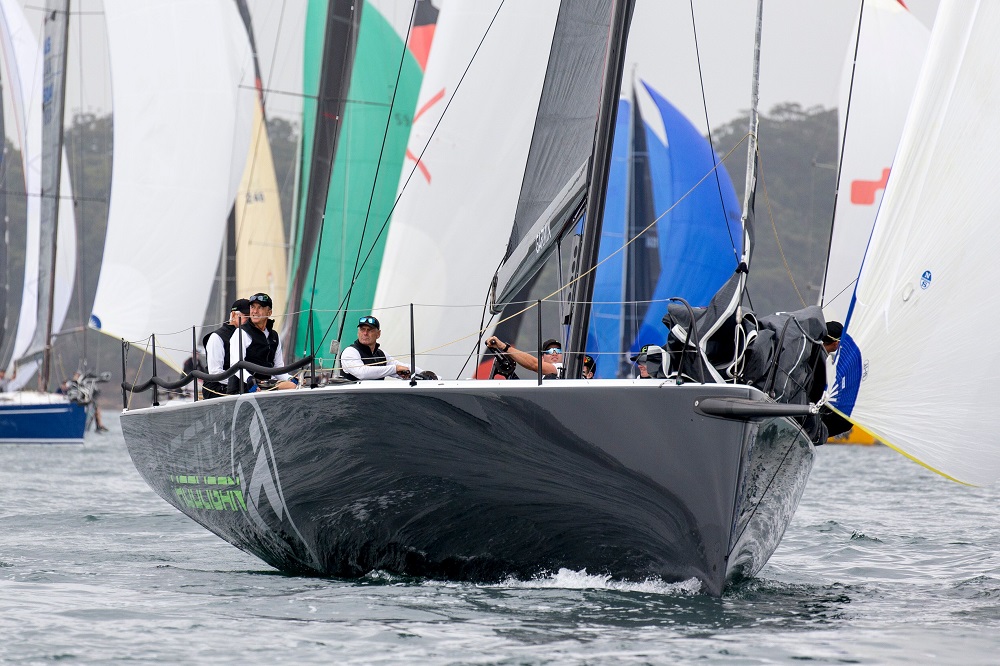 In the TP52 series, defending champion, Marcus Blackmore's Hooligan, came good again to claim the trophy. A big supporter of sailing, Blackmore won all three races in a depleted fleet. David Pescud's SWD Wot Eva took second place, her crew putting in the hard yards ahead of the Sydney Hobart.
The next major offshore event for MHYC is the Sydney Harbour Regatta to be held on the weekend of March 7 and 8 in 2020. The 2020 SSORC will be held from 7-8 November, three weeks earlier than usual, as a lead-up to the Farr 40 World Championship being hosted in Sydney.
MHYC organisers thank the Race Committee: Principal Race Officer, Denis Thompson, Saturday Race Officer Steve Tucker, and their race teams. Thanks also to the Cruising Yacht Club of Australia for making its course boats available and Bob Cox for all his efforts to promote this event.
"We also thank all competitors and especially those making the effort to come down from Pittwater for the regatta," MHYC Special Events Chairman, Ian Box said.
MHYC, which is celebrating its 80th anniversary this year, expresses its thanks to sponsors: Helly Hansen, Club Marine, Oatley Wines, Short Marine, Vittoria Coffee and Key Sun Zinke for their support.
All information, including full results: www.ssorc.mhyc.com.au
Di Pearson/MHYC media
Presentation photos....
Regatta images by Andrea Francolini....
Read more: Sydney Short Ocean Racing Championship winners declared
A moderate to fresh and shifty south-easterly provided some challenges for the Optimist and 29er fleets today, the final session of MHYC Centreboard Club Championship before Christmas. There were some fast downhill rides on the Balmoral racetrack, but there was quite a bit of swimming and bailing going on too.
Jake Barnabas claimed two wins in the 29er, with Archie Cropley taking the final race. In the Optimists, Zara Marks was first home in race 7 and Sebastian Wegner claimed the race 8 win. After 9 scheduled races, Jake Barnabas currently leads the 29er pointscore and Zara Marks is on top in the Optimists.
Many thanks to Mark McLeay, Matt Marks and Michael Giffney for race management today.
To view the latest results – click here
For more information about Centreboard Racing at MHYC - click here
Day one of the Sydney Short Ocean Racing Championship provided a light to moderate south-easterly under cloudy skies for the coastal passage race to Cape Bailey and return.
The TP52s racing in the joint SSORC and Ocean Pointscore races made the most of their large sail plans in the relatively flat water, with Marcus Blackmore's Hooligan from RPAYC the first boat home in just under four hours. In the SSORC Division 1 fleet, Darryl Hodgkinson's Victoire from CYCA claimed the IRC win from Primitive Cool (John Newbold - RMYS) and Bushranger (Gerry Hatton – RPAYC). Bushranger claimed the ORCi win and Primitive Cool was best on PHS. Soozal, Keiran Mulcahy's King 40 from RPAYC, was the top Division 2 boat on IRC from Sail Exchange (Carl Crafoord – MHYC) and Advanced Philosophy (Peter Sorensen – MHYC). Matt Hanning's Sydney 36 Supernova, also from MHYC, claimed the Div2 ORCi win while Sail Exchange was on top of the PHS table.
Inside Sydney Harbour, the annual Seven Islands pursuit race was shortened due to the limited breeze that still saw a large number of retirements. Adrian Walters Little Nico was quick in the light winds, leading Swish (Steven Proud) to the Clark Island finish by a fair margin and Kukukerchu (David Ross) third in Division 1. Charles Caskey's Perception was the sole finisher in Division 2. The Seven Islands was also the first round of the Jeanneau Cup Series and the Division was won by Mike Galagher's Galan. Macscap (Peter McClelland) was next, followed by Think Twice (Alexander Flecknoe-Brown).
The Sydney Short Ocean Racing Championship continues tomorrow with three offshore windward-leeward races.
To view the SSORC results - click here
To view the Seven Islands Race results- click here
SSORC Passage Race images by Andrea Francolini
Seven Islands Race images by Andrea Francolini
A warm and sunny afternoon with a gentle easterly breeze made for a very enjoyable twilight sail on Thursday 7 November.
Stewart McGeady and the crew of Gambler claimed the Division 1 win from Zen and Kayimai. In Div 2, Gusto (Angus Grinham) finished 40 seconds ahead of Equinox with Starstruck another 30 seconds astern. Charles Caskey's Perception led Zeusus and Peach Teats Velocity to the line in Div 3, while Thiseldo (Kevin Bloor) was the first Div 4 boat home ahead of Single Malt and Nashira.
At the half-way point of the Pre-Christmas Twilight Series, Kayimai (Rob Aldis) leads Div 1 on a tie-break from Onya (Andrew Hurt), Eliza (David West) tops Division 2 and Bula (David Lavings) is clear ahead in Div 3. Three boats are on equal points at the top of the Division 4 leader-board, but Kevin Bloor's Thiseldo leads on tie-break from Nashira (Evan Hodge) and Single Malt (Peter Gilliland).
To view the latest Twilight results – click here
The 2019 Financial and Media Markets Charity Regatta got underway on Friday in breezy conditions with 56 yachts sailing as far as Fort Denison and North Harbour. It was an exciting day on the water and great fun ashore raising money for worthy childrens' hospital charities.
For more information, visit http://asxrefinitivcharity.com.au
Visit the MHYC Event Page - click here
Photos courtesy Marg Fraser-Martin
The Giant Steps Sailing Regatta was held at MHYC yesterday with some exciting sailing conditions with winds gusting up to 20 knots.
This terrific event was established to provide companies with a unique opportunity for entertaining or team building while raising funds for children with autism. Twenty Two boat in three division participated in the event with many corporates returning again from last year. The yachts headed off for a passage race around the harbour incorporating Fort Denison.
First across the line was Rumba, in Division 3, with Balance and Co staff on board. Second place in Division 3 went to Pindimara and Tula in 3rd place. In Division I it was the TP52 KOA that got the gun with Buildline on board followed by Lend Lease Bouryges Westconnex on Wot Eva in 2nd place and Little Nico 3rd with crew from VSL 2.
In Division 2 The Count took out 1st place with crew from Giant Steps and VSL 1 followed by The Tony Moffat Team on Zen in 2nd place and Samarkand in 3rd with a group from GHD.
Congratulation to all participants, with a special thanks to the skippers that generously donated their boats for this worthy cause.
For full results click here
For more information on the great work done by Giant Steps click here
For more photos click here Photos courtesy of Marg Fraser-Martin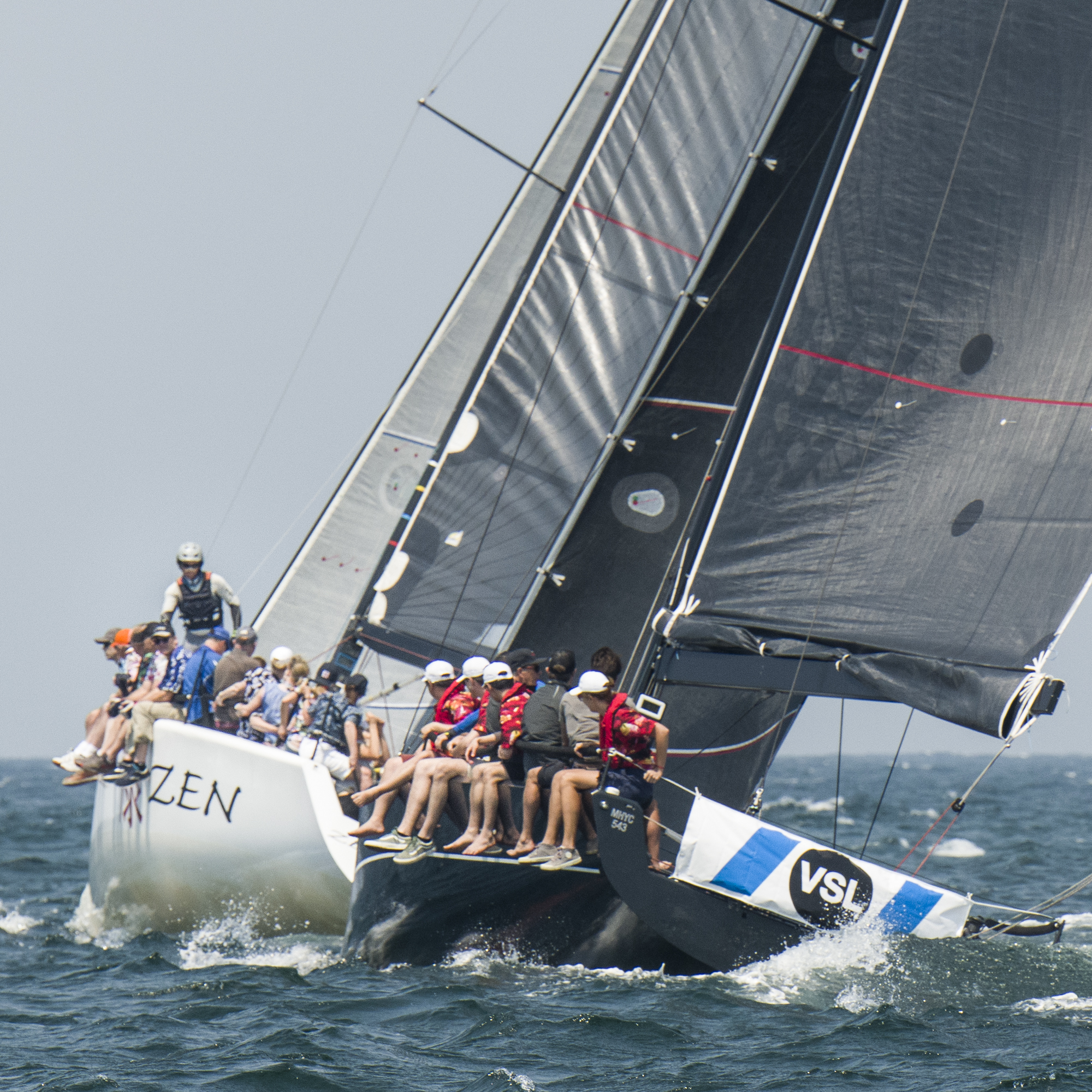 A massive congratulations from all of us at MHYC to Ben, Jacob, Will & Joel for Winning the 2019 NSWIODA Team Racing Championship. Not only did the MHYC team win the championship but they only lost one race!
Get the full account from Ben Crafoord...
1st PLACE FOR MHYC - NSW OPTIMIST TEAMS RACING Sunday 17th November
Last Sunday I was very lucky to be a team member of the MHYC Open optimist teams racing squad along with Jacob Marks, Will Wilkinson and Joel Beashel at the NSW Teams Racing Championships. Originally this event was to be run at Toronto however there was a last minute change to Rose Bay hosted by Cranbrook. The MHYC team had been looking forward to this event for some time and we were very happy to come home with the 1st place trophy and medals. We had a full-on day of racing in very good conditions. There were 6 open teams and 3 intermediate teams.
We completed in two full round robins, and only lost 1 of our 18 races. Teams Racing is very different to Fleet Racing, you have to work together to make sure you finish in the best combination. We had loads of training leading up to the event and held a few strategy sessions. It was a great day and the team cant wait for next years competition to retain the title.
Signing off from Ben Crafoord
The final four races of the One Design Trophy were held between Obelisk and Watsons Bay on a sensational day on Sydney Harbour where Rob Pitts and the Double Black crew won their first Farr 40 regatta.
Today was a special day for Pitts, who joined the Class five years ago and has never missed a regatta. The newly appointed Australian Class President was elated with the result.
"We are so happy to win our first regatta. I want to say a massive thank you to my mate Billy Idle for joining me on this journey. Billy works so hard on our boat and puts in a huge amount of time finding crew and organising logistics. I simply couldn't do it without him, and I dedicate this win to him."
What was supposed to be the last race of the day was abandoned due to a wind shift which didn't allow the course axis to be changed within the time frame. Double Black were leading this race and had the win set in their sites. It was meant to be and the classy team backed up and secured the win in the last race.
Pitts continued, "We thought we had it and were a little deflated when the race was abandoned. Kudos to my awesome crew for regrouping and winning that last race, which was the decider, as there was nothing in it for the top three."
Gordon Ketelbey booked a last minute flight to Japan to watch the Wallabies play in the Rugby World Cup. He left Zen in the extremely capable hands of his trusty substitute skipper Clare Costanzo, who put together a youth team including Finn Alexander and Louis Schofield who recently won the Youth Nationals in Match Racing.
The average age of the Zen crew this weekend was 24 and the young team had a blinder today scoring 2.1.2 and were awarded Boat of the Day.
At this afternoon's presentation, Rob Pitts paid tribute to Jeff Carter and team Edake on their Corinthian World Title and presented the trophy, just delivered from Long Beach, California. The trophy will live at Middle Harbour Yacht Club until the Sydney Worlds in November 2020.
Special thanks to Middle Harbour Yacht Club, our fabulous PRO Phil Yeomans and his wonderful team on the Committee boat for a top weekend of sailing.
Next stop Newcastle on 16 & 17 November 2019.
The Farr 40 Australian Class is proudly sponsored by Hacer Group.
Results: www.farr40.asn.au/results
By Jennie Hughes - Farr 40 Australian Class
Read more: Double Black wins first Farr 40 pointscore regatta of season at MHYC
A healthy fleet of IRC/ORCi yachts is set to line up in the Premier division at the 42nd running of the Sydney Short Ocean Racing Championship (SSORC), hosted by Middle Harbour Yacht Club (MHYC) over the weekend of 23 and 24 November – and it is not too late to enter.
Among the entries are boats preparing for the upcoming Rolex Sydney Hobart Yacht Race, including Ken Holmes' Beneteau First 45, Dreki Sunnan, John Newbold's Reichel Pugh 51 Primitive Cool and Soozal, a King 40 recently imported from California into Sydney by Keiran and Elizabeth Mulcahy. The trio will be tested by the rest of the fleet, including defending champions.
Dreki Sunnan is the 'local hope', one of six Sydney Hobart entries from MHYC, where she races regularly, while Soozal is new to the Sydney sailing scene.
"Soozal has enjoyed a very successful racing career and is hoping to re-create her winning ways in a highly competitive IRC fleet. She launched in Sydney last week. I've only played on her in the Harbour a couple of times, but I sailed her in California. She is the only King 40 built without any budget and is the best racing cruiser around," Mulcahy says.
"I've done the SSORC before though, on Astral," he said of the yacht he won PHS Division 2 on last year. "She will be waiting at Constitution Dock in Hobart for us in December and we'll race together at the Australian Yachting Championships in January," Mulcahy ended.
This will be Soozal's first major offshore racing experience on Sydney waters in the lead-up to the Hobart. Primitive Cool will have her first Sydney offshore hit out of the year, while Newbold and crew are flying in from Victoria especially for the SSORC, and their boat will be waiting.
The three will be joined by some regulars, although one, Peter Sorensen will be there with his latest boat, the newly named 'Advanced Philosophy', a Sydney 38. Division1's top two from last year, Box Cox's DK46, Nine Dragons and Darryl Hodgkinson's Carkeek 40, Victoire, also return.
Meanwhile, the TP52 fleet has been slightly impacted by damage done in the Cabbage Tree Island Race two weekends ago, but defending champion Hooligan, Frantic, Zen, Woteva, Celestial and Gweilo are all confirmed to start when Day 1's coastal passage race, which is combined with the CYCA Ocean Pointscore, gets underway.
MHYC is generously waiving the late entry fee for the SSORC. The standard fee will apply until entries close at midnight on 20 November - so sign up now.
MHYC expresses its thanks to sponsors: Helly Hansen, Club Marine, Oatley Wines, Short Marine, Vittoria Coffee and Key Sun Zinke for their support.
All information, including Notice of Race and entry: www.ssorc.mhyc.com.au
SSORC Sailing Instructions: click here
Read more: Top entries and still time to come on board Sydney Short Ocean Racing Championship
The first round of the 2019-2020 MHYC Centreboard Club Championship was sunny and mild with a moderate and consistent south-easterly – a perfect way to start racing for the new season.
Ten Optimists, three Club 420s and a 29er were on the water for three races commencing at 2pm. Ben Crafoord took the lead today in the Division 3 Optimist fleet with a 4-1-1 scoreline, only ahead of Jakob Marks on tie-break and with Miles Greenwood in 3rd.
Thankyou to the parents and coaches who assisted with race management and safety . We look forward to the fleet building for the next racing on November 3.
To view the latest results – click here
For more information about Centreboard Racing at MHYC - click here