The 2020 Seven Islands Race was sailed in forty degree heat and a fresh gusty north westerly on Saturday. Thirty seven crews competed, including fourteen Division 3 boats contesting another race in the Jeanneau Cup Series.
Congratulations to division winners – Div 1 Foreign Affair (Matt Wilkinson), Div 2 Farr 'n Away (Chris Lee), Div 3 Beyond Cool (Mark Clement)
For the full results – click here
Marg Fraser-Martin and Tilly Lock were on the water to capture the action…………….
Pirates of the Middle Harbour gathered for their Twilight Race tonight, with almost fifty scurvy crews engaging in battle through the Grotto Shoals and the Balmoral Straits.
Winner of the Black Pearl Division 1 was Mark Spring and Highly Sprung fighting off BlueTack (Grant Dawson) and Zen (Gordon Ketelbey). In the Skull and Crossbones Division 2, it was Peter Gibson's Madge first home ahead of Moonshadow V (Lloyd Bennet) and Renaissance (Michael Lowry). Claiming the spoils for the Dead Man's Chest Division 3 was Stephen Smith and Freedom from St Elmo's Flyer (Richard Royle & Gil Burton) and Azlan (Peter Butcher). Plundering the Jolly Roger Division 4 was David Field's Bluebottle, leading home Happy Hour (Harry Bridgen) and Thiseldo (Kevin Bloor).
Some special awards were presented following racing for the Best Dressed Boat Afloat - Zen and the Best Dressed Crews Ashore – Slac 'N' Off and Sanctum.
A fun evening at the club followed a great sail, with several wines and much pirate talk.
For the Twilight Pirate Results – click here
The Sydney Amateur Sailing Club Cruiser-Racers joined MHYC's Inshore fleet on Saturday to contest the Daydream Shield Interclub Trophy over two sprint races. Crews were met with fresh to strong breezes across The Sound and a lively seaway to make conditions challenging for all.
Brent Lawson and Patrick Delaney's BlueTack had Division 1 to themselves on Saturday while a group of MHYC boats race in the Bird Island Race offshore. Mike Gallagher's Galan took the Division 2 win in both races. Innamincka (John Crawford) and Dania (Peter Charteris) shared the Division 3 honours. Innamincka took out the J/24 One Design prize for both races. In the Adams 10s, Mitch Miller and the crew of Rock Solid had a perfect day out claiming the One Design and PHS wins in each race.
To view the Divisional Results – click here
To view the Adams 10 Results – click here
In the Daydream Shield, MHYC claimed a narrow win in the Division 2 pointscore. Unfortunately SASC were unable to get the two boats necessary to contest Division 3, so MHYC won the combined series by 16 points.
To view the Daydream Shield Series Scores – click here
Saturday was also the first day that the club was able to try out the newly arrived Arvor 28 (to be named the Jack Stening) in its course boat role. The boat performed well in the boisterous seaway and provided a safe (and comparitively dry) platform for our race management volunteers. Many thanks to everyone who has contributed to the fundraising drive. There is still some work to be done to repaint and fit out the boat, so further donations would be appreciated.
Marg Fraser-Martin was on the water for Saturday's racing.......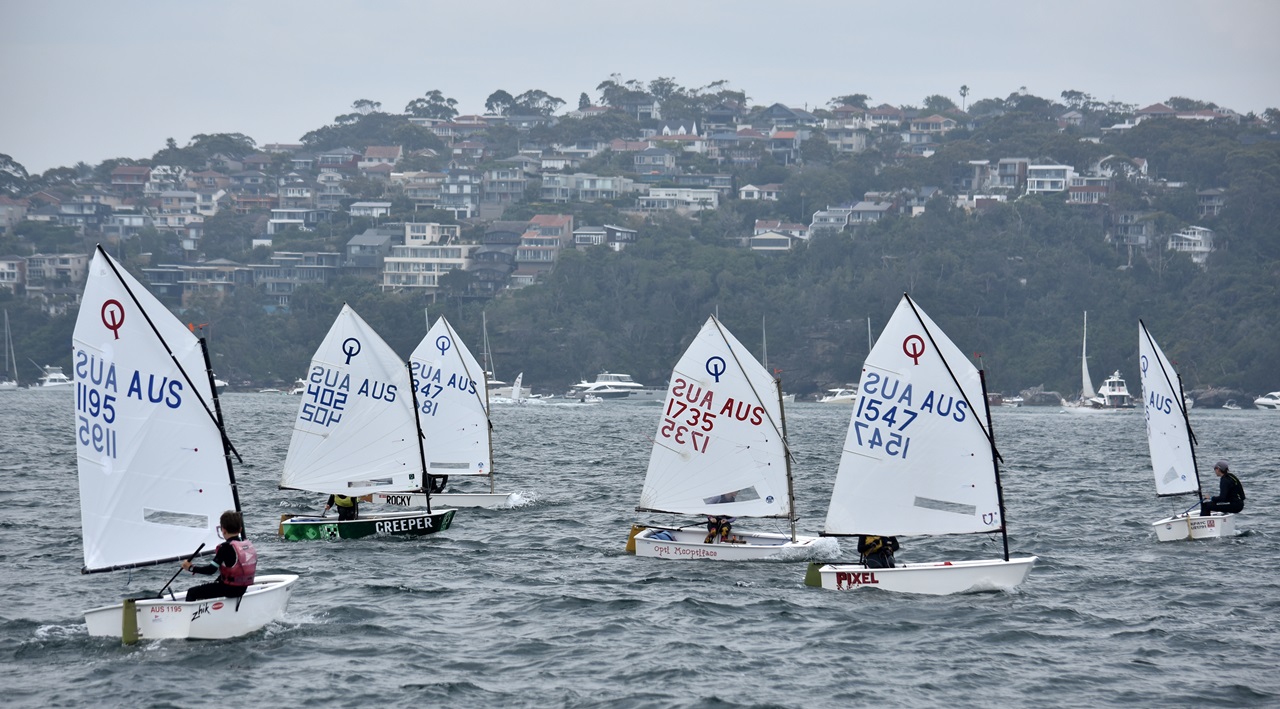 Last Sunday was warm and overcast with a moderate north easterly, providing excellent conditions in Balmoral for three more races on the MHYC Centreboard Club Championship. While the 29er fleet were competing in the NSW Championships at Lake Macquarie, thirteen Optimists were racing at home.
Division 3 race wins went to Sara Bruce, Miles Greenwood & Will Wilkinson and Miles is now leading the Series Pointscore. Will Rogers posted two race wins in Green Fleet.
Many thanks to all the parent volunteers who assisted with race management and safety.
The Centreboard Club Championship resumes on 28 February after the holiday and regatta season.
To view the latest Centreboard Results – click here
Commodore Peter Lewis was on hand to award the annual trophies for the MHYC Centreboard Season 2019-2020 last Sunday November 8 following racing. Presentations had been postponed from earlier in the year due to Covid.
In the Centreboard Club Championship, Will Wilkinson finished one point ahead of Angus after nine races to win Division 3 (Optimists). Will also won the 2020 eSailing Club Championship and was selected to represent MHYC in the State eSailing Championships earlier in the year. Second Place in the Club Championship Division 3 was Angus Griffin and third was Jack Gillespie.
A number of Special Award trophies were also presented.
The Marian Packer Trophy was awarded to Jack Gillespie for the most improvement since completing a MHYC Youth Sailing Course. Zara Marks received the Doris Burke 'Alcyone' Junior Trophy which is awarded to the crew that rates the highest in consistency, improvement, enthusiasm and sportsmanship. The Seamanship Award, awarded for showing outstanding sailing savvy, went to Luke Swemmer.
Archie Cropley & Max Paul were awarded the John Merricks Trophy for the best performance in a World or International Championship. Archie & Max Paul achieved 3rd (Bronze Medal) at the Youth Sailing World Championships in the 29er Boys held in July 2019 in Gdynia, Poland in a fleet of28 boats. They were 6th at 29er Open World Championships held in early August, also in Gdynia, out of 175 boats.
The President's Trophy, awarded for the best performance in a National Championship, was this year awarded jointly to two 29er crews - Archie Cropley / Jack Hildebrand and Zoe Dransfield / Madeleine McLeay. Archie & Jack were 1st 29er Boys and 1st Overall at the Australian Youth Championships in January 2020 from 48 boats. Zoe & Madeleine were 1st 29er Girls at the Australian Youth Championships in January and were also 1st 29er Female at the 29er Australian Championships held on 2-8 January 2020.
Congratulations to all our award recipients for Season 2019-2020!
It was a perfect day for Race 2 of the Sydney Harbour Women's Keelboat Series today. A 10-12 knot north-easterly, sunny skies and a nice warm day made for some very enjoyable sailing and good competition.
Race Officer Kathy Johnston from Middle Harbour Yacht Club selected Course 1 with the fleet working upwind and running down between Chowder Bay and Cannae Point on a busy Harbour.
First in Division 1 today was the Adams 10 No Friends (Tracy Richardson – MHYC) ahead of Sirius (Rhoslyn Humphreys – MYC) and Whistling Kite (Nicola Wakefield-Evans RSYS). In Division 2, It Happens (Bridget Canham – CYCA) took the win from Accru (Alex Murray – RANSA) and Okavango Delta (Janette Syme – MYC).
To view the results – click here
Marg Fraser-Martin was back on the water today to get some great photos of the racing....
It was a great day for MHYC's Centreboard Club Championship Racing on Sunday with a moderate south-easterly in Hunters Bay, Balmoral. Twelve Opti sailors and three 29er crews were on the start line for the three races conducted.
To view the results - click here
Here are some photos from David on the start boat and Rob Bates on the safety boat....
MHYC crews performed strongly in both of the Combined Clubs Inshore Series races yesterday.
With race management by Middle Harbour and Manly Yacht Clubs in conjunction, two short passage races were scheduled. The breeze direction presented some challenges for Race Officers Steve Tucker and Stephen Teudt, but both races were finally completed by 5pm.
In the first race of the day, Kukukerchu (David Ross) was first and Khaleesi (Rob Aldis) third in Division 1, Another Dilemma (Bridin Murnion) was first in Division 2 and Dania (Peter Charteris) was third in Division 3. In the second race, the MC38 Infotrack (Christian Beck) was second and Khaleesi (Rob Aldis) was third in Division 1, Another Dilemma (Bridin Murnion) took another first and Wailea (Neil Padden) was second in Division 2, Innamincka (John Crawford) claimed the win and Dania was third in Division 3.
Congratulations to all the twenty three MHYC boats which competed amongst the eighty four boat combined fleet.
Marg Fraser-Martin was on the water to photograph the Combine Clubs Inshore Series…
Will Wilkinson reports on the ACT Optimist Championships held at Canberra Yacht Club on 24 & 25 October…..
Many sailors travelled from NSW for the two-day regatta, with Middle Harbour Yacht Club represented in the Open Division by Ben Crafoord, Heidi Bates and myself with Meg Bates and Ella Sangster in the Intermediate Division. It was a tough two days of racing.
On day one we sailed 3 races, and overall, we experienced some nice breeze and big wind shifts, making for tricky but fun conditions. During our last race it completely glassed out and because of this, the race took 56 minutes to complete with a lot of sailors timing out. Although I didn't sail as well as I'd hoped, it was an enjoyable day.
On day two it was a chilly 9 degrees with a gusty south easterly! Going into the racing I was sitting 8th on the point score. During our 4 races we experienced big wind shifts on the water, and some big holes in the breeze. I was able to pick the wind shifts better and made some good gains on my score card. Across the two days there was strong competition, with Ben Crafoord, Isaac Freeman (WSC) and myself each winning two races. Miles Greenwood (GSC) also took a win. I placed 3rd overall, finishing behind Isaac Freeman (1st) and Jacob Marks (2nd), who sailed consistently in the regatta. Ben Crafoord finished 4th.
It was the first State Optimist Championship in 2020 and it felt great to be back racing with friends. Congratulation to all the sailors who competed in the regatta.
Thank you to Jeremey Atkinson, President, NSW International Optimist Dinghy Association for organising the regatta, along with the Canberra Yacht club. My thanks also to Brewer Racing, Rob and Tom Brewer for their great coaching.
Results – click here
Will Wilkinson (Rocky)
Read more: MHYC sailors perform well at the ACT Optimist Championships
This weekend's crew declarations resembled a Hollywood all-stars party including the best of the best in the business with Tom Slingsby calling the shots on Bluetack, Will Ryan on Newcastle entry Good Form, Nathan Wilmot on Nutcracker and Tom Burton on Double Black, proving the stature of the class by the talent it continually attracts.
The CYCA dock was buzzing with the most Farr 40's we've seen assembled in Sydney in over a decade. Teams were excited to be back at the home of the Sydney to Hobart yacht race for the first time in many years and the Class would like to thank the CYCA for their great hospitality and race management.
Boat of the day went to Class newbies Brent Lawson and Patrick Delany on Bluetack with Tom Slingsby as Tactician scoring 3.3.1.1 giving them a five point lead over Nutcracker in second place. Lawson and Delany reached the top of their game in the Adam's Ten class before joining the Farr 40 fleet and both were pleased with today's result in their maiden Farr 40 regatta.
"We had no expectations today. This was our first race in the fleet and clearly there is nothing wrong with the boat. It's been a lot of work getting the boat ready and we are really pleased with the results. The wind was kind to us today. Every time we've gone out it's been 25 knots, so today was generous with the wind. Tomorrow will be a bit stronger, which will be a test for us and we will need to be on our game." Lawson said.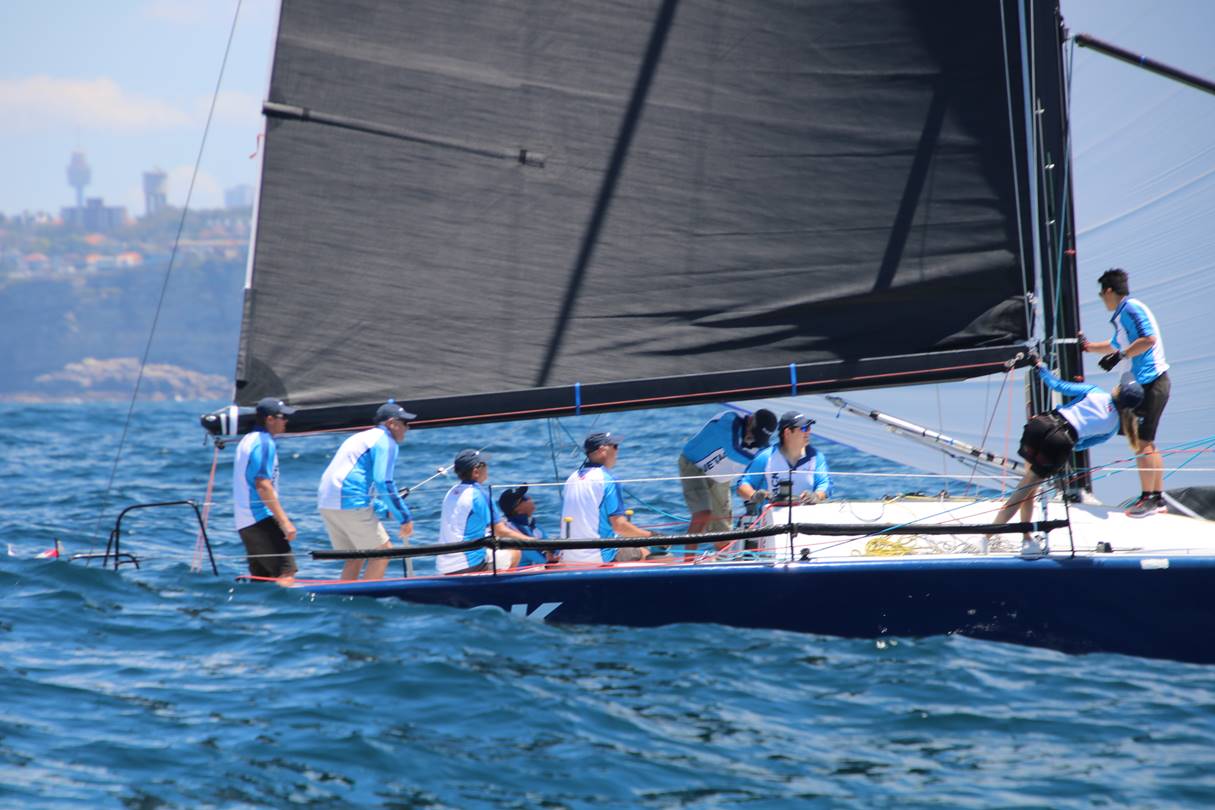 Delany was at the helm today and is excited to be sailing in the Class. "We like the skill involved in one design racing and it seemed a logical leap up for us from the Adams Tens. We saw a lot of Farr 40's at MHYC and thought it would be a good challenge for Brent and I." Delany said.
PRO Denis Thompson ran four races offshore on the Macquarie Circle in 8-10 knots from ESE and all the boats were very evenly matched in these conditions.
Tomorrow's racing will commence at 10.55am on Sydney Harbour for the final four races of the regatta.
For the latest results - click here
By Jennie Hughes as amended by MHYC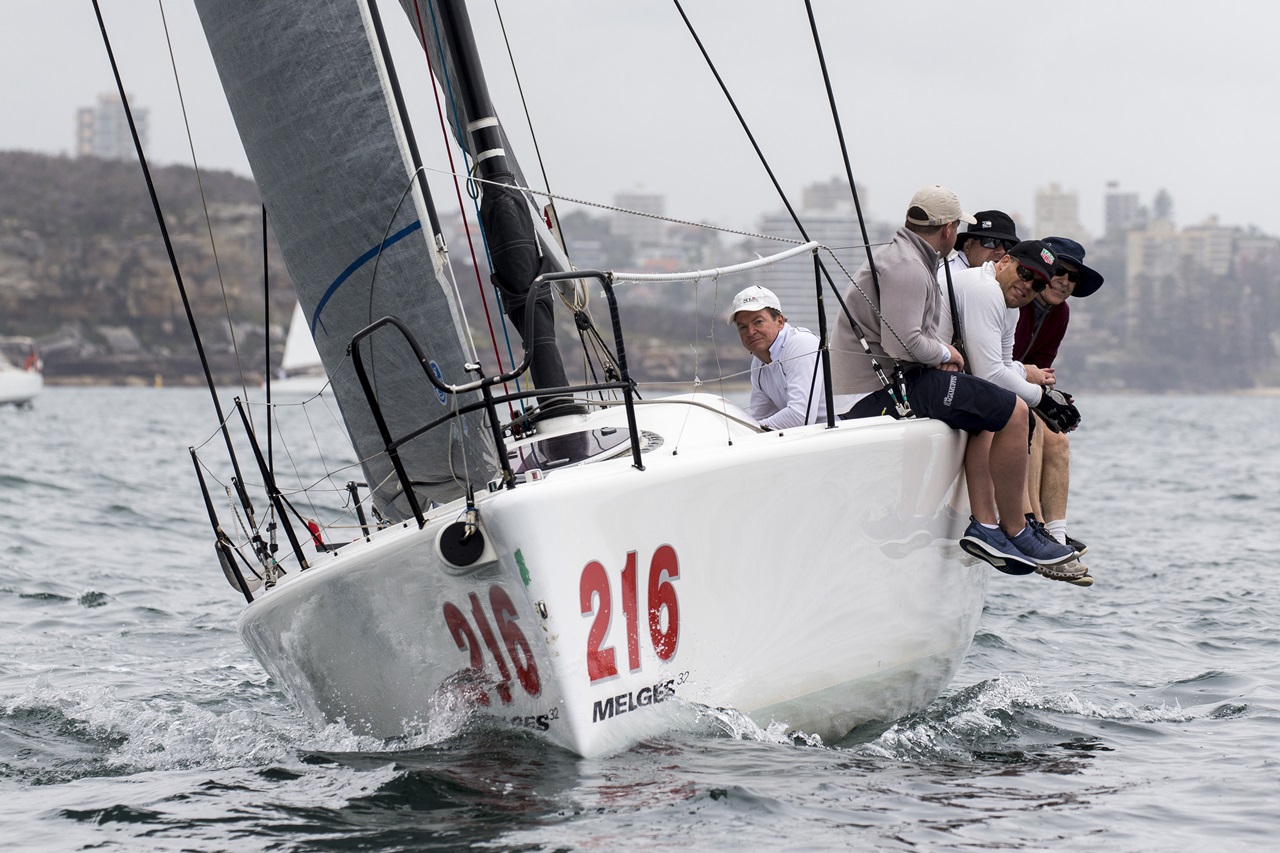 Middle Harbour Yacht Club has announced a new regatta to promote competition in Sydney for a range of sports yachts with asymmetric gennakers.
The inaugural Super Group Spring Regatta will be part of MHYC's big weekend on 28 and 29 November, coinciding with the 43rd edition of the Sydney Short Ocean Racing Championship (SSORC) racing off Sydney Heads on both days. The annual Seven Islands Passage Race, a clubhouse pursuit start for a varied keelboat fleet, will also be held on the Saturday.
The Super 20s will bring together Melges 24, Melges 20, Magic 25 and J70 classes but could also attract Shaw 650s, VX Ones and other classes. The SB20 Association has shown strong interest, but the border closures due to Covid-19 mean that the Victorian and Tasmanian boats will not be participating in the first year of the event. Kevin Nixon's Melges 24 Accru will be competing with Heath Walters new boat from RPAYC, with both taking on a variety of other classes on event handicap including Andrew Hurt's Melges 20 Onya.
Sydney Amateur Sailing Club has become a focus of Super 30 racing and there are a number of similar boats sailing from clubs around the harbour. Farr 30, Melges 32 and Flying Tiger classes are expected to provide the majority of entrants in this division.
Unfortunately the Super 40 group is not expected to be running in 2020 due to a clash of schedule with the MC38 Act 6 in Pittwater. We look forward to their involvement in 2021.
Six races are scheduled for the Super Group Regatta, with a combination of inshore windward-leeward and short passage races planned. Principal Race Officer for the weekend's racing is Denis Thompson.
The Notice of Race is now published and online entry is open.
For all event information, click here