Entries for Middle Harbour Yacht Club's flagship Sydney Harbour Regatta on this weekend, March 6-7, have climbed past the 180 mark, among them a local yacht jointly owned for close to 20 years that has competed in every Sydney Harbour Regatta since the inaugural series in 2006.
For owners Rob Carr, Stephanie Cook and Kerry Burke and their Northshore 370 Rumba that sails from the host club, netting a few trophies is only one reason to front up year after year. "In our Performance Spinnaker division we sail against a whole heap of 28 to 34 footers of similar speed; that's the fun bit. The party on the MHYC beach on the Saturday night is fun too, though we've been known to give away our day one advantage by partying too late."
Rumba has recorded mixed results over 15 years. "As a general rule we've been in the top three in the last five to six years. Before that we were a bit ad-hoc," Carr laughs. He's hoping for 12-15 knots of wind and flat water on Sydney Harbour.
Sydney's long-range forecast points towards steady 15 knot southerlies on Saturday and a fickle Sunday morning before a single-digit east nor'easter develops across the afternoon.
Standard entries have closed though MHYC may accept late entries up until midnight on Thursday March 4. View the starting list and enter here.
The sailing instructions will be published today here.
Performance Spinnaker is the most popular entry category and for the first time these divisions will also be scored on ORC, including both ORCi and ORC Club ratings. ORC Club is growing rapidly around the world and several Sydney clubs (MHYC, RSYS and RPAYC at this stage) have adopted this as a low cost, simple rating system to run alongside the usual Performance Handicapping System.
The International J/70 state title plus the Super 20, 30 and 40 divisions promise hot competition at The Sound, the area of deep water inside North and South Heads, just one of seven course areas that will operate across the harbour and offshore thanks to race officials, volunteers and support vessels from multiple partner clubs.
MHYC thanks Manly Yacht Club, the Cruising Yacht Club of Australia, Royal Prince Alfred Yacht Club, Royal Prince Edward Yacht Club, Royal Australian Navy Sailing Association, Sydney Flying Squadron, Royal Sydney Yacht Squadron and Sydney Amateur Sailing Club.
Grand Prize draw
In addition to regatta trophies and prizes, to be eligible for the Grand Prize draw the skipper or skipper's representative from the top three placegetters in each division must register and be present at the official trophy presentation function at MHYC on Monday March 8.
First place draw – Sail Racing merchandise voucher (value $2,000)
Second place draw – Manly Spirits 'Distillery Experience' for yacht crew (up to 12 persons)
Third place draw – Mercedes-Benz North Shore and Mercure Resort Hunter Valley Gardens have made available a Mercedes weekend drive experience plus two nights' accommodation at the Mercure Resort Hunter Valley Gardens for two people.
MHYC acknowledges the support of key Sydney Harbour Regatta sponsors Club Marine, Robert Oatley Wines, Short Marine, Sail Racing, Mercedes-Benz North Shore and Mercure Resort Hunter Valley Gardens and supporting sponsors Ensign Yachts, Fever-Tree, Manly Spirits, DeckHardware.
How to follow the Sydney Harbour Regatta:
Website: https://shr.mhyc.com.au/
Facebook: @SydneyHarbourRegatta
Instagram: sydneyharbourregatta
Day four of the Centreboard Club Championship was sailed today in a moderate south-easterly in Hunters Bay - perfect conditions for the MHYC Opti fleet.
Miles Greenwood (Rallar) posted a 1-2-1 in today's races to consolidate his strong lead in the championship, two thirds of the way through the schedule. Will Wilkinson (Rocky) was the winner in the second race of the day.
Louis Tilly (Saphira) sits second overall in the series score ahead of Zara Marks (Dark Horse) and Heidi Bates (Never Say Never) tied on points but with Zara in third on tie-break.
Many thanks to Race Officer Jervis Tilly and the team of parent race management volunteers who put on a great series of races today.
The next round of Centreboard Club Championship racing is Sunday March 14.
For the latest results - click here
Thanks Lisa Wilkinson for the photos........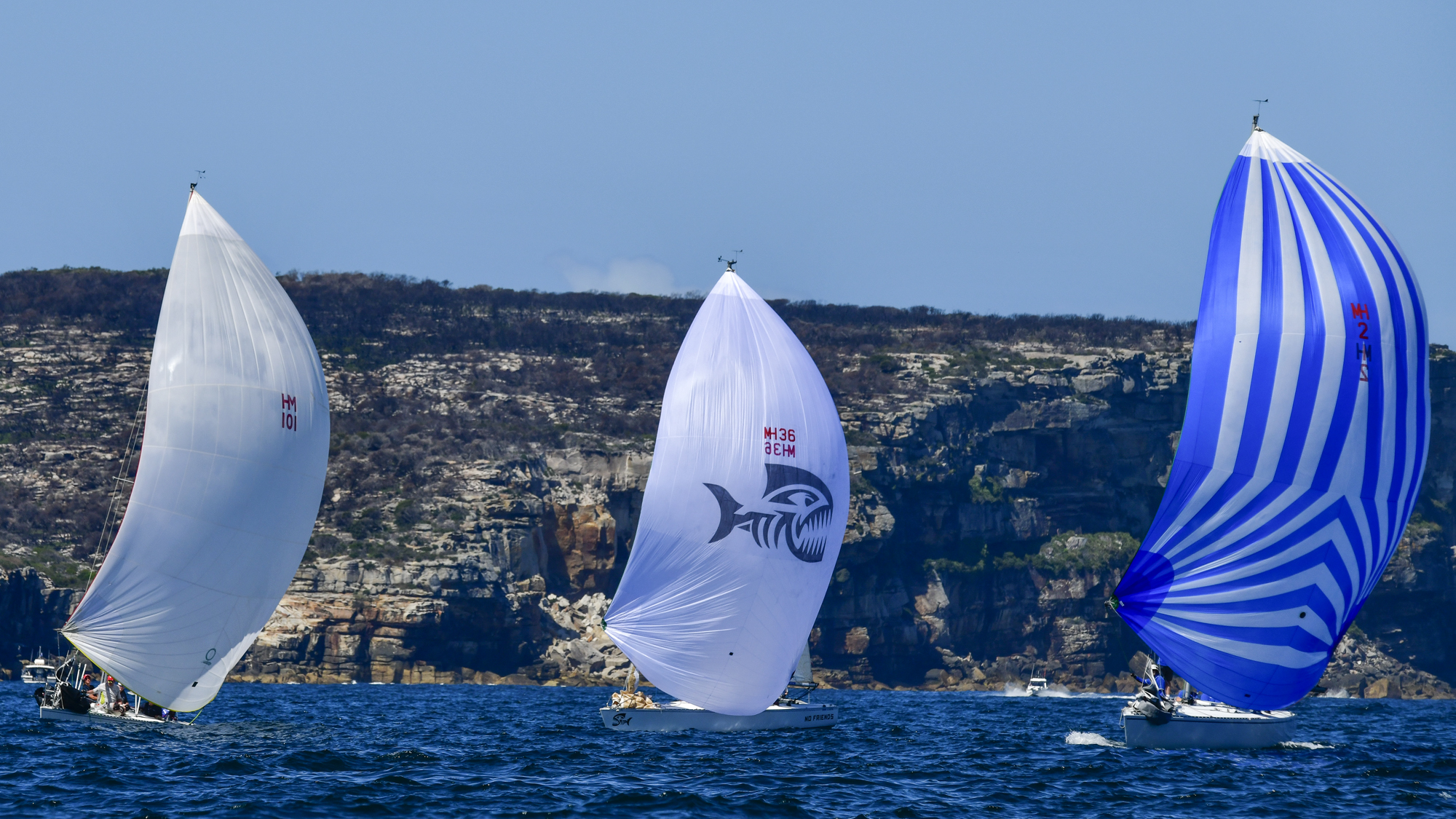 A delayed start for the Sprint Series on Saturday with light breeze frustrating the Race Committee and sailors alike. A gentle fluctuating Nor' Easterly breeze kicked in allowing the boats to get underway in the Sound for two short races conducted by Race Officer Steve Tucker and the MHYC Race Management Team. .
In Division 1 Peter Sorensen won both the IRC and PHS for Race 1 on Advanced Philosophy with Toy Box 2 (Ian Box) taking second place IRC and Samarkand (Walter Carpenter) second in
the PHS. In race 2 Ian Box picked up first place for both IRC and PHS on Toy Box 2. For the PHS results for Race 1 in Division 2, Goran Hultin won podium position on Stella Polaris
followed by MRX (Geoff Pearson) and Rumba (Robert Carr) in third place in PHS with Neil Padden taking first place in the IRC on Wailea. In Race 2 Wailea (Neil Padden) won first place for both the IRC and PHS with MRX (Geoff Pearson) taking 2nd place also for both handicap systems. Alliance (Ben Thompson) received third place for the PHS and Stormaway (Jack Stening and Colin Gunn) for the IRC.
In the Adams 10 Fleet Tracy Richardson had a successful day on No Friends taking first place in Race 1 for both One Design and PHS with Rock Solid (Mitch Miller) coming second in the One Design and Another Dilemma (Jim Vaughan) in third place. In Race 2 for One Design Mitch Miller won first place on Rock Solid followed by Contentious (Brian Lees) in second and No Friends (Tracy Richardson) in third place. Contentious (Brian Lees) won first place in the PHS result.
For full results click Inshore Sprints or Adams 10 Sprints
Thanks to Marg Fraser-Martin for the great photography on the day. For more photos here.
Liz Charles skippered Kayimai to a Division 1 race win today to sit atop the Sydney Harbour Women's Keelboat Series pointscore ahead of Tracy Richardson and No Friends.
A sixth place today follows a win in Race 2 and No Friends sits second overall, one point behind Kayimai. Stephanie Cook and the team of Rumba finished third today and are now fourth overall.
To view the results - click here
Thanks to Marg Fraser-Martin for the photos.
Royal Prince Alfred Yacht Club (RPAYC) hosted its annual Pittwater Regatta on the 13th and 14th February. The event dates back to 1888. The IRC and ORCi boats were all together in Division 1 of the Estuary Passage Series which had one race per day expanding across the beautiful waters Pittwater Estuary and Offshore.
This year, Middle Harbour Yacht club was represented by just one boat, Wailea, owned by Neil Padden. Wailea achieved a well deserved 3rd place in both the IRC and ORCI divisions.
On Saturday, they started inshore at Longnose Point with a beat to a buoy near the Royal Motor Yacht club, then a long hairy run to the entrance of Pittwater, followed by a hard beat to a buoy off Palm Beach and back. On the Sunday, they had a similar start with a run to Lion Island and hard work back to the finish. With the Southerly wind conditions, the races were almost like a long W/L races.
Neil tells us the racing both days was exhilarating to say the least in 20k Southerly conditions. He was delighted that Wailea even got to 12 ½ knots downwind at times! The sea state at the entrance and offshore was very difficult and they lacked a bit of local knowledge on the inshore side. Despite this, they sailed very well had a great weekend. Neil was just disappointed that more MHYC boats did not participate.
Next year Bob Cox (Nine Dragons), MHYC's Open Division Sailing Committee member, also hopes that more boats from our club will participate in this great inter club event. This year, we had a few that could not race due to different reasons, including Bob's boat which, hopefully, will be back in the water again.
Gilli Taylor (crew member on Wailea) tells me that there are quite a few boats from Pittwater that are keen to come and race in our Sydney Harbour Regatta on the 6th and 7th March.
You can view all results here Pittwater Regatta 2021- Estuary Series Results
Julie Hodder
Wednesday Racing Representative
Read more: Podium Finish for Wailea at the Pittwater Regatta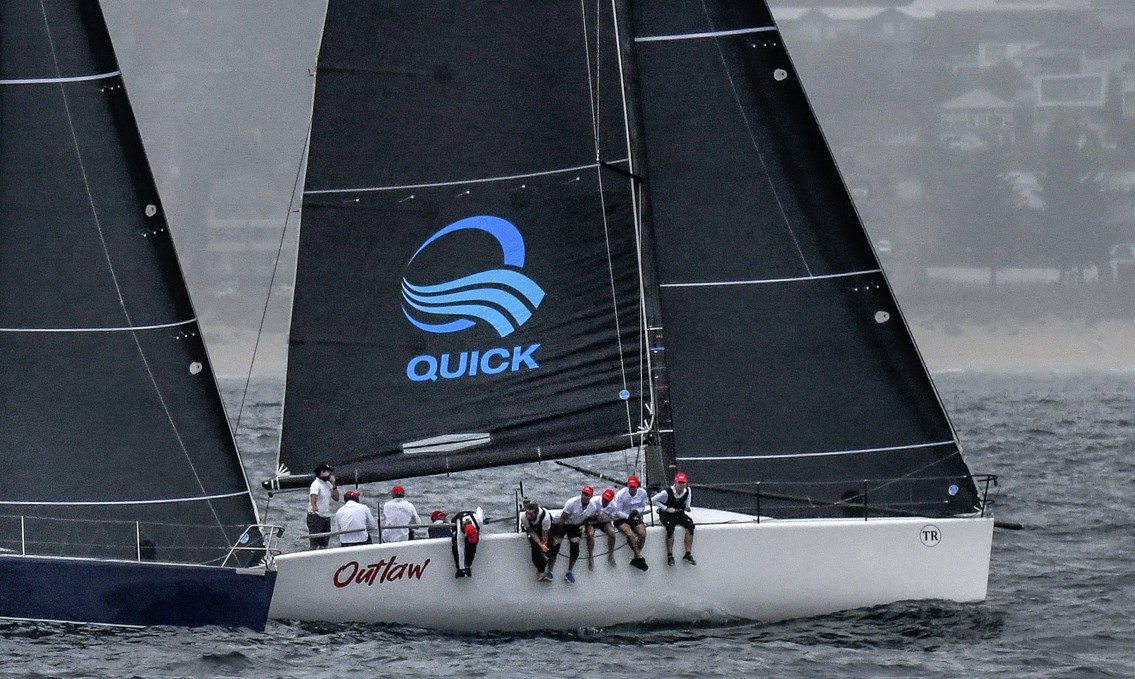 CYCA/RSYS yacht Outlaw has today been crowned the NSW Farr 40 State Champion.
The prizegiving was conducted at Middle Harbour Yacht Club after racing concluded with a special presentation by former Class President and owner of Zen, Gordon Ketelby.
Races 4, 5, 6 and 7 were run on the inshore Sound course by PRO, Phil Yeomans and the race management team. Conditions were an improvement on Saturday's racing with early cloud clearing and breeze increasing to the 10 - 12 knot range.
After Day One Nutcracker, owned by Andy Baker and Rob Davis, held the lead in the series, followed by Outlaw and Good Form. The lead changed throughout the day with Race 4 being won by current Class President, Rob Reynolds and his crew from MHYC on Exile. Tactics on-board were called by Joe Turner.
Race 5 was won by Outlaw representing the CYCA and RSYS, steered by Tom Quick, under the expert eye of David 'Chappo' Chapman. Nutcracker had another win in Race 6 but that was not enough to hold off the Outlaw team on a countback. The Newcastle entry, Good Form rounded out the podium, on another countback with Exile.
Crews enjoyed the extremely tight racing on the Harbour and are looking forward to some more exciting competition during the final event for the Farr 40 season, the National Championships, which will be hosted by the Cruising Yacht Club of Australia over 12-14 March 2021.
By Simone Hill
To view the results - click here
A rather dull and wet Saturday reduced the fleet numbers for today's Combined Clubs Inshore race. The moderate but shifty southerly tested crews sailing multiple laps of a long track provided by Royal Prince Edward Yacht Club.
With only one more race day to come, MHYC crews are now well placed in the Combined Clubs Inshore Series. Rob Aldis' Khaleesi leads Division 1 on both PHS and IRC, with Toy Box 2 (Ian Box) and Kukukerchu (David Ross) making up the top three on IRC. In Division 2, Bridin Murnion and Another Dilemma are best placed on PHS and MRX (Geoff Pearson) sits second on IRC. Peter Charteris' Dania is currently third on PHS in Division 3.
In the MHYC PHS pointscore today, Kukukerchu claimed the Division 1 win from Toy Box 2 and Khaleesi. MRX was best of Division 2 ahead of Rumba (Rob Carr, Stephanie Cook & Kerry Burke) and Galan (Mike Gallagher). Innamincka was the only finisher in Division 3.
Brian Lees' Contentious claimed the Adams 10 win from Rock Solid (Mitch Miller) and Sirius (Garth Riley).
Combined Clubs Inshore Series Results – click here
MHYC Inshore PHS Results – click here
MHYC Adams 10 Results – click here
Marg Fraser-Martin toughed out the wet conditions to bring us some great photos….
MHYC will be introducing an additional handicapping system for Saturday divisional racing from Season 2021-2022. ORC Club will be added to the existing PHS (Performance Handicapping System) that has served the club well for many years.
ORC Club uses the Velocity Prediction Program (VPP) to rate boats of different characteristics. It relies on the measurement of a boat and its sails, affecting their theoretical speed. Unlike PHS, ORC Club does not use the prior performance of the boat and its crew to determine the handicap. With ORC Club, a boat's handicap remains constant from week to week. Identical boats (with the same size sails etc.) will have identical ORC Club handicaps.
ORC Club will only apply to the MHYC Saturday divisional racing (Inshore Series & Ocean Series) and will not apply to any other racing fleet at MHYC. Boats racing in the Saturday series are encouraged to obtain an ORC Club rating before the commencement of the 2021-2022 season.
For more information, click on ORC Club Information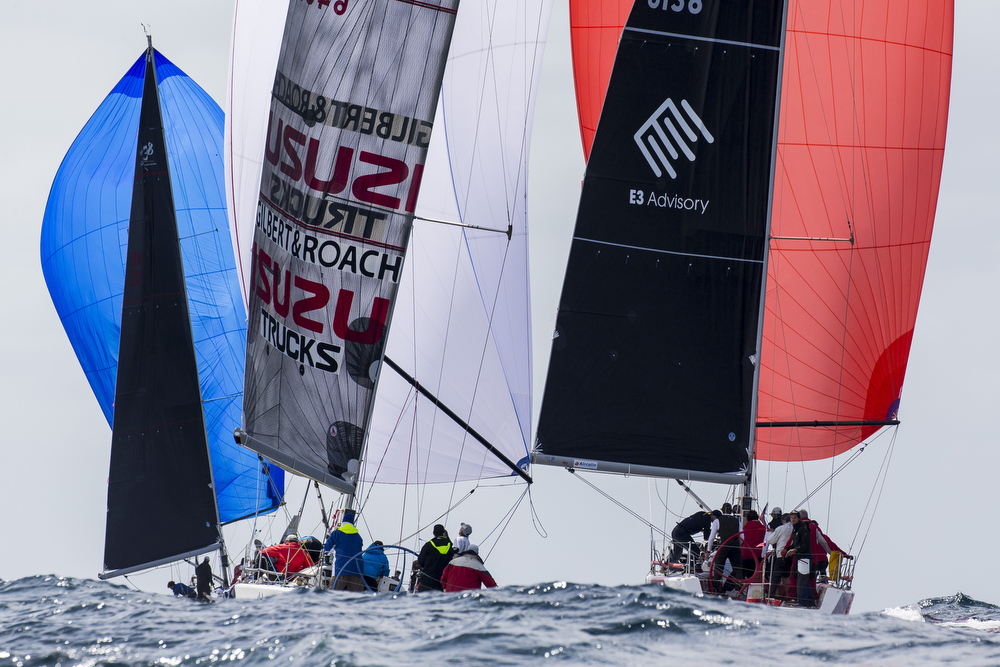 Four state championships and the addition of Super Group racing to Middle Harbour Yacht Club's Sydney Harbour Regatta will intensify the kaleidoscope of colour and course area changes will spread the action around the natural amphitheatre of Sydney Harbour over the two-day series, March 6-7, 2021.
The Notice of Race for the 16th edition of the flagship regatta is available here and online entry here. With the usual planning cooperation and on-water support from multiple Sydney clubs, MHYC will deliver superb racing on seven course areas on the traditional first weekend of autumn.
2020 Sydney Harbour Regatta day 2 highlights by Tilly Lock.
State titles for the Sydney 38s, Ynglings, Cavalier 28s and J/70s add weight to those class pointscores. J/70 class president Andrew Tompson says, "I have eight confirmed starters, hopefully it will get to 10 including a bunch of group 3 sailors and ex-Olympians. The standard of racing is improving all the time and that's exciting.
"The boat to beat will be Reg Lord's Juno, the state and national J/70 champion for the past three years. He's planning to sail Corinthian for this regatta – it will be interesting to see if he can hold his place. We see this as our warm-up for the J/70 nationals at Blairgowrie on Port Phillip at Easter where we expect 15-20 boats on the start line."
Sydney Harbour Regatta Principal Race Officer Denis Thompson believes the 'super' concept has plenty of potential. "It has developed from the Super 30s and is designed for like boats, rather than one design. I think it's a good idea – it will be interesting to see if the owners respond."
To promote competition in Sydney for a range of sports yachts with asymmetric gennakers, MHYC is trialling a Super Group pointscore within the regular handicap categories for the Super 20s all the way up to Super 50s.
Super 20s, including J/70s, Melges 24s, SB20s, Shaw 650s and VX Ones, Super 30s such as Melges 32s, Farr 30s and Flying Tigers and Super 40s such as the MC38s and Little Nico will sail a mix of windward/leeward and northern harbour passage races.
The Sydney 38 NSW Championship will be staged offshore as will Super 50 racing, incorporating the spectacular TP52s along with yachts of similar size and performance.
To reduce the likelihood of congestion and interference between fleets, Performance Spinnaker and Non-Spinnaker divisions will now race in the main harbour while most fleets sailing windward/leeward courses will compete at The Sound, the area of deep water between North, South and Middle Heads. The Premier IRC divisions will race offshore both days.
Given the scarcity of racing opportunities recently, Thompson anticipates a big turnout, potentially larger than last year's fleet of 182 boats representing 19 different Australian sailing clubs plus Hong Kong.
The early entry fee is on offer until February 24.
MHYC acknowledges the event's success is due to the continued assistance of the Cruising Yacht Club of Australia, Manly Yacht Club, RANSA, Royal Prince Alfred Yacht Club, Royal Sydney Yacht Squadron, Royal Prince Edward Yacht Club, Sydney Amateur Sailing Club and the Sydney Flying Squadron.
The club also acknowledges the support of key regatta sponsors Air New Zealand and Robert Oatley Wines and supporting sponsors Club Marine, Fever-Tree and Short Marine.
How to follow the Sydney Harbour Regatta:
Website: https://shr.mhyc.com.au/
Facebook: @SydneyHarbourRegatta
Instagram: sydneyharbourregatta
While there was no club racing scheduled today, MHYC is hosting the Farr 40 NSW Championships this weekend and a number of members were competing in the CYCA Short Ocean Pointscore.
After some light morning rain, the day remained overcast with a light north-easterly establishing itself soon after 11am. The Farr 40 fleet were held ashore by Race Officer Phil Yeomans until the breeze improved and were then able to complete three races on the Manly Circle. The wind fluctuated between 5 to 10 knots during the afternoon, swinging from north to north-east and back again and the sea state remained moderate.
The light and variable conditions made for some mixed results, but at the end of the day Rob Davis and Andy Baker's Nutcracker from CYCA sits on top of the leaderboard, one point ahead of Tom Quick and Outlaw (CYCA) and with Joe de Kock's Good Form (NCYC) in third. The MHYC Race Management Team are planning to run four races tomorrow to wrap up the Championships.
To view the results - click here
Photos by Marg Fraser-Martin
Rock Solid has faced 16 consecutive Adams 10 Australian championships and finally the Middle Harbour Yacht Club boat owned by Mitch Miller and Andy and Ben Gunton prevailed at Lake Macquarie, by the slimmest margin.
The new Australian Adams 10 national champion beat the defending champion – Tom and Belinda Braidwood and Backchat – on a countback, Rock Solid's three wins to Backchat's two across eight races the decider.
Adams 10 Australian Championship 2021 results.
Video highlights thanks to Beau Outteridge https://youtu.be/6v7qUBkVJuk
Driving back to Sydney, Mitch and Andy said: "We held off some top competition from Tom on his home turf, Allen Stormon from the Royal Prince Alfred Yacht Club, Rob Brown doing tactics on Organised Chaos and a bunch of great sailors. We didn't get any help unbolting the trophy from Lake Macquarie Yacht Club!" Miller laughed, "we had to get our own tools to get it off the wall."
On his former co-owner Matt Gunton (Ben's father), who passed away suddenly in 2013, Miller shared the emotion behind the long-awaited victory: "Matt was just as passionate as I was to win the Adams 10 national championship. He was my best mate".
Rock Solid's crew included Damien Bassett, Warren Gray, Geoff Piper and Olympic gold medallist Nathan Wilmot. Miller paid tribute to Wilmot's input: "It took someone like Nathan coming on board, someone who can see further than 20 metres in front of them, to make the difference. He was happy to sail with us numpties. We've done well before with the same core guys but got pipped by a point and finished up second or third. It's nice it went our way this time."
Miller and his crew enjoyed the fact the Melges 24 state title ran concurrently to their Australian title, sailed off the host club at Belmont in a full range of breezes. "There was plenty of banter after the racing."
On locking horns with Rock Solid, Tom Braidwood said: "Mitch is such as gentleman. He's been working away at it for a while, bought new North Sails, got Nathan to do tactics and won it."
Braidwood is passionate about Adams 10s, describing sailing in the class as "the most fun you can have sitting down, without the arms race". He regularly twilight sails on his 1989-built Adams 10 at Lake Macquarie with family and mates and once a year takes the good sails out for the national title. His 12-year-old son Eamon joined the Backchat crew for the three-day series, February 6-8.
Gezzabelle, skippered by Commodore of the RPAYC Allen Stormon, finished third overall, three points off the two front-runners.
Garry Gudmunson's Organised Chaos finished sixth overall and took out the Teak Seater division, for Adams 10s built pre-1991 with teak seats.
The next event for the Adams 10s is Middle Harbour Yacht Club's Sydney Harbour Regatta March 6-7, where Rock Solid's crew will aim to defend their 2020 class victory.
Adams 10 Australian president Anthony Poiner says "Adams sailors are mostly a bunch of old skiffies and the class is Corinthian in nature. We encourage fun and inclusivity….esprit des corps…and getting people owning boats and sailing at regattas, even with those ridiculous Hawaiian shirts. This regatta delivered on every one of those counts – 15 boats, over 100 sailors and a truly great time had by all, on and off the water."
By Lisa Ratcliff
Photos by Beau Outteridge
Photos by Damien Boldyrew