Congratulations to the Ascham 1 Team, winners of the inaugural Middle Harbour SheSails Invitational Teams Racing Regatta.
Five teams from four girls schools contested the round robin series of short races held off Chinaman's Beach near the host Middle Harbour Yacht Club. After a petit final, the final series between Redlands and Ashcham 1 was won convincingly by the Ascham team with two clear wins. Wenona were third and Monte Sant' Angelo fourth.
Before presenting the winner's trophy to the Ascham 1 Team, New South Wales Teams Racing Association President David McCracken congratulated Middle Harbour Yacht Club for hosting this new regatta.
"It is good to see another club becoming involved in Team Racing and providing another location around the harbour for training and competition. We look forward to the SheSails Teams Racing Regatta again next year," said Mr McCracken.
A huge thankyou to the all-female umpiring team, Erica Kirby, Karyn Gojnich and Maddie Kuhn, and also Kimberley Pratt for assisting Race Officer Col Chidgey on the start boat.
Round Robin Results - click here
Finals Results - click here
Read more: Inaugural SheSails Invitational Teams Racing Regatta at Middle Harbour
After the races in early February were abandoned due to the severe weather, the MHYC Centreboard Club Championship series continued today.
Three races were completed for the Optimist and 29er divisions and two for the 420s. The breeze was a gentle North Easterly of 8 knots building to 12 knots during the afternoon.
Club Championship racing continues on March 15.
To view all the results – click here
Sailability Middle Harbour's Brett Stevenson has taken on his first major regatta this month.
The Australian Para Sailing Championships were held as part of the Sail Melbourne International Regatta at Royal Brighton Yacht Club during January. Sailed in conjunction with open fleet racing in the 2.4mR and Liberty classes, the race scores of eligible para sailors were extracted to decide the Australian Para Sailing Champions. Melbourne served up a range of conditions, starting with very strong winds on the first day taking their toll on equipment and athletes. Days two and three saw moderate to fresh breezes before a blow-out on day four. To finish the regatta, a gentle breeze enabled three good races.
Brett didn't make the podium for the Australian Para Sailing Championships (Robert Crofts from WA was 1st, Tracey Odiam WA 2nd and Russell Phillips VIC 3rd) but he finished a very respectable 6th out of the open fleet of 9 boats comprising para sailors and non-classified sailors. It was after all just his second competitive event since coming to sailing. Over his week in Melbourne, Brett went through the Para Classification process, received coaching from Paralympic Gold Medal Coach Grant Alderson, attended a Para Sailing Forum and met a group of sailors who compete in Para Sailing events around Australia and overseas.
For more information about the regatta, view https://www.sailing.org.au/news/para-sailing-champions-decided-in-melbourne
Read more: Middle Harbour sailor at Para Sailing Championships
The NSWIODA Traveller Trophy series continued at Middle Harbour Yacht Club today with 76 entries.
Congratulations to all the competitors in the Open, Intermediate and Green Fleets and a big thankyou to all the parents who helped out with race management and safety boats.
To view the results - click here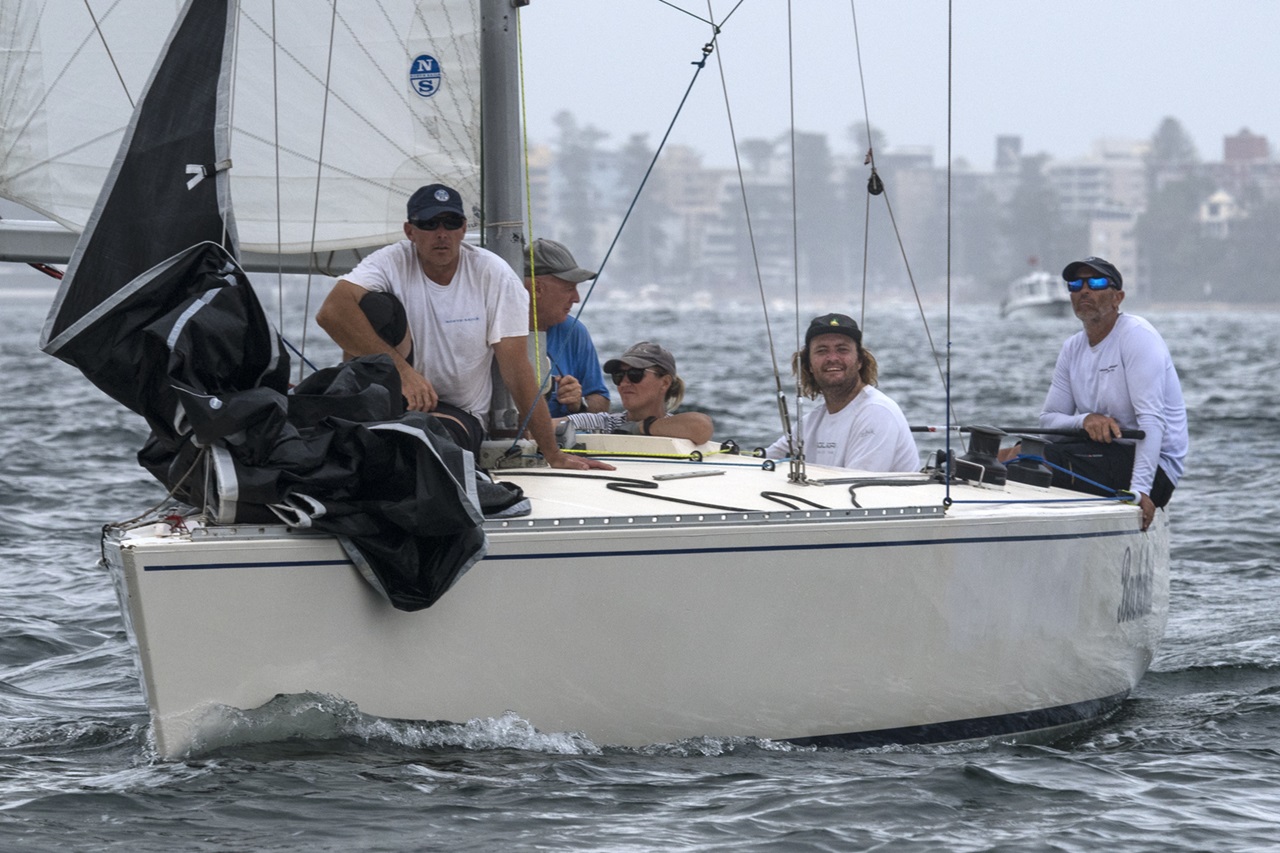 Tom Braidwood and the crew of Backchat from Lake Macquarie Yacht Club have won the 2020 Adams 10 Australian Championship sailed on The Sound in Sydney Harbour.
A light to moderate southerly today turned south-east for the final race, one short of a full schedule.
"We did not have everything our way this weekend," said Backchat helmsman Tom Braidwood.
"It has been very competitive and we had a bad one today, but were able to drop our worst result," said Braidwood who sailed with co-owner Jason Akers, wife Belinda, Gavin Wood, Ian McKillop and Doug McGain to claim the title.
Gary Gudmunson's Organised Chaos, which did not start the last race yesterday due to equipment damage, came out firing this morning with a one minute win from Lumine Lunae (Kim Darling) and Sirius (Garth Riley. Another Dilemma (Tim Gallego) took the final race win, leading home Powderhulk (Patrick Delany) and Backchat.
After eight races over three days, Backchat had built a 12 point lead to claim the One Design Championship pointscore from Kim Darling's Lumine Lunae. Another Dilemma (Tim Gallego) took third place on a tie-break from Powderhulk (Patrick Delany). Second to fourth placed boats were all from the host club MHYC.
"There has been three days of good close racing and it is great to see the camaraderie amongst the Adams 10 sailors," noted umpire and protest committee chairman Simon Barrington.
"The Adams 10 fleet is still becoming accustomed to umpiring under Addendum Q, but it certainly helped to sort most issues out on the water, rather than after racing in the protest room. We only had one request for redress for the regatta," he said.
In the Performance Handicap pointscore, Geoff Charters' No Friends claimed a narrow one point win from Powderhulk (Patrick Delany) with Another Dilemma third in both the OD and PHS.
For the latest results, photos and event information, click here
The 2021 Australian Championships will be hosted by Lake Macquarie Yacht Club.
Action photos by Marg Fraser-Martin
Presentation Photos
Read more: Tom Braidwood and Backchat are 2020 Adams 10 Champions
It was a warm and humid start to the second day of the Adams 10 Australian Championships with a gentle north-easterly sea breeze reluctantly appearing just in time for racing. The strength increased in fits and starts throughout the afternoon, building over 12 knots at 2pm and 18 knots for the final race with an axis steady between 020 and 030 degrees. Four good races were completed by the MHYC Race Management Team to bring the regatta back on schedule.
Tom Braidwood and the Backchat crew were fast out of the blocks in Race 3, the first of the day. Backchat finished with a two minute gap to second placed Rock Solid (Mitch Miller) and Lumine Lunae (Kim Darling) third. Race 4 saw a shake-up of the finish order with Garth Riley's Sirius first home a minute before No Friends (Geoff Charters) with Backchat in third. Lumine Lunae posted a disappointing 10th.
For Race 5, Backchat was back on top and consolidating their championship lead, finishing ahead of Powderhulk (Patrick Delany) and Rock Solid. Let Loose (Ross Bell) was a retirement with gear breakage. In the freshening breeze, Race 6 saw Backchat taking another win, this time from Tim Gallego and the Another Dilemma crew and Mitch Miller's Rock Solid in third.
"It was a pretty straightforward day with a steady breeze angle," commented RO Phil Yeomans.
"We only had one general recall and the fleet responded well to the 'U' flag that followed. There was a port & starboard incident at the top mark in Race 5 and that reduced the fleet for the final race," he said.
At the end of day two, with three races yet to be sailed, Tom Braidwood and Backchat have built a massive lead in the one-design pointscore from Mitch Miller's Rock Solid and Kim Darling's Lumine Lunae. Geoff Charter's No Friends leads the handicap pointscore.
For the latest results and event information, click here
Photos by Marg Fraser-Martin
Photos by Steve Talbot
The first round on the MHYC Inshore Sprints for 2020 kicked off today. It was a perfect sailing day - warm with sunny skies and a steady Nor Nor Easterly gradually building from 12 to 18 knots during the afternoon.
With MHYC hosting Act 1 of the MC38 season for 2020, these crews took to the water earlier to get a couple of races completed before being joined by the MHYC club fleet. After the four races completed today, John Bacon's Dark Star from RPAYC leads two MHYC boats – Stephen Proud's Swish and Shaun Lane's Lazy Dog. The MC38 will sail their final three races tomorrow. For results, photos and more information about the MC38 Act 1 at MHYC – click here
In the first of the MHYC Inshore Sprints today, Toy Box 2 (Ian Box) claimed the Division 1 PHS win from Stormaway and Rumba, while Plan B (Brett & Ken Churcher) won Division 2 PHS from Innamincka and Dania. In the Adams 10 One Design, Powderhulk (Patrick Delany) led home KickNChase and Another Dilemma.
Galan (Mike Gallagher) took the Division 1 PHS win for the final race ahead of Forty Two and Rumba, while Innamincka (John Crawford) turned the tables on Plan B. Waterbone Again was third in Division 2 PHS. In the Adams 10s, it was Powderhulk first home again ahead of Another Dilemma and Contentious.
For the Inshore Sprints Results – click here
Thankyou to Marg Fraser-Martin and Cyntia Franco for the photos today.
Marg Fraser-Martin Photos
Cyntia Franco Photos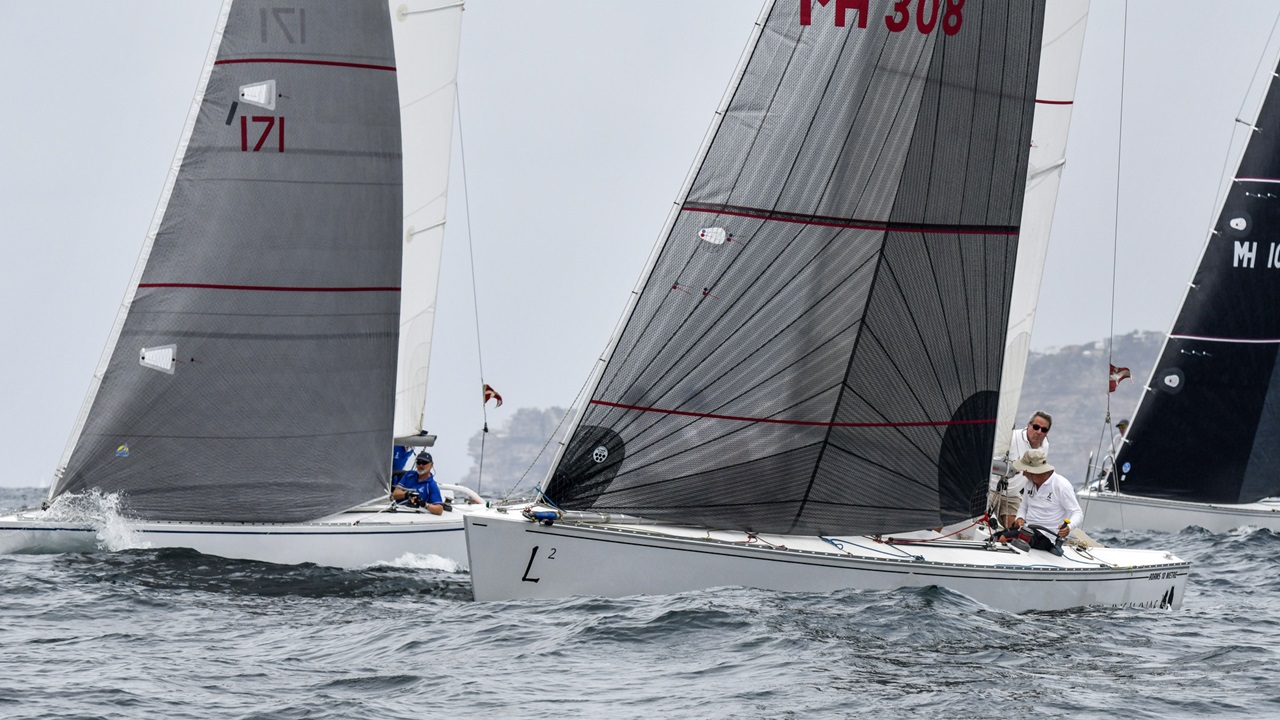 Day one of racing in the Adams 10 Australian Championships kicked off at Middle Harbour Yacht Club today with two of the three scheduled races completed on The Sound, Sydney Harbour.
"We had a variable north-easterly all day, rarely getting above ten knots," said Race Officer Phil Yeomans.
"With the wind against a strong run out tide and a very sloppy seaway, the conditions proved very challenging – even for some of the more experienced sailors. As conditions deteriorated later in the afternoon and the breeze faded, we were left no choice but to abandon the last race of the day," he commented.
Tom Braidwood and the Lake Macquarie crew of Backchat took the first bullet of the regatta, finishing a minute clear of Lumine Lunae who just managed to hold off Contentious (Brian Lees). Kim Darling's Lumine Lunae (otherwise known as L2), with Lake Macquarie's Justin Mitchell calling the shots from the middle of the boat, replied with a ten second win over Backchat in race two. Sirius (Garth Riley) was third.
Weather permitting, the MHYC race management team are aiming to run four races tomorrow to bring the program back on schedule. Racing concludes on Monday afternoon.
For the latest results and event information, click here
Day One Photos by Marg Fraser-Martin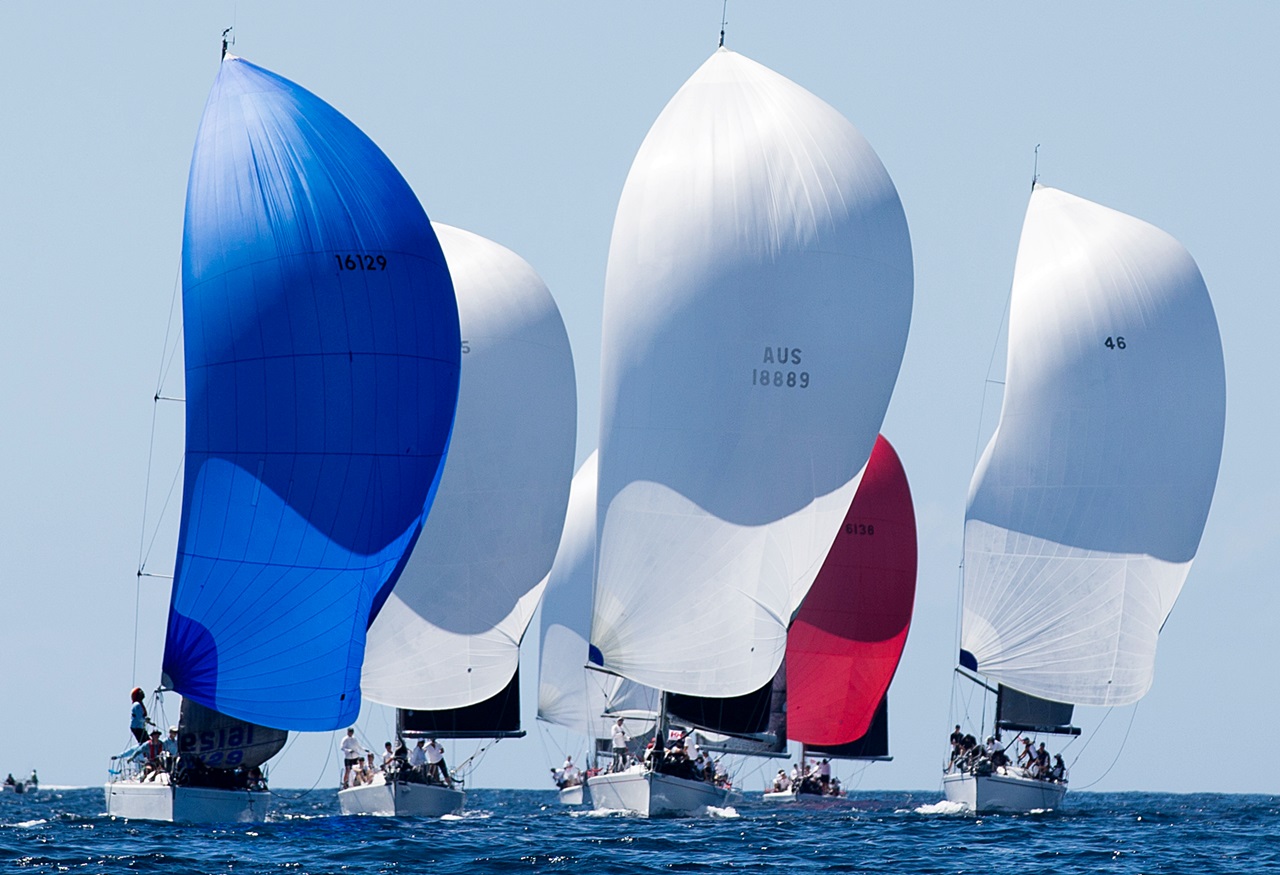 In 2020, Middle Harbour Yacht Club's longstanding Sydney Harbour Regatta celebrates 15 years as Sydney's premier keelboat series across the weekend of March 7-8.
The Notice of Race is available here and online entry here. In all but one of the six racing categories on offer the starting list began to fill as soon as entries opened.
Organisers anticipate another huge fleet of more than 180 boats from a broad range of one-design classes plus mixed keelboats, offering opportunities for serious campaigners and enthusiastic club racers alike.
MHYC Special Events Chairman Ian Box says, "Sydney Harbour Regatta is in the sailing calendar of all the Sydney and surrounding clubs. It's a collaborative effort and that is the hallmark of the event, and the reason for its continued success. Owners like it because it creates an opportunity for club racers to compete in a broader fleet, well beyond their usual club program."
Sydney Harbour will be the venue for the majority of racing and the bigger boats in the TP52 and IRC divisions will head offshore for breathing space. Seven course areas provide room between the divisions and the regular harbour transport services and recreational boaters who enjoy the internationally recognised waterway on the weekend.
The J70 class will stage their NSW Championship under the regatta umbrella and a new addition to the program is an Interclub Teams Event in the Performance Spinnaker Divisions.
MHYC acknowledges the event's success is due to the continued assistance of the Cruising Yacht Club of Australia, Manly Yacht Club, RANSA, Royal Prince Alfred Yacht Club, Royal Sydney Yacht Squadron, Royal Prince Edward Yacht Club, Sydney Amateur Sailing Club and the Sydney Flying Squadron. Denis Thompson is once again Principal Race Officer and a national jury will be appointed to officiate.
MHYC encourages competitors to be part of the great social atmosphere, including live entertainment, back at the club each day after racing.
Key sponsors for the Sydney Harbour Regatta's 15th edition include Helly Hansen, Air New Zealand & Robert Oatley Wines. Supporting sponsors are Club Marine, Coral Seas Resort, Vittoria Coffee, Fisherman's Friend and KeySun Zinke.
Read more: Anniversary Sydney Harbour Regatta open for business
Wet, windy and wild racing for the Forty's
Gruelling conditions on Sydney Harbour typified the first day of the Farr 40 One Design Trophy and Jeff Carter's Edake scored three bullets putting them right back where they have been comfortably sitting for the majority of the season in first place.
With conditions forecast to be gusting well over 25 knots, the decision was made at the Class briefing to move the race course from offshore to back inside Sydney Harbour.
A south, south westerly averaging 23 knots, gusting to 28, provided the teams with the most testing conditions of the season thus far.
Rob Pitts' Double black leading the fleet in Race 1
Number four jibs were the call of the day to get through the gusty upwind beats, however once the fleet were around the top mark, the downhill run provided plenty of drama with even the best and most experienced teams, not escaping without incident.
Wipeouts were aplenty, spinnaker's were shredded and all crews were thoroughly exhausted after three races and just half of the fleet managed to see the day out.
Australian Class President, Rob Pitts and Double Black scored 3.2.2 placing them in second place, two points ahead of fellow Melbournians Rob Davis and Andy Baker's Nutcracker.
"Today was a day of survival and attrition and only half the fleet were left standing for the last race. Massive wind gusts and torrential rain made downwind sailing a white knuckle ride and the day was adrenalin packed to the max." Pitts said.
Boat of the Day - Edake (Jeff Carter)
In direct contrast to today's conditions, with up to four races planned for tomorrow, rest assured, the overall trophy is well and truly still up for grabs.
Racing will commence tomorrow, Sunday, 19 January 2020 at 11am inside Sydney Harbour.
For full results click here
The Farr 40 Australian Class is proudly sponsored by Hacer Group. Instagram: Farr40_Australia Facebook Website: www.farr40.asn.au
Photos courtesy of Marg Fraser-Martin
Read more: We​​​​​​​t, windy and wild racing for the Farr 40 One Design Regatta