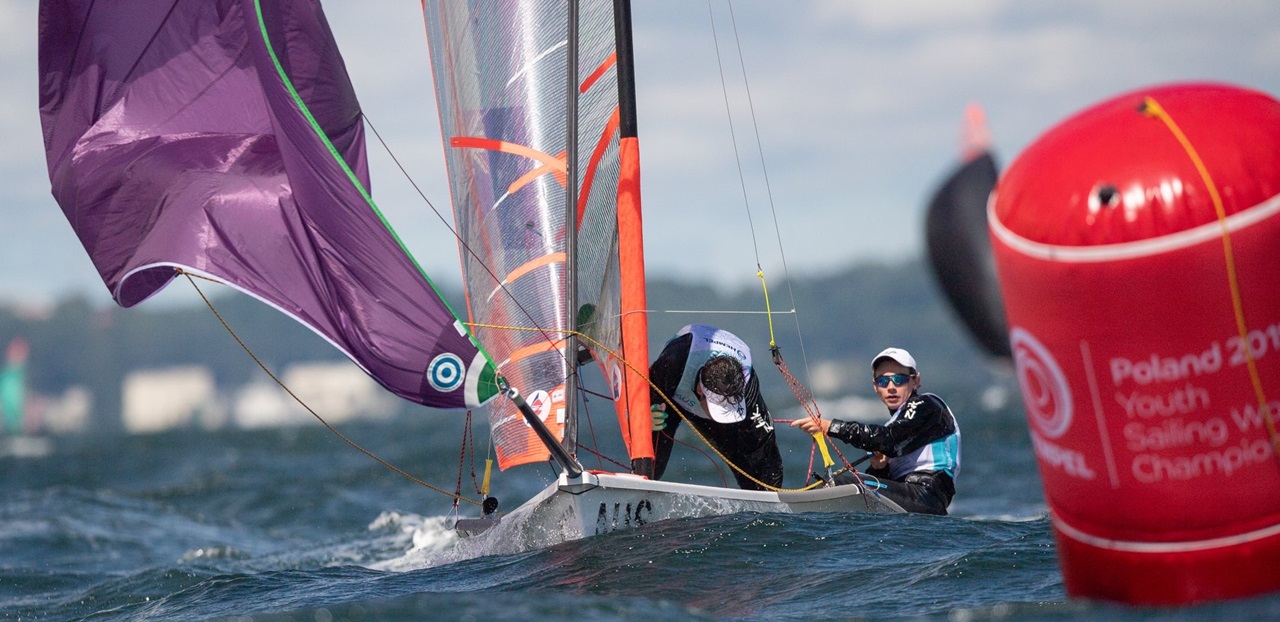 MHYC members Archie Cropley and Max Paul have claimed the Bronze medal in the Boys 29er class at the 2019 Hempel Youth Sailing World Championships in Gdynia, Poland.
409 sailors from 66 nations were racing across nine youth events including the Boy's and Girl's divisions of the 29er, 420, RS:X and Laser Radial as well as the Mixed Multihull, the Nacra 15. The best youth sailors from 28 nations contested 13 races in the 29er Boys series.
The Australian Youth Team was selected from performances across class and youth championships last summer and with a strong mix of returning Youth World Championships sailors and newcomers, the team had put in intensive training hours to tackle the best young sailors in the world this past week. It will be Max Paul's last year in the youth classes, while 16-year old Archie Cropley still has a couple years ahead of him.
After three days of racing, Cropley & Paul were sitting in second place behind last year's winners Norway.
"It's been pretty good so far. We started a bit slow into the regatta and had a pretty light breeze the first couple of days, but we kept it pretty consistent and stayed close with the top pack. And today we did pretty well and had a bit more breeze which was a bit more beneficial for us," Max Paul said.
The sailors from Middle Harbour Yacht Club not only put in their strongest day so far, but also had one of the best capsize recoveries of the day, with witnesses drawing comparisons to Olympic champions Nathan Outteridge and Ian Jensen's race at London 2012.
"We had three races in 15 knots and the last one was probably reaching 20 knots and we had a really good day with a fourth, first and a third. In the last race of the day we hit a big set of waves on the downwind in a big puff and we couldn't really do anything except pin pole, stick the nose in. So we had a pretty big capsize, but we recovered really well and were tenth at the bottom mark and third again around the top mark. So we did recovered really well to keep up there," Archie Cropley described the incident.
Unfortunately the stronger breezes did not persist for the remainder of the regatta and the crew from Finland posted a series of bullets on the last two days of lighter winds to overtake the Australians.
Sydney sailors Will Cooley and Rebecca Hancock won gold in the Mixed Nacra 15 with one day to spare. The lead in the Nacra 15 changed on a daily basis but it was the Australians who ultimately prevailed.
The race for gold went down to the wire in the Boy's Laser Radial fleet on Friday with Western Australia's Zac Littlewood in the lead going into the final day.
The Western Australian, who won bronze at last year's world championships, claimed two seconds on Thursday to remove local hopeful Tytus Butowski (POL) from top spot but just one point splits the pair. In the final race, bot sailors posted disappointing results to allow the Turkey's Yigit Yalcin Citak to overtake them to claim the Gold. Littlewood retained the Silver medal.
AUSTRALIAN TEAM RESULTS
Nacra 15 (Mixed team) Will Cooley and Rebecca Hancock (NSW): 1st
29er (Boys) Archie Cropley and Max Paul (NSW): 3rd
29er (Girls) Alice Buchanan and Dervla Duggan (TAS): 13th
420 (Boys) Ryan Littlechild and Jack Ferguson (NSW): 12th
420 (Girls) Lily and Matilda Richardson (VIC): 16th
Laser Radial (Boys) Zac Littlewood (WA): 2nd
Laser Radial (Girls) Maddie O'Shea (NSW): 26th
RS:X (Boys) Hamish Swain (QLD): 19th
RS:X (Girls) Amelia Quinlan (NSW): 20th
Youth Worlds Results - http://worldsailingywc.org/results/2019_gdynia_pol.php
Australian Sailing Youth - https://www.sailingyouth.org.au/home
Read more: Bronze for Archie Cropley & Max Paul at Youth Worlds
As the winter settles in, the Harbourview and Sandbar hours will change. You can find updated hours below,
if you are unsure about the hours or would like anything confirmed, please call the MHYC office on 9969-1244.
Harbourview Bistro
Opening hours for July & August:
Saturday – Lunch & Dinner
Sunday – Breakfast & Lunch
Wednesday – bar service only from 2-7pm, kitchen closed
Thursday & Friday – closed unless scheduled to be open* (please call the office to check if you wish to make a booking)
Monday & Tuesday – closed
---
SANDBAR CAFÉ
will continue to open 7 days from 8am – closing times will vary but will be between
3.00pm – 5.00pm daily
Seven races over two warm days of sunshine and light to moderate breezes decided the NSW 29er Championships at MHYC this weekend following on from the first two days held at Wangi RSLSC in November.
MHYC teams made a clean sweep of the podium. Archie Cropley & Max Paul posted 12 first places over the 14 race series to claim the Open 29er NSW Championship in convincing fashion along with the Youth Team trophy. Max Giffney & Maddy McLeay were second overall, also claiming the Junior Team and Mixed Crew prizes. Hugo Taranto & Hugo Darin were third. The first All Female Team was Grace Powers & Kate Richardson (RPAYC/MHYC).
Another seven races were also conducted for the Nacra 15 Traveller Series with three boats taking race wins.
To view the 29er and Nacra 15 results - click here
Photos by David Staley
The Annual Skipper's Briefing will be held on Thursday September 19 at 7pm..
It is mandatory for a representative from each boat to attend.
This important session will include a briefing from NSW Roads & Maritime Services, on-water emergency procedures, updates to the Australian Sailing Special Regulations and the
2019-2020 racing program. It is a must-attend event for the skippers (or a representative) of all MHYC yachts.
The briefing will be held in the Harbour View Room at 7pm. Come along earlier to enjoy dinner beforehand.
Please email This email address is being protected from spambots. You need JavaScript enabled to view it. or phone the Sailing Office (9969 1244 Tues-Sat) to confirm your intention to attend the Skippers Briefing or if you have any questions.
Skippers & Crew Meet and Greet
Looking for crew for the new season? Looking for a crew position? MHYC has arranged a Meet and Greet evening for sailors looking for a crew position on a MHYC Yacht.
The Meet & Greet will be held in the Harbour View Room on Thursday 26th September at 7.00pm.
Skippers seeking crew for the season will be present so potential crew can meet the skippers and ask further questions. Skippers looking for crew will address the meeting outlining the program for their yacht this season and give an indication of the type of crew they are seeking. The crew can then ask questions of the skipper presenting to make sure they understand what is being sought. After the presentations, the skippers and crew can meet one on one over a drink in the bar.
Please email This email address is being protected from spambots. You need JavaScript enabled to view it. or phone the Sailing Office (9969 1244 Tues-Sat) to advise your intention to attend the Meet & Greet session or if you have any questions.
Read more: Skippers Briefing 19th Sept and Crew Meet and Greet 26th Sept
Congratulations to Tom and Allan Quick and the crew of Outlaw for winning the 2019 Farr 40 NSW Championships.
Eight races were conducted by Middle Harbour Yacht Club over the weekend with light conditions on Saturday and moderate breezes on Sunday.
MHYC's Jeff Carter sailed Edake into second place, one point clear of Double Black (Rob Pitts). The other MHYC boats, Exile (Rob Reynolds) and Zen (Gordon Ketelbey) finished 4th and 5th.
Latest Results – click here
Event Page – click here
Day Two Photos by David Staley
Day One Photos by Marg Fraser-Martin
MHYC holds two annual Get Checked Days for Equipment Audits, which allows Club Members the perfect opportunity to have their boats audited prior to the new sailing season commencing free of charge. For PFD checks contact Matt Pyne at the Marina Office or email This email address is being protected from spambots. You need JavaScript enabled to view it.. The last chance for a free audit for your boat is Sunday 8th September 2019.
Bookings for an equipment audit are to be arranged directly through the MHYC Sailing Office or email This email address is being protected from spambots. You need JavaScript enabled to view it..
Presentation of a Boat for Inspection process
• Boat owners are to complete an Equipment Compliance form prior to the inspection. Audit form can be downloaded here
• The owner or his representative should carry out an initial inspection and tick/sign the appropriate box - making sure to check expiry dates and quality of equipment, as well as identifying the location of equipment that may be asked to be presented during the inspection.
• Necessary equipment should be laid out ready for inspection, including copies of service certificates and any additional safety documentation; ie stowage plans, Epirb registration, Life Raft Service Certificates, PFD Service Certificates. (Cat 1 and 2 inspections - owners should have a copy of these certificates on hand to submit to the auditor as a part of the inspection paperwork.)
• The skipper and knowledgeable crew member should be on board during the inspection.
• The owner's Australian Sailing number and vessel registration details and insurance document shall be made available to the Auditor or the Equipment Compliance form cannot be completed.
Equipment Layout for Inspection
All items required for safety inspection should be laid out prior to the Auditor coming on board. Prior preparation will significantly reduce the time taken to complete the inspection.
• Storm boards ready to be put in place.
• Sea cocks and plugs exposed, not hidden by equipment.
• Know the water and fuel capacity of your tanks
• Fire extinguishers taken from brackets so date tags can be sighted.
• First Aid kits open and items with use by dates on the top so that expiry date can be checked.
• Publications and charts on chart table.
• Emergency navigation lights with batteries fitted.
• PFD's, harnesses, tethers and flares laid out.
• Radio installation inspection certificate.
• Life Raft Certificate
• Jackstays rigged.
• Lifelines tightened.
Read more: Free Get Checked Audit Day - Sunday 8 September 2019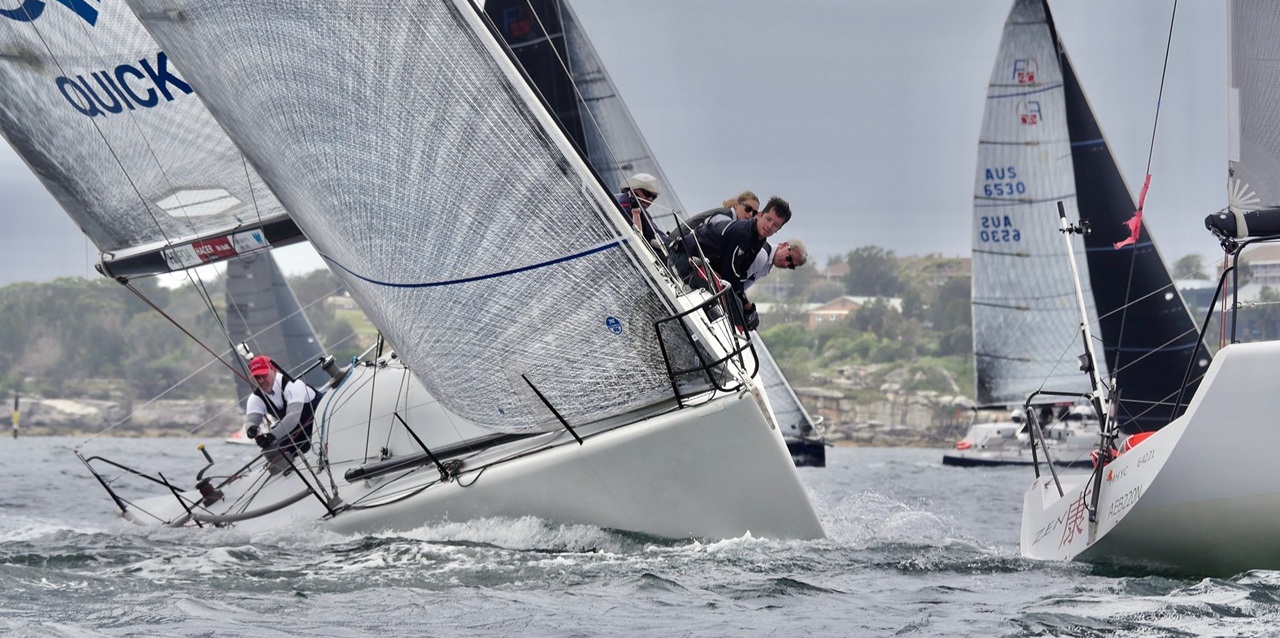 After five competitive regattas held in Newcastle, Pittwater and Sydney, the strong Farr 40 Australian Fleet are ready to make it count at the NSW State Title hosted by Middle Harbour Yacht Club over two days of racing offshore and inside Sydney Harbour on 2 & 3 February 2019.
With past reigning champions like Guido Belgiorno-Nettis and Martin Hill retired from the Class, the winning title has never been more highly sought after and the eight boat fleet are ready for the big hit out.
Tom and Alan Quick's Outlaw have led the season with four from five wins closely followed by Jeff Carter's Team Edake and MHYC local Exile. Two teams from Victoria, Double Black and Nutcracker are also in the mix along with Sam Hill's RSYS entry Forty and Newcastle's Good Form owned by Midcoast Boatyard Owner, Joe de Kock.
Australian Class President Gordon Keteleby has been busy with his other Zen (TP52) in the Sydney to Hobart and now that is behind him he is more determined than ever to finish the season on a high. "It's been a busy few months of sailing for me with the Farr 40 Worlds in Chicago and then the Sydney to Hobart and now I am fully focussed on the Farr 40 end of season programme. The Class is very strong with a bunch of super competitive young blokes and I'm hoping to give them a run for their money".
The Zen Skipper continued, "We are very fortunate to have some successful and generous businessmen in our Class and I would like to thank Rob Pitts (Hacer Group) and Rob Reynolds for sponsoring this year's State Title and National Championship (the John Calvert-Jones Trophy)".
The Class' legendary PRO Phil Yeomans is unable to run the races for the last regatta at MHYC for the season and Steve Tucker is stepping in and will be calling the shots this weekend for up to eight races; four offshore and four inside Sydney Harbour.
List of entries:
Double Black - Rob Pitts, Sandringham Yacht Club and MHYC
Edake - Jeff Carter, MHYC
Exile - Rob Reynolds, MHYC
Forty - Sam Hill, RSYS
Good Form – Joe de Kock, NCYC
Nutcracker – Rob Davis & Andy Baker, SYC
Outlaw – Alan & Tom Quick, Cruising Yacht Club of Australia
Zen - Gordon Ketelbey, MHYC
Results will be posted after each race at http://www.farr40.asn.au/results/
To view the MHYC Event Page - click here
Read more: Farr 40 Australian fleet head into battle for NSW State Title crown
Peter Byford and David Hudson have come out the cream of the crop on Day 1 of the Yoti Sydney 38 Championship at the Sydney Harbour Regatta, hosted by Middle Harbour Yacht Club (MHYC), sailing Conspiracy to two wins from three races for an early lead this afternoon.
The reigning NSW champions and third placegetters at the 2018 Australian Championship, Byford and Hudson are making no bones about their desire to ramp it up a notch this year, despite a larger field than last time around.
However, the Pittwater pair by no means had it all their own way, they lead by one point from Alan and Tom Quick, recently crowned Farr 40 NSW champions. The CYCA father and son may have switched one-design classes, but they arrived fully cocked and loaded with The Goat, scoring a pair of third places and a win for second place overall
Conspiracy though, also won Boat of the Day, and proudly flew that flag, co-owner, David Hudson said.
The day of racing, Hudson said, "Wasn't too bad. We had from 8-12 knots. It was good constant racing on a reasonably flat sea. It was close and competitive. We'll have to stay on our toes, as we've got The Goat on our tails. We haven't raced against them before; they did a good job today."
Hudson said they were pleased with their starts and crew performance: "It all went well. No stuff ups, no accidents, good competitive racing. And I have to say that the new people in the class acquitted themselves well."
Tom Quick agreed: "It's a great fleet of amateur and professional sailors, like the Farr 40 class."
With guru David Chapman calling the shots "and he's doing main as well," Quick said, The Goat crew went in with heads down and tails up, as some got their heads out of the Farr 40 and into the Sydney 38 – very different boats.
"It's been five years since we sailed a Sydney 38 - so it was a bit different coming back – but it was good. We're enjoying the boat. It was a nice range of wind – perfect really. We had only one problem; getting a jib up in Race 3 when we were leading. But we got around mark and got it up and still won - no other dramas.
"We chartered The Goat. We have a mix of crew; one from The Goat and some youth sailors from France, the CYCA and one from Lightspeed (the MC38), Zak Quinlan. He'll go back to them for the rest of the regatta, so today was good practice for him."
Quick added, "Seems Conspiracy is the boat to beat, but consistency is the key and will be the decider, as it always is in one-design racing. We still have six races to go."
Sailing windward/leeward courses on the Manly Circle, Conspiracy pipped Challenge (second at the NSW Championship), Greg Croak's NSW Central Coast entry, by 27 seconds in the opening race. The Goat took third place, a further 15 seconds in arears.
You could feel class newcomer Peter Sorensen's frustration, when his recent purchase 'Advanced Philosophy' (the former Phoenix, winner of the 2015, '16 and '18 Australian Championships), with Ron Jacobs calling tactics, scored OCS in Race 1. First time jitters, I'm sure, from this local skiff and yacht champion.
In Race 2, it was Conspiracy getting the gun again, this time from Phil Tomkins' Adrenalin (CYCA) and The Goat in third
But in Race 3, The Goat was too 'Quick' for the rest, and the CYCA entry took the bullet from Richard Williams' Calibre, (also CYCA and third at the NSW Championship) by a six second split, with Conspiracy 25 seconds adrift of Calibre.
Day 1 of the Yoti 2019 Sydney 38 Australian Championship was in limbo before the midday start time, when a wafting 2-3 knots was all that could be mustered - a moderate north/easterly breeze filtered in just in time.
A General Recall started the day, as is sometimes the case in a first race on Day 1 in a high-stakes championship where competitors take the 'no prisoners' approach.
Competitors in this popular class know how to celebrate and wind down in style after a day of racing, taking in Norths Happy Hour drinks at MHYC on docking, before a dinner for all crews.
A fleet of 11 Sydney 38 One-Designs are taking part in the three-day Australian Championship, starting off this weekend's 14th running of the Sydney Harbour Regatta. It is one of the largest class events for many years, with some new owners and return players from around NSW joining the circuit regulars.
Windward/leeward racing continues on the Manly Circle tomorrow, when officials will aim to put three more races to bed.
Full results and all information: www.shr.mhyc.com.au
By Di Pearson, MHYC media
Read more: Sydney Harbour Regatta: Conspiracy in form at Sydney 38 Australian Championship
It was a perfect evening for the continuation of the Melges 20 Open Twilight Sprint Series on Tuesday, January 22.
Three Melges were joined by a visiting Viper for the start of the first race in a moderate north-easterly of 15-17 knots to held for the evening's racing.
Louis Blateau sailing Onya was first home in race one with Brett Lawson and the crew of 194 winning the final two races to hold a handy lead in the series after nine races.
To see the latest results - click here
Middle Harbour Yacht Club has won the Daydream Shield Interclub Regatta between Sydney Amateur Sailing Club and Middle Harbour Yacht Club on Saturday 23 February 2019.
Three two-of-a-kind fleet races were conducted for the J24, Farr 30 and Melges 32 classes with one of each class from MHYC and SASC. A moderate to fresh southerly provided some exciting racing, with some rain squalls reducing visibility at times.
Two of the races were won by MHYC and one by SASC with MHYC coming out winners overall with a score of 27 to SASC's 36 points. There was some close inter-class racing, especially with the Melges 32 and Farr 30 pairings. Congratulations and well done to Team MHYC:
XC3SS, Peter Woodhead (Melges 32)
Optimum, Stuart Jordan (Farr 30)
Ace, David West (J24)
Today's Chaos Cup and Bedlam Point Cup were sailed in a fresh southerly making for a quick trip to Abbotsford and back.
This popular annual club race was also race two in the Jeanneau Cup Series, attracting a strong fleet of 16 Jeanneau yachts. Christopher Stannard's Worlds Apart claimed the Jeanneau Division 4 win from Galan and Pinta Bay.
Winner of the Chaos Cup and Division 1 was Toy Box 2 (Ian Box), with Pindamara (Mark McLean) claiming the Bedlam Point Cup for the Non-Spinnaker Division. Division 2 was led home by Innamincka (John Crawford).
To view the results - click here