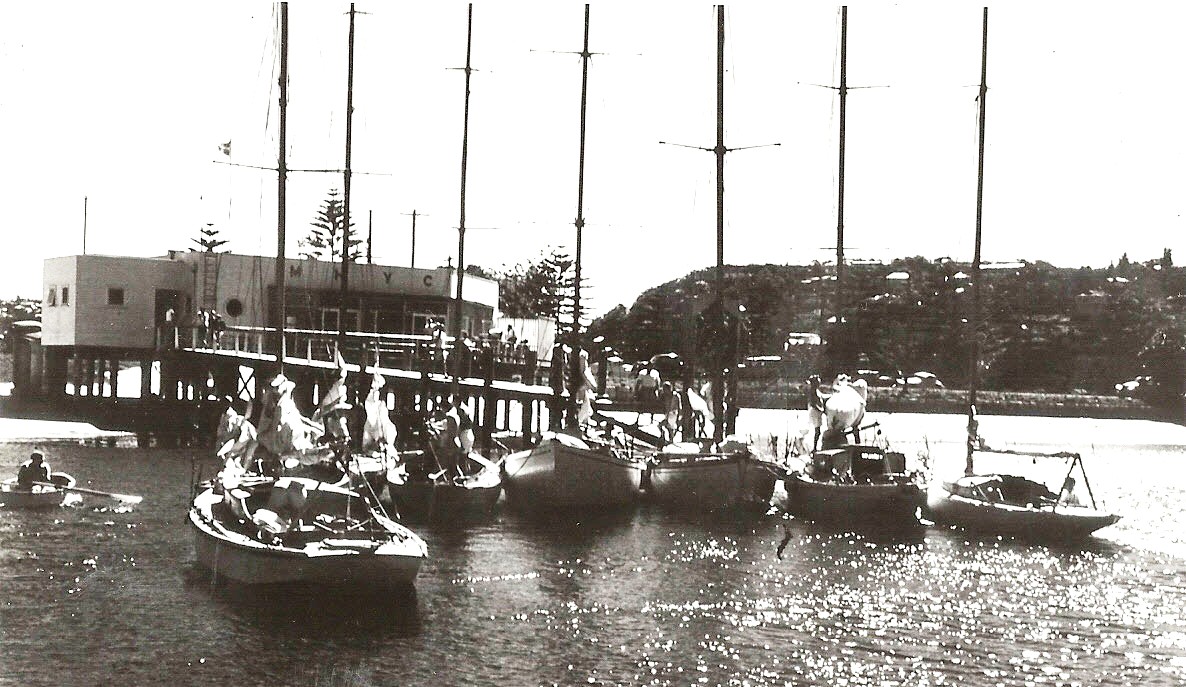 Story by Peter Young
I started sailing in the summer of 1967 with Bill Burns on Carinya, a Carmen.
At that time there was no mid-week racing at any other club in Sydney and though the race was held at MHYC it was not an official club race. The race was conducted by Noel Clack and his wife Joan. There were usually about 15 starters and it was the same course every week, the first mark was the Can Buoy near Lady Bay then Fort Denison and back around the Can Buoy (P) to the finish. Clackie fired a shotgun from the starters box for a flying start and as there were no handicaps he would award the place getters as to whom he thought had sailed a good race dependent on the conditions. The owners paid Clackie an entry fee, which after the race expenses, provided him with sufficient funds for his afternoon drinks and he also put enough money aside so that at Christmas time he could put on the 'prawn day'.
At this time there was only the Old Clubhouse, without the deck and current Bar area, and the decrepit old change rooms and toilets from the former Swimming Baths. The Marina was the former Swimming Pool enclosure with a section cut out of the front to provide an entry with mooring poles on the inside and the outside.
Bob Quinn was the 'self appointed' crew organizer, so often on arrival Quinnie would inform you that you would not be sailing on your regular boat but on another as it was short of crew. Whether that was a bigger faster or smaller slower boat you happily accepted and so everyone got to know each other. After the race was quite a social occasion as it was prior to the breathalyzer and as several of the boats were moored on the west side of the Bridge the owners had to wait till the 7pm opening. Also others would stop off on their way home for a few drinks. You knew almost everyone including Maurie the barman.
Some of boats were fiberglass, some timber and a few were steel.
Regular boats and owners included:
Solitaire - Swanson 27( Mike Vaux)
Shimaal -Mercedes II 42' steel Kaufman (Cam Earl)
Du Ma Le – classic timber boat(Leo Riley)
Carinya"- Carmen (Bill Burns)
Amity - Diamond (Andrew Spring)
Bettina – Eddie Nicholls Snr)
Barrima II - Daydrean ( Ron Derryn)
Briajea - 23' Vander Stat (Allan Shilland)
Marsude – (Bob Phipps)
Windsong -28' fiberglass (Martin Clarke) and Jim Choice an Endeavour 24.
And 2 un-named boat design Carmen (Geoff Edmons) and an Endeavour 24 (Jim Choice)
Eddie Nicholls Jnr (Fast Eddie) still has some of his father's 8mm film on Wednesday sailing
When Noel and Joan Clack moved to the Sunshine Coast MHYC made Wednesday sailing a club race and in the early 1970's commenced Thursday Twilights.