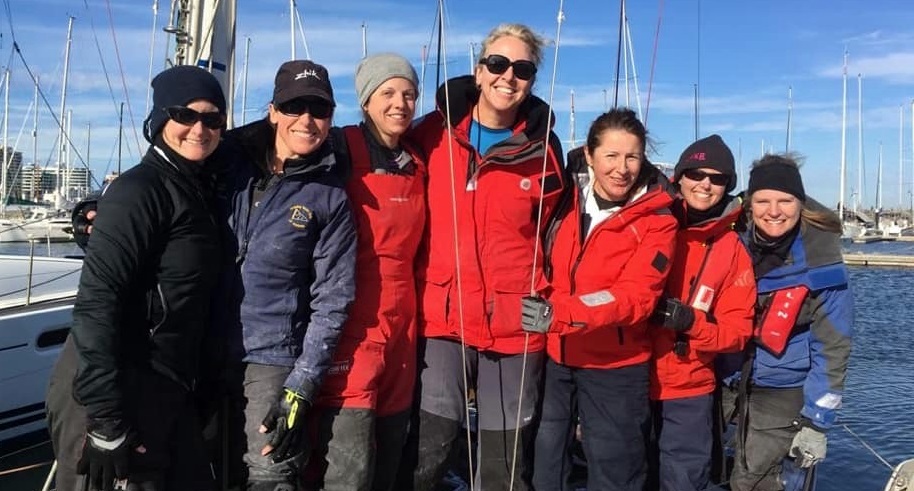 Tracy Richardson and the MHYC team sailing the Adams 10 Rage have claimed third place in EHC Division 1 at the 2019 Australian Women's Keelboat Regatta.
Held each Queen's Birthday long weekend and hosted by Royal Melbourne Yacht Squadron at St Kilda in Victoria, the AWKR is Australia's largest women's keelboat regatta with a record 40 yachts and 300 women taking part from Australian and New Zealand this year. Ages of competitors varied from 15 to early eighties.
The MHYC team were 1 point ahead in EHC Division 1 going into the final day with 5 good results, but dropped two spots on the table following a 12th place in the cool and breezy race 6.
The final pointscore was still very tight. Sunshine, an Adams 10.6 skippered by Sandy Anderson (RFBYC-WA), won from Ocean Respect Racing (RPAYC-NSW) and third placed Tracy Richardson's Adams 10, Rage (MHYC-NSW). There was just two and a half points between the three, courtesy of average points awarded to Katie Spithill's Ocean Respect Racing following a collision before the start of the final day's race.
The AWKR also presents some special awards and the Rohan Brownlee Leadership and Endeavour Award this year went to MHYC's Tracy Richardson. Tracy drew the crew together, motivated them and helped them learn and grow in a safe, fun and supportive environment.
Congratulations to the Rage crew of Tracy Richardson, Eve Saucier, Michelle Fletcher, Pauline Henderson, Danielle Brown, Deborah Dalziel and Katie O'Mara.
Event Website - click here
EHC Results - click here