The Leading Edge series of pursuit races got underway today and will continue each Saturday for the remainder of August. Races are held in conjunction with the Adams 10 Winter Fleet Series.
While the rain threatened but stayed away, the breeze was extremely light and variable in direction providing challenging conditions for crews and the race management team. The Division 2 fleet managed to sail a complete course and finish at the clubhouse, whereas the Adams 10 and Division 1 fleets sailed a shortened course finishing at the East Channel mark.
Andrew Hurt's Onya was the first Division 1 boat home, ahead of Stormaway (Jack Stening) and Tempo (MIchael Smith). The Carr-Cook-Burke consortium sailed Rumba home first in Division 2, followed by Innamincka (John Crawford) and TenSixty (Ian Green). Geoff Charters' No Friends was the best of the Adams 10s on One Design today, while Sirius (Garth Riley) took PHS honours.
To view the Leading Edge Pursuit Results - click here
To view the Adams 10 Winter Fleet Results - click here
Marg Fraser-Martin was on the dock and afloat today to get some more great photos..........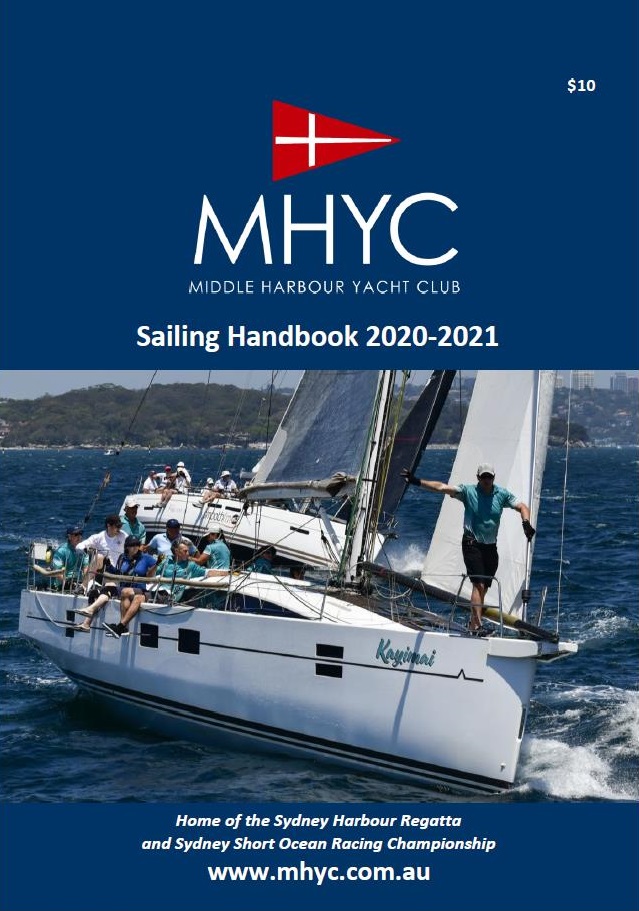 MHYC's 2020-2021 Sailing Program has been released to provide advance notice to members prior to publication of the MHYC Sailing Handbook 2020-2021 which should be available in early September.
The Overall Season Schedule can be downloaded as a simple PDF list of events in month order (10 pages) or as an Excel spreadsheet that can be filtered to display selected events or series. Schedules and Sailing Instructions for each of the MHYC Series can also be downloaded as PDFs.
The most significant change from the 2019-2020 program is that eight races of the Inshore Pointscore and seven of the Adams 10 Pointscore will be conducted in conjunction with the Combine Clubs Inshore Series. This new series, organised jointly by Manly Yacht Club (MYC), Middle Harbour Yacht Club (MHYC), Royal Australian Naval Sailing Association (RANSA), Royal Prince Edward Yacht Club (RPEYC) and Royal Sydney Yacht Squadron (RSYS), provides an interclub competition over six race days between September and March. Two of the race days will feature two short passage races, while the remaining 4days will have a single, longer passage race. The starting and finishing area is between Sow & Pigs Reef and Taylors Bay.
To view and download the MHYC 2020-2021 Sailing Program – click here
The Women's Sailing Program has also been enhanced with the creation of the Sydney Harbour Women's Keelboat Series, to be jointly conducted by Cruising Yacht Club of Australia (CYCA), Manly Yacht Club (MYC), Middle Harbour Yacht Club (MHYC), Royal Prince Edward Yacht Club (RPEYC) and Royal Sydney Yacht Squadron (RSYS). For more information about the MHYC Women's Sailing Program, including the new series - click here
Here is a summary of the number of races in each MHYC Series……….
| | |
| --- | --- |
| 2020-2021 Series | Scheduled Races |
| Ocean Pointscore | 6 |
| IRC Inshore Series | 16 |
| PHS Inshore Series | 26 |
| Adams 10 Pointscore | 24 |
| Saturday Social | 14 |
| Inshore Sprints | 8 |
| Winter Sprints | 8 |
| Winter Pursuit Series | 4 |
| Leading Edge Pursuit Series | 4 |
| Wednesday Pursuit Pointscore | 49 |
| Thursday Twilight Pursuit Pointscore | 24 |
| Women's Twilight Pursuit Pointscore | 6 |
| Feature Events Series | 9 |
MHYC have arranged a generous 20% discount on some Flying Fish training courses for MHYC Members over the Winter Period.

20% off any of the courses listed below for MHYC members.
To get the discount you need to book online and enter the promo code below.
MHYCFISHOFFER
RYA Diesel Engines – September 3
This course gives you an overall awareness of the main systems of a marine diesel engine. We teach you how to take simple measures to prevent mechanical
breakdown at sea and to rectify defects which do not require workshop support.
Click here
ACMA Marine Radio License (VHF, HF, GMDSS) – July 24 and September 4
This one day Australian Communications and Media Authority (ACMA) approved course teaches you to use VHF (Short Range) as well as MF and HF
(Long Range) radio for distress, urgency, safety and general calls. The course includes GMDSS and DSC
Click here
AS/ISAF Offshore Safety and Sea Survival - September 5 & 6 or October 10 & 11
This two day course meets the requirements of ISAF, RYA and AS for crew planning to take part in offshore yacht races like the Sydney to Hobart race.
The course is also highly recommended for anyone going to sea for any purpose.
Click here
Marine First Aid – September 2 or October 2
This course has been specifically designed for those working in the marine environment and is ideal for boat owners, watersports instructors,
yacht skippers and crew. The course leads to an internationally recognised first aid qualification.
Click here
Essential Navigation and Seamanship Online Course
This self paced online course provides a beginner's introduction to the navigation theory and safety knowledge required to go boating safely at sea.
Click here
Flying Fish are also offering MHYC memebrs 10% off their popular crew develeopment courses - RYA Start Yachting, Competant Crew and Day Skipper Courses for booking until 30 August 2020.
Please see Flying Fish website or drop into the office next to the Sandbar cafe for more details.
https://flyingfishsailing.com.au/
Read more: Winter Education Program with Flying Fish Sail Academy
Interested in Race Management and developing your skills?
MHYC will be running the following courses free to members:
Flags and Signals - Thursday 10th September from 6.30 to 8.30pm in the Harbourview Room.
Ideal for Race Management Volunteers and crew new to sailing
Mark Laying Course - Saturday 10th October 10.00-12.00 noon Theory Session
1.00-3.00pm On Water Session with 2 tenders and Hugh George
Club Race Officer Training - online webinars available each month from Australian Sailing. For information click here
For more information contact This email address is being protected from spambots. You need JavaScript enabled to view it.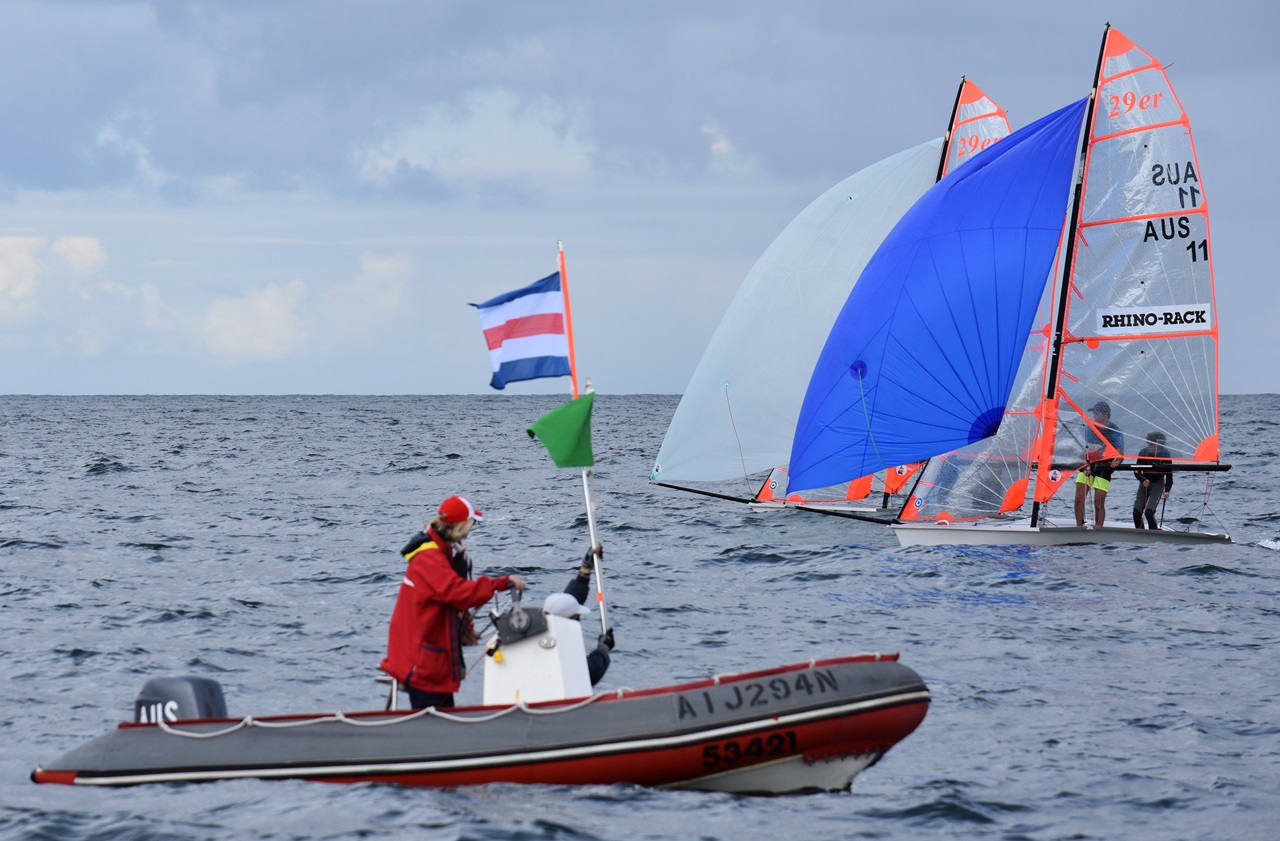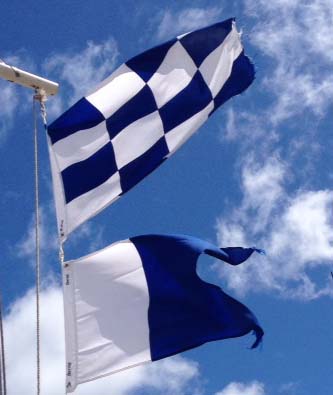 The wind was looking dire as we cast out eye down the glassy waters of Middle Harbour shortly before race 3 of the Winter pursuit series. The Adams 10 class came to a unanimous decision to abandon their division leaving the race committee the difficult task of picking a course appropriate for a possible shorten if the rest of the fleet managed to get away. The sailors were keen to try and the horn blew at 12.30 with very little wind coming from the nor west but just enough for most to fill a spinnaker setting them off at a snail's pace. A shorten was inevitable and the race committee set up at Lady Bay for the shortened course.
In Division 1 Rob Aldis got the gun on Kayimai closely followed by Stormaway ( Jack Stening and Colin Gunn) with Khaleesi
(Sandy Farquharson) only a second behind for third place.
In Division 2 Peter Charteris took out 1st place on Dania followed by Innamincka (John Crawford) and Escape (Dean Dransfield) in third.
For full results click here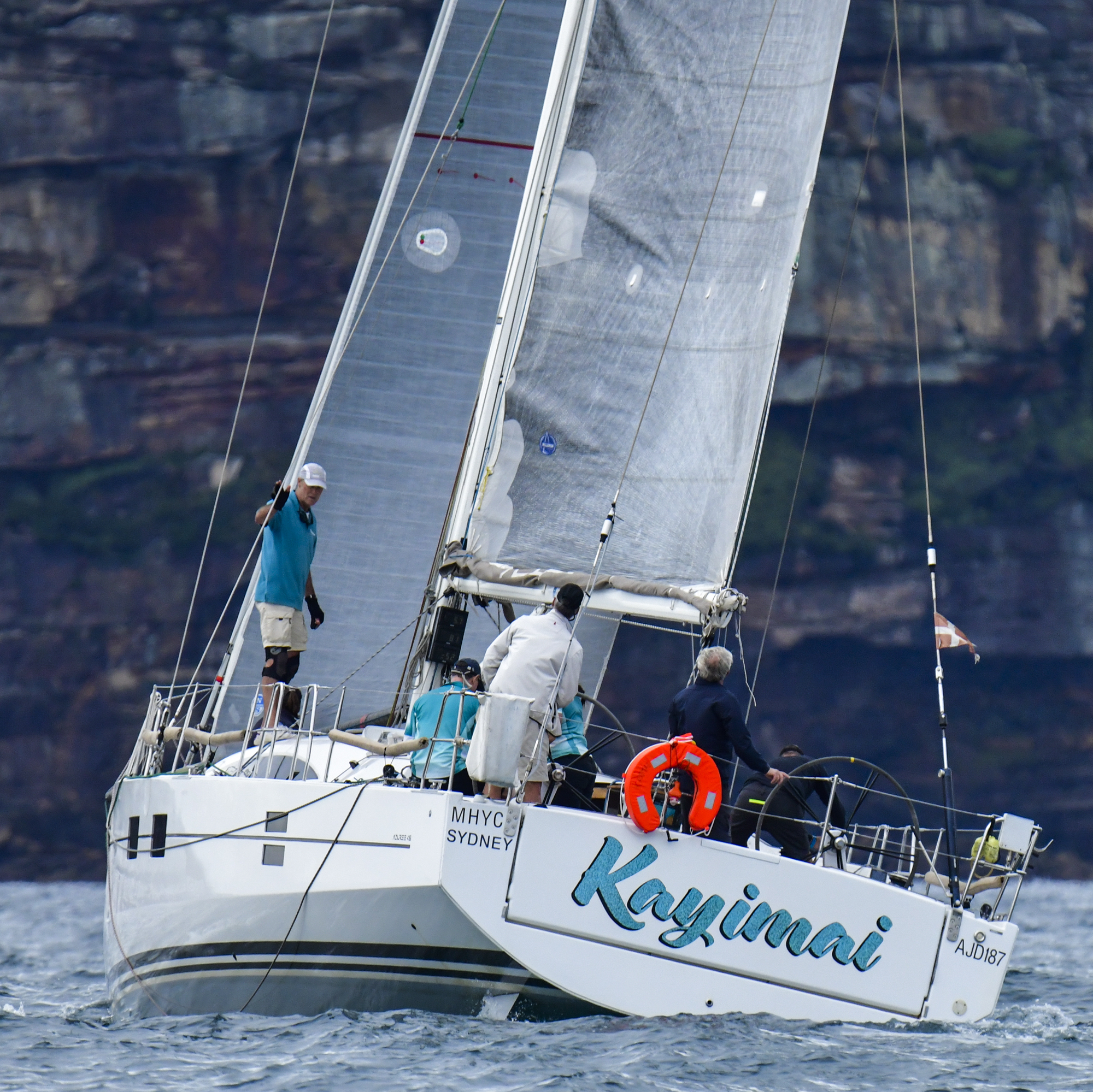 Due to the ongoing situation in NSW with Covid-19, and after consultation with the relevant authorities, the Organising Committee has today decided to postpone the Breakout Series to an appropriate future date to be advised. This is very disappointing news but MHYC, RPAYC, NCYC and PSYC as joint organisers thank the 83 entered boats and their crews for their interest and support. All entry fees are being refunded and a more detailed announcement will be circulated to entrants in the coming days.
The second day of MHYC Winter Sprints was another sunny day with a moderate southerly which softened toward the middle of the afternoon. Nineteen boats enjoyed the excellent condition on The Sound.
In race three, the first for the day, Khaleesi (Sandy Farquharson) took the Division 1 win from Wailea (Neil Padden) and Kayimai (Rob Aldis). In Division 2, Innamincka (John Crawford) was first on PHS from Escape (Dean Dransfield) and Shibumi (Bryan Moore). Rock Solid (Mitchell Miller) was the first of the Adams 10s to the finish on One-Design ahead of Powderhulk (Patrick Delaney) and Sirius (Garth Riley). Sirius won on PHS.
The breeze held for lap one of the final race, but became progressively lighter through lap two. Peter Woodhead's Melges 32 XC3SS revelled in the lighter air to take the race win from Khaleesi and Kayimai. Ace (David West) claimed the Division 2 honours from Innamincka and Stella Polaris (Goran Hultin). Sirius made it a double-header with wins on PHS and on One-Design from Powderhulk and Rock Solid (Mitchell Miller).
Next Saturday sees the continuation of the Winter Pursuit and Adams 10 Winter Fleet Series, with the next Winter Sprints on July 18.
For the latest Winter Sprints Results – click here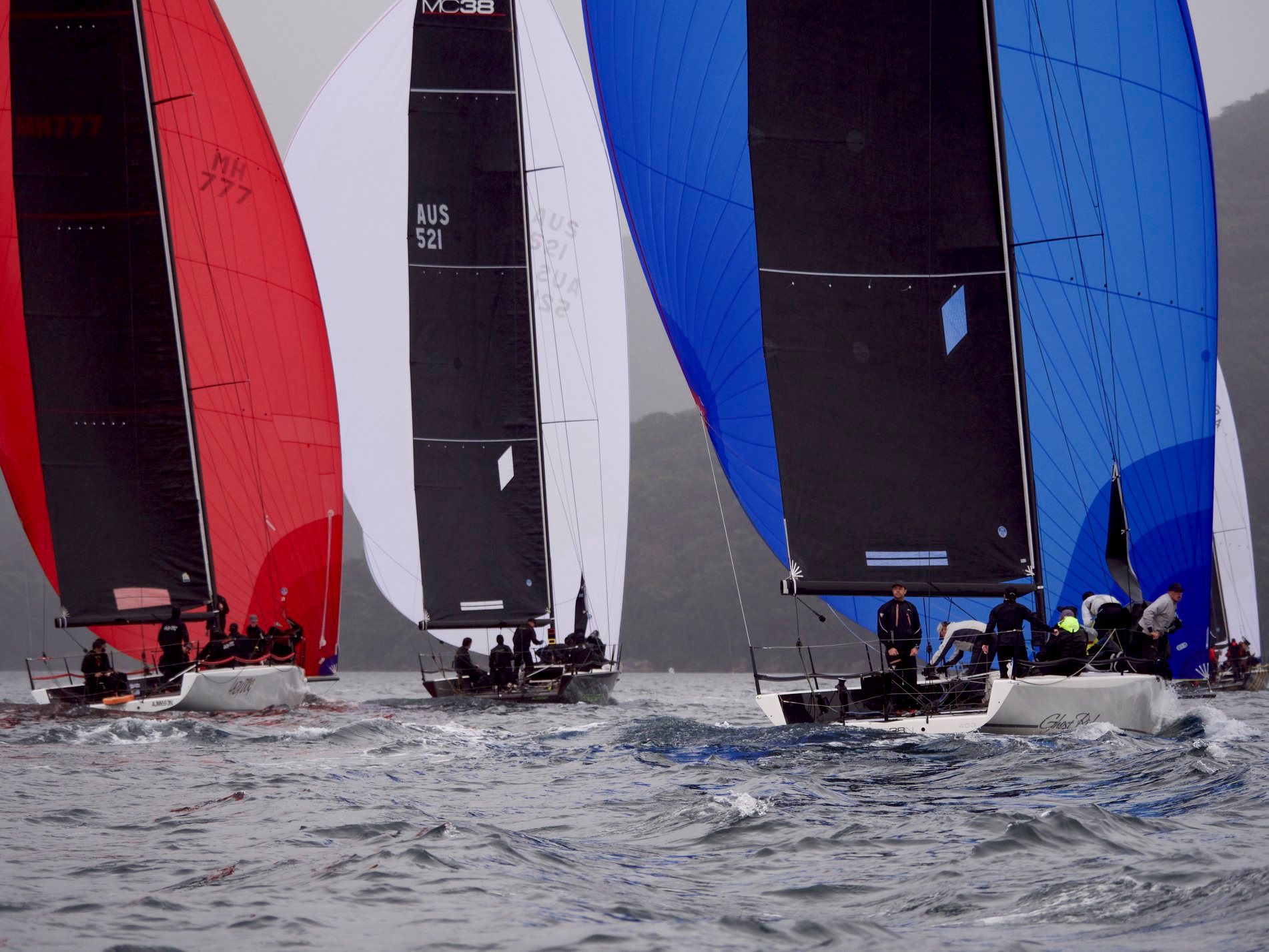 By Lisa Ratcliff
Close to two years of shooting for a MC38 one design class top result finally yielded Steve Proud's Swish team the main prize, on dreary Pittwater in the shortened five-race Act 4 winter pointscore.
"We've had a couple of thirds before but this is our first regatta win; we've been chipping away for nearly two years and it's finally starting to come together," a grinning Proud said back at the conducting club, the Royal Prince Alfred Yacht Club.
"We've got a really good bunch of sailors. Sometimes you just have to settle down and play your own game, and not let the nerves and everything going on around you get to you. It never lets up in that fleet. Opportunities come to you and take advantage of them; that's how we played it today," Proud added.
The Middle Harbour Yacht Club skipper named his team one by one, a special mention going to longtime tactician Billy Sykes. "Billy has been with me from the start, he's put a great team together. We've got some excellent sailors. Nobody's putting tickets on themselves; we just get out there and do the job."
A second by two points for John Bacon's Dark Star - looking resplendent following a recent makeover in Newcastle - is a great result for the local team. "We're really happy and I'm really pleased for Steven, Billy and the Swish team - they have worked so hard," Bacon acknowledged.
Most Valuable Player of the series goes to Dark Star's mainsheet Darren 'Twirler' Jones, who heads home to South Australia for his second quarantine stint in as many months, following a MC38 weekend regatta. "He's done 28 days in quarantine for the Dark Stars," Bacon pointed out.
"Things were supposed to be open this time," rued Jones. "It's no problem, I just get the dirt bike out and ride around the property. I went back home after the last series for three weeks, had one week out of quarantine then back up to Sydney. Now I'm back home for two more in isolation. I'm feeling a little institutionalised!"
Third in Act 4 went to Lazy Dog, Shaun Lane and Quentin Stewart's MHYC team who opened day two with a bullet off Mackerel Beach on Pittwater's western shoreline, then slid back in the rankings when the track was shifted to an area known as 'big pond', the expanse north of Scotland Island.
A south-moving and deepening low pressure system brought heavy rain and changeable breeze to the fleet on Sunday July 26, mostly south swinging to an easterly flow, 8-10 knots. On the verge of a fourth and final race, an attempt to make up part of Saturday's two race shortfall, the heavens opened. The downpour reduced visibility and played havoc with the wind, RPAYC race officer Steve Merrington deciding another start was optimistic, and the cold and saturated had probably had enough.
Next on the calendar is Act 5 over the weekend of September 26-27 hosted by the Royal Sydney Yacht Squadron on Sydney Harbour.
Photos by Tilly Lock Media.
It was a perfect day for the Winter Sprints held on The Sound today with sunshine and a steady 8-10 knot north easterly for the two races conducted by Race Officer Steve Tucker and the MHYC Race Management Team.
Khaleesi (Rob Aldis) and Nine Dragons (Bob Cox) each scored a race win and a second place in the Division 1 fleet. Khaleesi takes the series lead on tie-break and Wailea (Neil Padden) is three points behind in third after today.
It was the J/24s Ace (David West) and Innamincka (John Crawford) each taking a 1 and 2 in the Division 2 races, with Ace ahead on tie-break and Escape (Dean Dransfield) sitting third in the series.
In the Adams 10 One Design pointscore, Powderhulk (Patrick Delaney) took the win in both races. Another Dilemma is second overall after today's races with Sirius (Garth Riley) third.
Sprint racing continues in two weeks.
For the latest Winter Sprint results – click here
It was a disappointing end to the Winter Pursuit and Adams 10 Fleet Race today with the time limit expiring before any boats had finished.
With little breeze at the clubhouse just before 12:30, the start was moved to on-water with Hugh George setting a line near the Bombora. A 5-8 knot easterly initially pushed the fleet comfortably around the course, but as the afternoon wore on the breeze declined and the race had to be abandoned.
Nicole Balestro was on the water to take some photos today.
The NSW Government have eased restrictions to allow sailing to resume under a phased approach. This means that MHYC and other NSW clubs have the opportunity to re-commence their racing and training programs from early June.
The return to sailing is being done in a consistent and coordinated manner thanks to the cooperation of the major Sydney clubs. The Commodores of MHYC, CYCA, RSYS, RANSA, RPAYC, RMYCBB, SASC, MYC and RPEYC have met weekly with Australian Sailing since the Covid-19 pandemic first impacted our programs.
While detailed plans are yet to be finalised and approved, we are hopeful that MHYC's Wednesday Pursuits will be able to start on June 10 and a modified Saturday racing program can also get underway later that week. Members need to be aware there will be changes to these programs, particularly for related shore-side activities, as clubs are obliged to ensure that sailing at this time is CovidSAFE.
Please stand by for further details which will be released next week.
Looking forward to seeing you on the water soon.
Peter Lewis – Commodore MHYC