Far Niente, owned by Vince Brun and Drew Freides, have won the 2019 Farr 40 World Championship contested in Long Beach, California from October 2 to October 5. Jeff Carter's Edake has claimed the Corinthian title, finishing 3rd overall.
The regatta took place in the waters off Long Beach, generally south of Alamitos Bay Harbor. On Wednesday, the sailors embraced the 20 knot conditions. As the regatta carried on, the average breeze filled in at 10-12 knots daily.
While the scoresheet generally stayed pretty consistent, Friday's racing allowed for Far Niente to really pull ahead and claim their win. "We were on fire," Freides started. "Some of our closest competition struggled a bit, whether it was the kelp or just bad luck. We got off the line really well and controlled our own destiny."
Other notable boats on the water were Rob Davis' Nutcracker, who came in fourth, and Rick Goebel's Insanity. Both teams were kept in the top of the fleet, taking several seconds, thirds and fourths. Goebel even took a bullet in race 7.
Jeff Carter, skipper of Edake and now two-time Corinthian World Champion, acknowledged the dedication and commitment of his crew from Australia and congratulated the Long Beach Yacht Club and Farr 40 Class for an amazing event. Carter also congratulated Brun and Freides on their well-deserved World Championship title. "The Farr 40 Class in Australia is looking forward to returning the same amazing hospitality provided by all the teams and LBYC in November 2020 in Sydney," said Carter.
After each day of racing, the sailors celebrated camaraderie and amazing hospitality at Long Beach Yacht Club. After the final day, the teams celebrated another successful Worlds event, with 14 boats from 5 countries, while enjoying the hospitality and views of Long Beach Yacht Club.
"We might have to go to Sydney now and try to win again. The fleet is great and the boat is fun. It was a pretty tough competition. It kept us honest and kept pushing us and making us better and better," finished Freides.
Final results
Far Niente, Drew Freides / Vince Brun, USA, 33.0
Struntje Light, Wolfgang Schaefer, GER, 36.0
Edake (Corinthian), Jeff Carter, AUS, 41.0
Nutcracker (Corinthian), Rob Davis, AUS, 46.0
Insanity, Rick Goebel , USA, 49.0
Easy Tiger (Corinthian), Chris Way, USA, 60.0
Blade 2 (Corinthian), Mick Shlens, USA, 65.0
Skian Dhu (Corinthian), Martin Meerhoff, URU, 94.0
Dark Star (Corinthian) Farr 40 Steve Brown, USA, 98.0
White Knight (Corinthian), Zoltan Katinszky, USA, 112.0
Wild Thing (Corinthian), Yon Belausteguigoitia, MEX, 114.0
Foil (Corinthian) , Gordon Leon, USA, 129.0
Taurus (Corinthian), Barrington Darcy, GBR, 139.0
Katana (Corinthian), John Seit, USA, 149.0
Courtesy www.farr40worlds.com as amended by MHYC
This year marks the 42nd running of the first major keelboat regatta for the season, the Sydney Short Ocean Racing Championship (SSORC), hosted by Middle Harbour Yacht Club over the weekend of 23 and 24 November.
Entry is open and the Notice of Race online, with some enthusiastic owners already signing up for what is shaping up to be a battle of the titans across the board, and particularly in the TP52 class, as seven owners have confirmed early they are rigged and ready for some serious racing.
Terry Wetton, organiser for the TP52 group, advised that Matt Allen's Ichi Ban, Marcus Blackmore's Hooligan, Gordon Ketelbey's Zen, Craig Neil/Bob Steel's Quest, Sailors With DisAbilities' Wot Eva, Mick Martin's Frantic and Sam Haynes' Celestial could be joined by two or three others for the TP52 series, now starting its second year.
When you look at the talent, where do you put your money? Ichi Ban has won countless events, both inshore and offshore, including the 2017 Rolex Sydney Hobart. Quest has won the Sydney Hobart twice; in 2008 under Bob Steel and in 2015 as Balance for Paul Clitheroe. Steel also finished second to Ichi Ban in the 2017 race.
Hooligan is hard to overcome inshore. She has beaten and been beaten by Ichi Ban for the top spot and won SSORC in a small field last year. Zen has been quietly making gains, beating Hooligan at the Port Stephens TP52 event in April, which was won by Celestial, and giving as good as she got at Airlie Beach Race Week, missing the win by two points.
Ketelbey remarked, "The long and short of it is, we hope to win. We have a fairly non-professional boat of mostly regular sailors who have been with me since the Farr 40 days. We're proud of the fact we can knock them off.
"Ichi Ban is very hard to beat – and Hooligan. They have professionals on board, but we'll give it a go and do our best," said Ketelbey, who lacks the inshore rigs of his two rivals, but does swap the offshore wheel for tiller steering at regattas.
The Sydney yachtsman confirmed SSORC is the ideal vehicle to iron out wrinkles in the boat and sharpen crew work, along with the CYCA's Blue Water Pointscore and Ocean Pointscore (OPS). In fact, the TPs will sail the opening coastal race.in conjunction with the OPS. On the Sunday, it is three offshore windward/leeward races; all will be scored under IRC and TPR.
Expect fireworks among the rest of the fleet, particularly between last year's Division 1 winner, Bob Cox's Nine Dragons against Andrew and Pauline Dally's Khaleesi. The two DK46's regularly swap the winner's seat at various events. Nine Dragons did the slaying at last year's SSORC, defeating Darryl Hodgkinson's Victoire, Khaleesi and Noel Cornish's St Jude by seven points when the latter three finished on equal scores.
The same can be said in Division 2, where Phil Dash's JustADash and Jack Stening's Stormaway go toe-to-toe every year. In 2018, JustADash did the job by one point from his nemesis.
While all the above boats sail offshore for the weekend, there is also MHYC's popular feature event on Sydney Harbour on Day 1. The Seven Islands Race has a pursuit-style start from the Club, takes the fleet around various well-known Sydney Harbour islands, and the first one home to the Club finish line wins.
Expect to see the usual suspects and a few new players as owners and crew ramp up for the summer offshore season ahead.
All information, including Notice of Race and entry: www.ssorc.mhyc.com.au
Di Pearson/MHYC media
Read more: Entry Open for 2019 Sydney Short Ocean Racing Championship
Seven races over two warm days of sunshine and light to moderate breezes decided the NSW 29er Championships at MHYC this weekend following on from the first two days held at Wangi RSLSC in November.
MHYC teams made a clean sweep of the podium. Archie Cropley & Max Paul posted 12 first places over the 14 race series to claim the Open 29er NSW Championship in convincing fashion along with the Youth Team trophy. Max Giffney & Maddy McLeay were second overall, also claiming the Junior Team and Mixed Crew prizes. Hugo Taranto & Hugo Darin were third. The first All Female Team was Grace Powers & Kate Richardson (RPAYC/MHYC).
Another seven races were also conducted for the Nacra 15 Traveller Series with three boats taking race wins.
To view the 29er and Nacra 15 results - click here
Photos by David Staley
Congratulations to MHYC members who headed over to RSYS over the weekend for their inaugural Ladies of the Sea Women's Training Regatta.
Catherine Rofe and Rhoslyn Humphries co-helmed on the Elliot 7 Steadfast with Jenny Sorenson as crew in the One design fleet.
Skye Patton joined the crew of FINN, Janey Treleaven's Farr 40. The event welcomed experienced and green sailors alike and provided a great opportunity for
everyone to develop their skills. Many thanks to Marg Fraser-Martin for the phographs. For more click here.
With so many exciting women's sailing events happening around Sydney there is no shortage of opportunities for everyone to get involved.
MHYC Women's Helm starts on the Thursday 17th October and we are hoping for a some solid participation.
If you would like to enter the Women's Helm Twilight please email This email address is being protected from spambots. You need JavaScript enabled to view it. or contact Catherine Rofe on 89693103.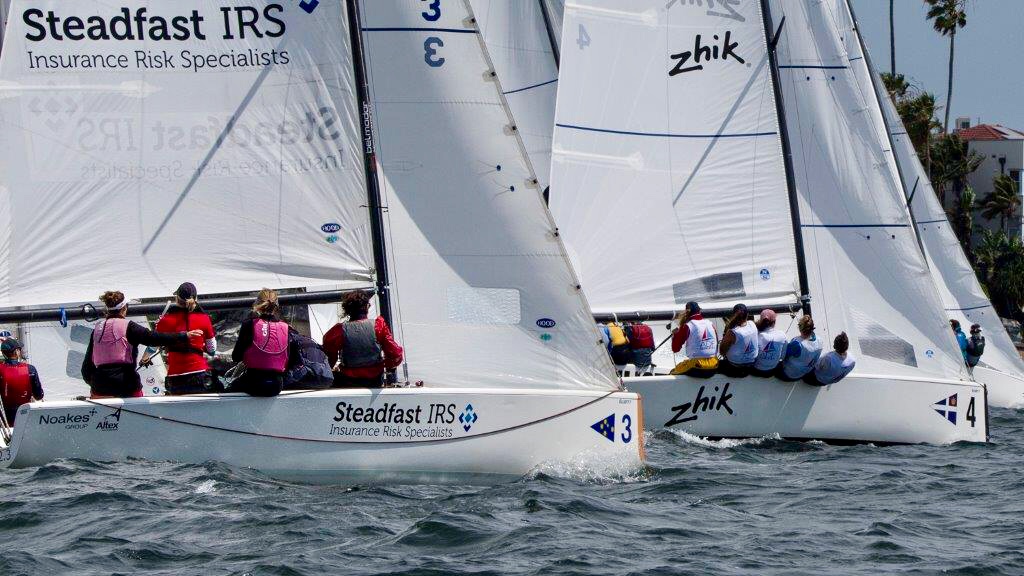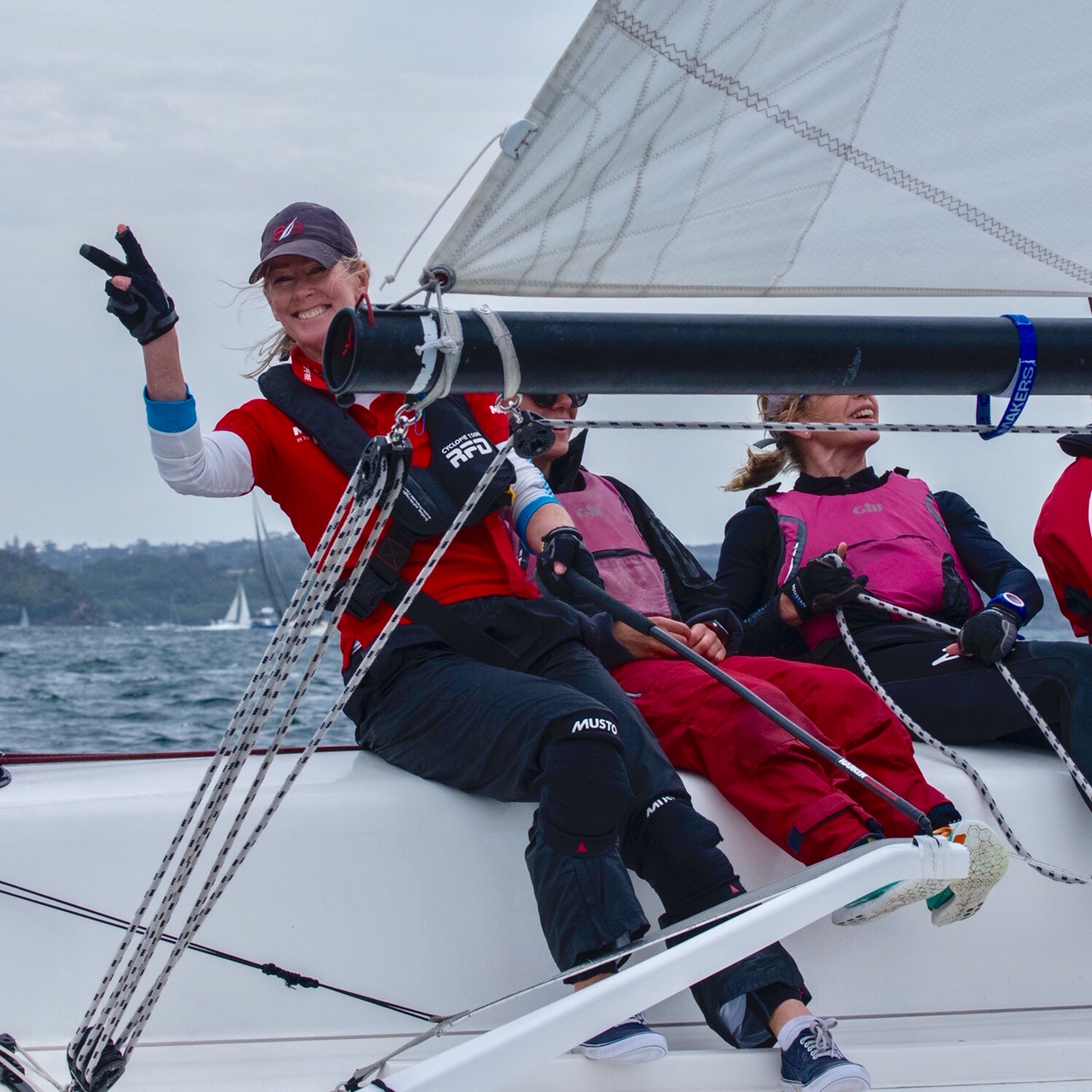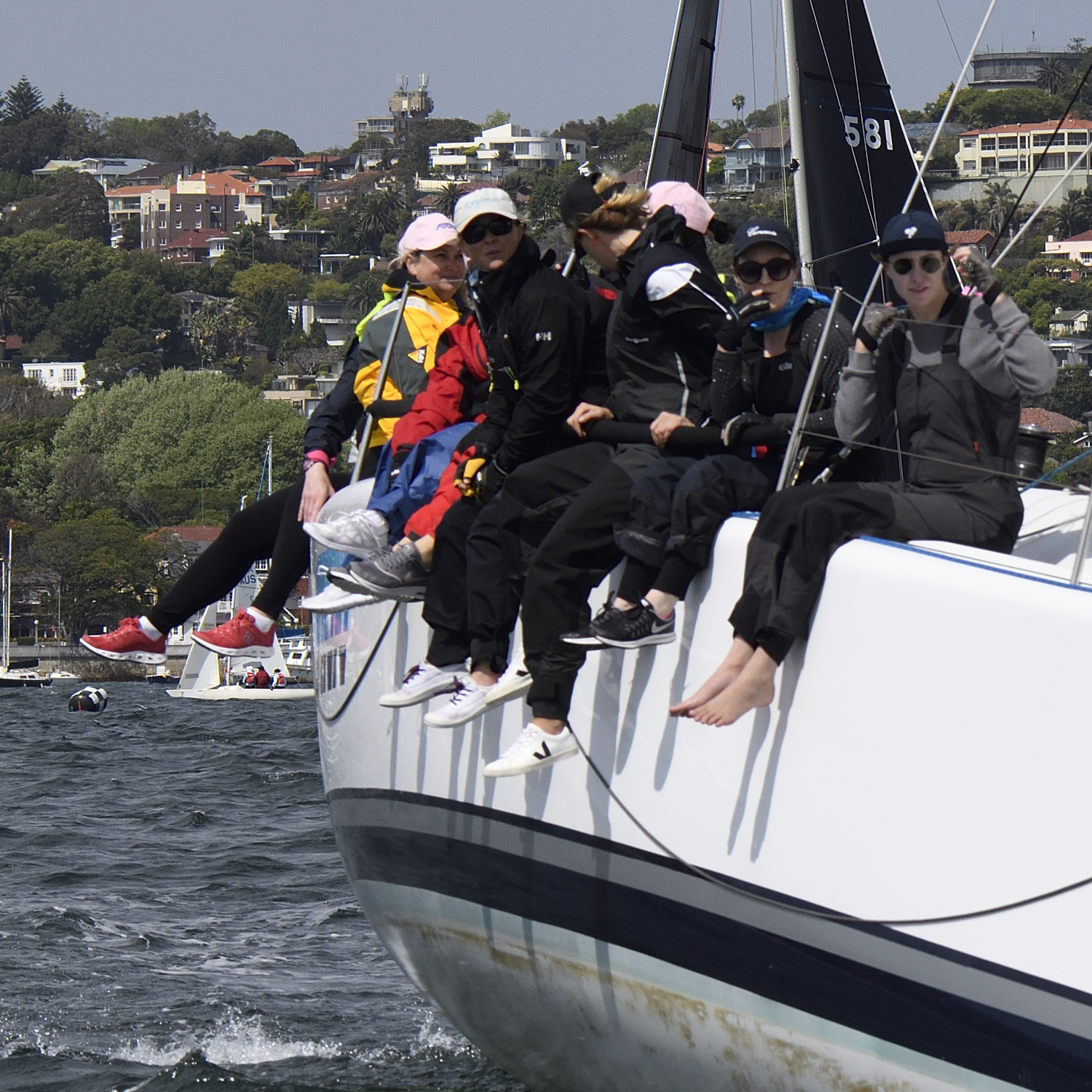 Read more: MHYC sailors head over to RSYS for Ladies of the Sea Regatta
Congratulations to Tom and Allan Quick and the crew of Outlaw for winning the 2019 Farr 40 NSW Championships.
Eight races were conducted by Middle Harbour Yacht Club over the weekend with light conditions on Saturday and moderate breezes on Sunday.
MHYC's Jeff Carter sailed Edake into second place, one point clear of Double Black (Rob Pitts). The other MHYC boats, Exile (Rob Reynolds) and Zen (Gordon Ketelbey) finished 4th and 5th.
Latest Results – click here
Event Page – click here
Day Two Photos by David Staley
Day One Photos by Marg Fraser-Martin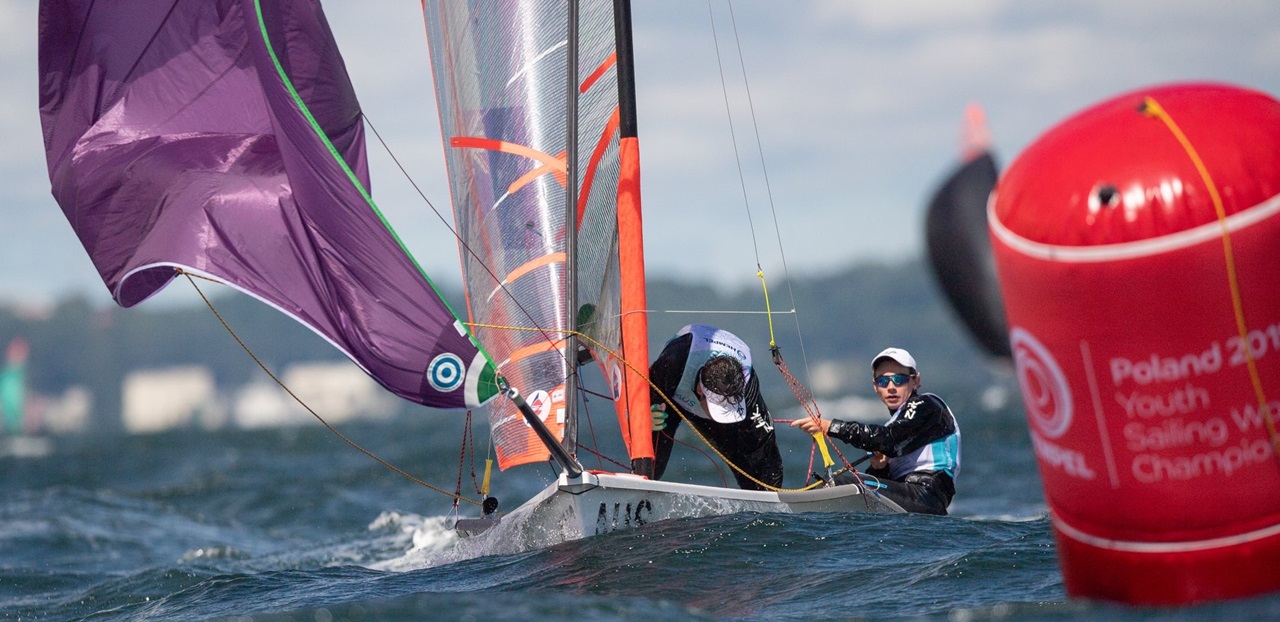 MHYC members Archie Cropley and Max Paul have claimed the Bronze medal in the Boys 29er class at the 2019 Hempel Youth Sailing World Championships in Gdynia, Poland.
409 sailors from 66 nations were racing across nine youth events including the Boy's and Girl's divisions of the 29er, 420, RS:X and Laser Radial as well as the Mixed Multihull, the Nacra 15. The best youth sailors from 28 nations contested 13 races in the 29er Boys series.
The Australian Youth Team was selected from performances across class and youth championships last summer and with a strong mix of returning Youth World Championships sailors and newcomers, the team had put in intensive training hours to tackle the best young sailors in the world this past week. It will be Max Paul's last year in the youth classes, while 16-year old Archie Cropley still has a couple years ahead of him.
After three days of racing, Cropley & Paul were sitting in second place behind last year's winners Norway.
"It's been pretty good so far. We started a bit slow into the regatta and had a pretty light breeze the first couple of days, but we kept it pretty consistent and stayed close with the top pack. And today we did pretty well and had a bit more breeze which was a bit more beneficial for us," Max Paul said.
The sailors from Middle Harbour Yacht Club not only put in their strongest day so far, but also had one of the best capsize recoveries of the day, with witnesses drawing comparisons to Olympic champions Nathan Outteridge and Ian Jensen's race at London 2012.
"We had three races in 15 knots and the last one was probably reaching 20 knots and we had a really good day with a fourth, first and a third. In the last race of the day we hit a big set of waves on the downwind in a big puff and we couldn't really do anything except pin pole, stick the nose in. So we had a pretty big capsize, but we recovered really well and were tenth at the bottom mark and third again around the top mark. So we did recovered really well to keep up there," Archie Cropley described the incident.
Unfortunately the stronger breezes did not persist for the remainder of the regatta and the crew from Finland posted a series of bullets on the last two days of lighter winds to overtake the Australians.
Sydney sailors Will Cooley and Rebecca Hancock won gold in the Mixed Nacra 15 with one day to spare. The lead in the Nacra 15 changed on a daily basis but it was the Australians who ultimately prevailed.
The race for gold went down to the wire in the Boy's Laser Radial fleet on Friday with Western Australia's Zac Littlewood in the lead going into the final day.
The Western Australian, who won bronze at last year's world championships, claimed two seconds on Thursday to remove local hopeful Tytus Butowski (POL) from top spot but just one point splits the pair. In the final race, bot sailors posted disappointing results to allow the Turkey's Yigit Yalcin Citak to overtake them to claim the Gold. Littlewood retained the Silver medal.
AUSTRALIAN TEAM RESULTS
Nacra 15 (Mixed team) Will Cooley and Rebecca Hancock (NSW): 1st
29er (Boys) Archie Cropley and Max Paul (NSW): 3rd
29er (Girls) Alice Buchanan and Dervla Duggan (TAS): 13th
420 (Boys) Ryan Littlechild and Jack Ferguson (NSW): 12th
420 (Girls) Lily and Matilda Richardson (VIC): 16th
Laser Radial (Boys) Zac Littlewood (WA): 2nd
Laser Radial (Girls) Maddie O'Shea (NSW): 26th
RS:X (Boys) Hamish Swain (QLD): 19th
RS:X (Girls) Amelia Quinlan (NSW): 20th
Youth Worlds Results - http://worldsailingywc.org/results/2019_gdynia_pol.php
Australian Sailing Youth - https://www.sailingyouth.org.au/home
Read more: Bronze for Archie Cropley & Max Paul at Youth Worlds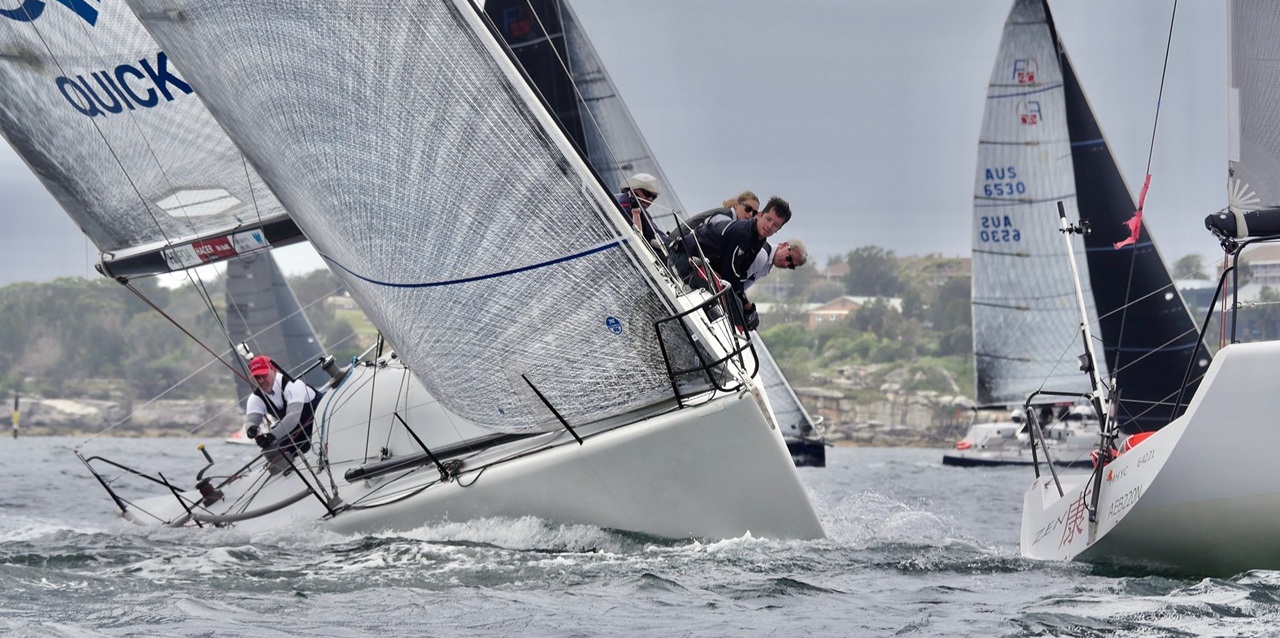 After five competitive regattas held in Newcastle, Pittwater and Sydney, the strong Farr 40 Australian Fleet are ready to make it count at the NSW State Title hosted by Middle Harbour Yacht Club over two days of racing offshore and inside Sydney Harbour on 2 & 3 February 2019.
With past reigning champions like Guido Belgiorno-Nettis and Martin Hill retired from the Class, the winning title has never been more highly sought after and the eight boat fleet are ready for the big hit out.
Tom and Alan Quick's Outlaw have led the season with four from five wins closely followed by Jeff Carter's Team Edake and MHYC local Exile. Two teams from Victoria, Double Black and Nutcracker are also in the mix along with Sam Hill's RSYS entry Forty and Newcastle's Good Form owned by Midcoast Boatyard Owner, Joe de Kock.
Australian Class President Gordon Keteleby has been busy with his other Zen (TP52) in the Sydney to Hobart and now that is behind him he is more determined than ever to finish the season on a high. "It's been a busy few months of sailing for me with the Farr 40 Worlds in Chicago and then the Sydney to Hobart and now I am fully focussed on the Farr 40 end of season programme. The Class is very strong with a bunch of super competitive young blokes and I'm hoping to give them a run for their money".
The Zen Skipper continued, "We are very fortunate to have some successful and generous businessmen in our Class and I would like to thank Rob Pitts (Hacer Group) and Rob Reynolds for sponsoring this year's State Title and National Championship (the John Calvert-Jones Trophy)".
The Class' legendary PRO Phil Yeomans is unable to run the races for the last regatta at MHYC for the season and Steve Tucker is stepping in and will be calling the shots this weekend for up to eight races; four offshore and four inside Sydney Harbour.
List of entries:
Double Black - Rob Pitts, Sandringham Yacht Club and MHYC
Edake - Jeff Carter, MHYC
Exile - Rob Reynolds, MHYC
Forty - Sam Hill, RSYS
Good Form – Joe de Kock, NCYC
Nutcracker – Rob Davis & Andy Baker, SYC
Outlaw – Alan & Tom Quick, Cruising Yacht Club of Australia
Zen - Gordon Ketelbey, MHYC
Results will be posted after each race at http://www.farr40.asn.au/results/
To view the MHYC Event Page - click here
Read more: Farr 40 Australian fleet head into battle for NSW State Title crown
Peter Byford and David Hudson have come out the cream of the crop on Day 1 of the Yoti Sydney 38 Championship at the Sydney Harbour Regatta, hosted by Middle Harbour Yacht Club (MHYC), sailing Conspiracy to two wins from three races for an early lead this afternoon.
The reigning NSW champions and third placegetters at the 2018 Australian Championship, Byford and Hudson are making no bones about their desire to ramp it up a notch this year, despite a larger field than last time around.
However, the Pittwater pair by no means had it all their own way, they lead by one point from Alan and Tom Quick, recently crowned Farr 40 NSW champions. The CYCA father and son may have switched one-design classes, but they arrived fully cocked and loaded with The Goat, scoring a pair of third places and a win for second place overall
Conspiracy though, also won Boat of the Day, and proudly flew that flag, co-owner, David Hudson said.
The day of racing, Hudson said, "Wasn't too bad. We had from 8-12 knots. It was good constant racing on a reasonably flat sea. It was close and competitive. We'll have to stay on our toes, as we've got The Goat on our tails. We haven't raced against them before; they did a good job today."
Hudson said they were pleased with their starts and crew performance: "It all went well. No stuff ups, no accidents, good competitive racing. And I have to say that the new people in the class acquitted themselves well."
Tom Quick agreed: "It's a great fleet of amateur and professional sailors, like the Farr 40 class."
With guru David Chapman calling the shots "and he's doing main as well," Quick said, The Goat crew went in with heads down and tails up, as some got their heads out of the Farr 40 and into the Sydney 38 – very different boats.
"It's been five years since we sailed a Sydney 38 - so it was a bit different coming back – but it was good. We're enjoying the boat. It was a nice range of wind – perfect really. We had only one problem; getting a jib up in Race 3 when we were leading. But we got around mark and got it up and still won - no other dramas.
"We chartered The Goat. We have a mix of crew; one from The Goat and some youth sailors from France, the CYCA and one from Lightspeed (the MC38), Zak Quinlan. He'll go back to them for the rest of the regatta, so today was good practice for him."
Quick added, "Seems Conspiracy is the boat to beat, but consistency is the key and will be the decider, as it always is in one-design racing. We still have six races to go."
Sailing windward/leeward courses on the Manly Circle, Conspiracy pipped Challenge (second at the NSW Championship), Greg Croak's NSW Central Coast entry, by 27 seconds in the opening race. The Goat took third place, a further 15 seconds in arears.
You could feel class newcomer Peter Sorensen's frustration, when his recent purchase 'Advanced Philosophy' (the former Phoenix, winner of the 2015, '16 and '18 Australian Championships), with Ron Jacobs calling tactics, scored OCS in Race 1. First time jitters, I'm sure, from this local skiff and yacht champion.
In Race 2, it was Conspiracy getting the gun again, this time from Phil Tomkins' Adrenalin (CYCA) and The Goat in third
But in Race 3, The Goat was too 'Quick' for the rest, and the CYCA entry took the bullet from Richard Williams' Calibre, (also CYCA and third at the NSW Championship) by a six second split, with Conspiracy 25 seconds adrift of Calibre.
Day 1 of the Yoti 2019 Sydney 38 Australian Championship was in limbo before the midday start time, when a wafting 2-3 knots was all that could be mustered - a moderate north/easterly breeze filtered in just in time.
A General Recall started the day, as is sometimes the case in a first race on Day 1 in a high-stakes championship where competitors take the 'no prisoners' approach.
Competitors in this popular class know how to celebrate and wind down in style after a day of racing, taking in Norths Happy Hour drinks at MHYC on docking, before a dinner for all crews.
A fleet of 11 Sydney 38 One-Designs are taking part in the three-day Australian Championship, starting off this weekend's 14th running of the Sydney Harbour Regatta. It is one of the largest class events for many years, with some new owners and return players from around NSW joining the circuit regulars.
Windward/leeward racing continues on the Manly Circle tomorrow, when officials will aim to put three more races to bed.
Full results and all information: www.shr.mhyc.com.au
By Di Pearson, MHYC media
Read more: Sydney Harbour Regatta: Conspiracy in form at Sydney 38 Australian Championship
It was a perfect evening for the continuation of the Melges 20 Open Twilight Sprint Series on Tuesday, January 22.
Three Melges were joined by a visiting Viper for the start of the first race in a moderate north-easterly of 15-17 knots to held for the evening's racing.
Louis Blateau sailing Onya was first home in race one with Brett Lawson and the crew of 194 winning the final two races to hold a handy lead in the series after nine races.
To see the latest results - click here
Middle Harbour Yacht Club has won the Daydream Shield Interclub Regatta between Sydney Amateur Sailing Club and Middle Harbour Yacht Club on Saturday 23 February 2019.
Three two-of-a-kind fleet races were conducted for the J24, Farr 30 and Melges 32 classes with one of each class from MHYC and SASC. A moderate to fresh southerly provided some exciting racing, with some rain squalls reducing visibility at times.
Two of the races were won by MHYC and one by SASC with MHYC coming out winners overall with a score of 27 to SASC's 36 points. There was some close inter-class racing, especially with the Melges 32 and Farr 30 pairings. Congratulations and well done to Team MHYC:
XC3SS, Peter Woodhead (Melges 32)
Optimum, Stuart Jordan (Farr 30)
Ace, David West (J24)
Today's Chaos Cup and Bedlam Point Cup were sailed in a fresh southerly making for a quick trip to Abbotsford and back.
This popular annual club race was also race two in the Jeanneau Cup Series, attracting a strong fleet of 16 Jeanneau yachts. Christopher Stannard's Worlds Apart claimed the Jeanneau Division 4 win from Galan and Pinta Bay.
Winner of the Chaos Cup and Division 1 was Toy Box 2 (Ian Box), with Pindamara (Mark McLean) claiming the Bedlam Point Cup for the Non-Spinnaker Division. Division 2 was led home by Innamincka (John Crawford).
To view the results - click here