Attention all MHYC Boat Owners
Transport NSW have been working with key stakeholders to understand how the updated Government COVID-19 restrictions apply to the boating sector.
From 31 March 2020 NSW Government Public health directions have been updated requiring people to stay at home unless they have a 'reasonable excuse'. However, as there is on land, there are exceptions that apply on water. If you go out social distancing rules always apply – at the boat ramp and on your boat.
You should only be on your boat alone, or with no more than one other person; or with family who ordinarily live in the same household as you.
A 'reasonable excuse' to use your boat could be to:
exercise (e.g. kayaking/sailing/paddling etc);
fish;
get to and from work, where the work cannot reasonably be performed from home;
get groceries; and
provide assistance, care or support to an immediate member of the person's family.
Unless you have an essential need to be out - stay ashore.
If you do need to go out, stick to your local waters, and do not gather with more than 2 people unless with members of the same household.
It is important to remember that the self-isolation rules apply at all times.
Packing up your boat for a road trip and a half day fishing expedition is also not in the spirit of the restrictions.
Skippers are always responsible, generally this is applied to safety equipment, keeping proper look out and proceeding at a safe speed.
For the latest information on coronavirus and current restrictions, members of the community are encouraged to check the NSW Government website (http://nsw.gov.au) for regular updates.
To view the official announcement - click here
Transport NSW Maritime Website - click here
To all MHYC Members, Yacht Owners and Crew
Because of the disruption caused by the COVID-19 Virus, the Sailing Committee have reviewed the sailing calendar and the unlikely early resumption of competitive club sanctioned racing.
Current Series
All current series (Ocean, Inshore, Sprints, Saturday Social, Wednesday Pursuit Series 3 and Thursday Twilight) are declared completed as of the last race conducted and the standings at that time are the results for the 2019-2020 series. The series scores are as published and the winners will be celebrated, however the Annual Prizegiving will be postponed for several months at least.
Winter Series
Neither the Wednesday Series 4, Winter Sprints nor Winter Pursuit Series will commence as planned. The Leading Edge Series in August may be abandoned or rescheduled. Feature Events will not be conducted until further notice.
Watching Brief
Given the current forecasts that the impact of the Virus will peak in the next 60 - 75 days and then tail off, there might be an opportunity to resume club sanctioned sailing activities in July or August. To that end, we may attempt a short Winter Series in that timeframe if conditions allow. At this stage we are planning to commence the Club's 2020-2021 Season on Saturday 5th September, as usual.
Social Sailing
While the club cannot conduct any sailing events in these high-risk times, individuals may choose to sail recreationally. Whilst not recommended, it is essential that anyone choosing to sail makes their own risk assessments, takes adequate safety precautions and adheres to social distancing protocols.
Sailing Office
For the time being, the Sailing Office will only be staffed on Tuesdays and Fridays, with David (This email address is being protected from spambots. You need JavaScript enabled to view it.) and Catherine (This email address is being protected from spambots. You need JavaScript enabled to view it.) mainly working from home. Please use email as the preferred method of contact.
We wish everybody well during this crisis and look forward to resuming the MHYC Sailing Program at the earliest safe opportunity.
Geoff Charters
Vice-Commodore Racing
The Australian MC38 Championships made a slow start at Middle Harbour Yacht Club today with the fleet held ashore until the seabreeze arrived in the early afternoon.
Four races were completed in the moderate but freshening ENE as it moved NNE. At the conclusion of racing today, Lazy Dog (Shaun Lane) leads Dark Star (John Bacon) and Lightspeed (Stephen Barlow).
A southerly change is expected to deliver fresh to strong winds tomorrow and moderating for Sunday.
To view the latest results - click here
Some photos from today's racing.......
We would like to extend our appreciation to members and staff for the co-operation, support and understanding you are showing during the situation that we find ourselves in with COVID-19.
As previously advised the Club is closed, including the Sandbar Cafe and Harborview Bar & Bistro, until the government advises otherwise. Currently the MHYC marina is and will remain open.
Current staff movements at the Club as in place 25th March 2020, subject to change:
The Marina is open and the Club will ensure it is fully staffed for our members.
The Accounts department will be attending the club with reduced hours Monday to Friday.
The Sailing department will be at the club on Tuesday and Friday, they will also be working from home and regularly checking emails.
Reception hours will be reduced at the Club and kept to a minimum.
The Junior Sailing department will be alternating days at the club and working from home, they will regularly check emails.
Please be advised our plan is to ensure that once restrictions are lifted the Club can quickly be back in service to our members and guests.
We wish you and your families continued good health in these challenging times.
MHYC Management
Story by Lisa Ratchliff - Photos by Andrea Francolini
More than 20 clubs from two Australian states and Hong Kong made up 19 divisions for the 15th Sydney Harbour Regatta conducted by Middle Harbour Yacht Club (MHYC) with the cooperation of key Sydney clubs and a host of volunteers.
Results are final and prize winners primed for Monday night's trophy presentation at MHYC where all placegetters must be present, or their winnings default to the next in line. Results for all divisions available here.
All courses (other than offshore) were commentated live on Sunday via the event Facebook page.
Performance Class spinnaker divisions
Geoff and Pip Lavis' Inglis/Dovel 50 UBS Wild Thing (Cruising Yacht Club of Australia) took it to the rest of division 1, completing four Sydney Harbour courses over the weekend of March 7-8 to edge out Jiang Lin's Balmain Sailing Club based X43 Min River by a single point.
Ray Parrott's X-Ray, an X332 from Drummoyne, took top honours in division 2 and in division 3, Peter Francis' Wind Charmer (Greenwich Flying Squadron) proved the strongest in the autumn southerly flow.
Parrott said of his win: "We were previously sailing in the X Yacht division but this time we decided to enter PHS division 2 because the speed of the other boats is similar to ours. Conditions-wise we enjoyed Saturday; Sunday was very challenging very unstable and very difficult for all boats. I think the tacticians had a very tough day."
The Interclub Teams Event for Performance Spinnaker divisions went to the host, MHYC, on 122 points followed by the Royal Prince Alfred Yacht Club (RPAYC) on 137 points and the CYCA third on 145 points.
Super 30s and Super 12s
Adrian Walters' Shaw 11 Little Nico prevailed by a point in the Super 12 division, leading clubmate Lazy Dog, Shaun Lane and Quentin Stewart's MC38, in the final pointscore. "We are happy to win though we didn't reach our best level today," Walters said. Third was Royal Prince Alfred Yacht Club MC38 Easy Tiger, skippered by well-known yachtsman and commentator Rob Brown.
Andy Wharton's Melges 24 +GST (RPAYC) posted a very handy set of scores to nail the Super 30 division by 10.7 points. Second and third were two Royal Sydney Yacht Squadron entries – Adela and Very Tasty. The eclectic group of sports boats, Fareast 28s, Melges 24s and 32s and Farr 30s plus others, completed a five-race series.
One designs - Sydney 38s, Adams 10, Yngling
The top two results in the Sydney 38 division mirrored the recent class Australian Championship final scores, Peter Byford and David Hudson's Conspiracy (RPAYC) beating Peter Sorensen's Advanced Philosophy (MHYC), though this time the margin was much closer – one point compared to 11.
Mitchell Miller's Adams 10 Rock Solid moved past Powderhulk on points thanks to a bullet in the deciding race. "We knew it all rested on the final race, then we had an OCS when Powderhulk pushed us over! We watched them sail into the distance thinking 'that's it'. There was no point following so we went the opposite way, in one-design tactically it's the only way to get ahead, and it paid," Miller said. Rock Solid has been a divisional winner at Sydney Harbour Regatta six or seven times prior.
In the Yngling division racing out of Taylors Bay, Hamish Jarrett's Miss Pibb beat Karma and Black Adder.
Open Class
MHYC boat Nine Dragons, skippered by Bob Cox, out-sailed the rest of the Open class, the DK46 putting an eight point gap on IRC results between them and second place, Gerry Hatton's Mat 1245 Bushranger (RPAYC).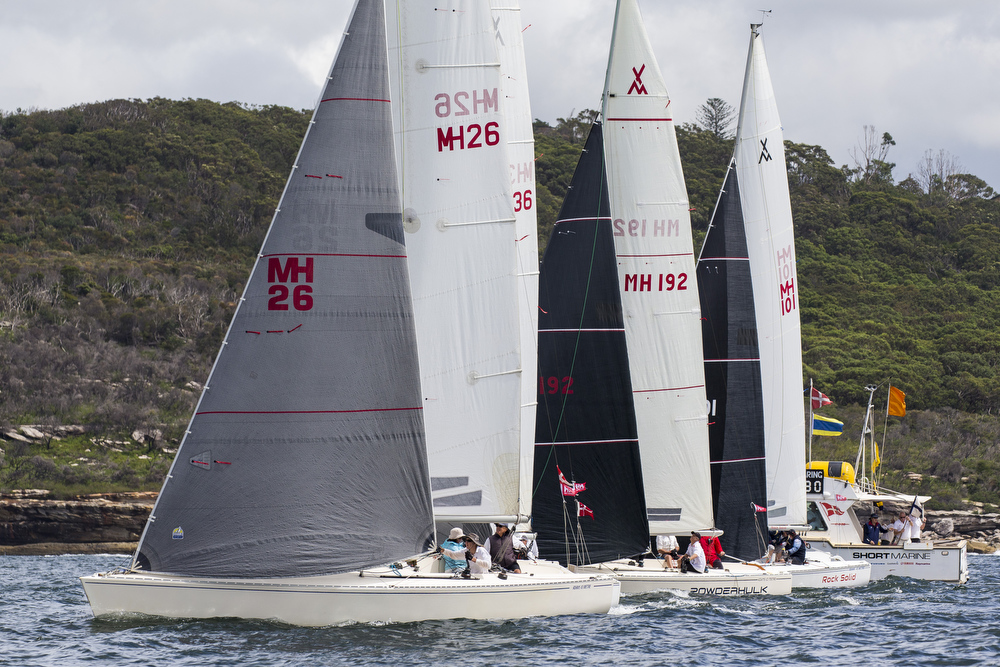 Cox, who recently turned 75, has new vigour in his step following a heart operation, this afternoon announcing: "I'm a new man!". His long-time campaign with Nine Dragons has yielded plenty of Sydney Harbour Regatta victories, and this year his crew put together an impressive scoresheet of five wins from six starts.
"On the first day with disturbed seas and good wind we were strong and that led us to three bullets in a row," the skipper regaled. "We were surprisingly close to the TPs at the top mark, and Primitive Cool. Credit to Bushranger and Soozl who were hanging on to us this weekend. We encouraged these two RPAYC boats to come down for the weekend after we went to their Pittwater Regatta last month, where Bushranger beat us."
Final word from the PRO
Sunday March 8 was a much better day, according to the Principal Race Officer Denis Thompson. "While the wind was shifty to start off, the race committee were proactive with changing and shortening courses to suit. It was a smoother day racing-wise with cloud cover that pulled the breeze around, down to five knots then around to the south-east and up to 12-14 knots for the final race of the day. It was good racing."
Top performing female skipper
Helly Hansen's sensational W Salt Flag jacket winner for the best performing female skipper will be announced at Monday evening's trophy presentation.
Key sponsors for Sydney Harbour Regatta's 15th edition include Helly Hansen, Air New Zealand and Robert Oatley Wines. Supporting sponsors are Club Marine, Coral Sea Marina Resort, Stamford Plaza Auckland, Mercure Resort Hunter Valley Gardens, Vittoria Coffee, Fisherman's Friend, KeySun Zinke, ANTAL and the host club welcomes new supporter, Mercedes-Benz North Shore.
How to follow the Sydney Harbour Regatta:
Sydney Harbour Regatta website https://shr.mhyc.com.au/
Facebook: @SydneyHarbourRegatta
Instagram: sydneyharbourregatta

To all Skippers and Crew.

Further to the Club's recent response to the COVID-19 virus impact, while the Club will remain open for business as usual, we have spoken with a number of skippers and due to continuing concerns over possible exposure to the virus, we have decided to cancel all sailing events until further notice. We have also decided to suspend our junior sailing program and schools program.

This decision is in line with other Sydney Harbour Sailing Clubs. The club will continue to monitor the situation. Sailing will be reinstated as soon as possible. This is not an easy decision but the board and flags are in agreement that this is necessary to protect staff , volunteers and our members.

Please be advised the marina remains open and will be operating as normal.

Please note we have been notified that Sailfest Newcastle and Sail Port Stephens have been cancelled.

Peter Lewis
Commodore

Read more: MHYC Covid 19 Response - Sailing Events Cancelled
Congratulations to the Ascham 1 Team, winners of the inaugural Middle Harbour SheSails Invitational Teams Racing Regatta.
Five teams from four girls schools contested the round robin series of short races held off Chinaman's Beach near the host Middle Harbour Yacht Club. After a petit final, the final series between Redlands and Ashcham 1 was won convincingly by the Ascham team with two clear wins. Wenona were third and Monte Sant' Angelo fourth.
Before presenting the winner's trophy to the Ascham 1 Team, New South Wales Teams Racing Association President David McCracken congratulated Middle Harbour Yacht Club for hosting this new regatta.
"It is good to see another club becoming involved in Team Racing and providing another location around the harbour for training and competition. We look forward to the SheSails Teams Racing Regatta again next year," said Mr McCracken.
A huge thankyou to the all-female umpiring team, Erica Kirby, Karyn Gojnich and Maddie Kuhn, and also Kimberley Pratt for assisting Race Officer Col Chidgey on the start boat.
Round Robin Results - click here
Finals Results - click here
Read more: Inaugural SheSails Invitational Teams Racing Regatta at Middle Harbour
In response to the COVID-19 health emergency and in line with guidelines issued by the Australian Government and the recommendations of the World Health Organisation (WHO) and advice of Clubs NSW, MHYC has implemented a number of actions to protect the health and wellbeing of its staff, members and guests.
These actions are as follows:
MHYC remains open for business as usual, however the following applies:
If you have travelled internationally in the last 14 days you are not permitted to attend the Club.
If you have any flu-like symptoms, a temperature, a cough, are sneezing or have any other symptoms of a cold, regardless of whether you have travelled overseas, you are not permitted to attend the Club.
If persons within your family, workplace or friendship group display flu-like symptoms or are diagnosed with COVID-19 you must not attend the Club for 14 days.
If you feel unwell within 14 days after visiting MHYC please advise the Club immediately.
We ask you to follow the personal hygiene advice issued by the Government with regard to hand washing and ask you to avoid physical contact as best possible. Refer the following site for more detailed information: https://www.health.gov.au/news/health-alerts/novel-coronavirus-2019-ncov-health-alert
Current advice on "social distancing" provides significant challenges to hospitality businesses such as MHYC and we are constantly looking to follow best practice whilst ensuring we can operate as a Club. While MHYC will undertake actions to protect the health of our staff, members and guests, the Club but can only do so much – the responsibility to act sensibly sits with those who enter the Club for work, business, to sail or relax
As such, at this time:
All sailing events have been cancelled as of this announcement made today 18.3.2020
The Sandbar will remain open and provide normal service. Habourview services will be limited and members and guests encouraged to use the Sandbar facilities.
A number of social functions and gatherings are likely to be cancelled consistent with the health guidelines. Refer to eNews and our website regularly for details.
We ask all members and guests to observe the guidelines issued by the health authorities to minimise the possible impact of COVID-19. We will continue to monitor the situation and keep members advised.
After the races in early February were abandoned due to the severe weather, the MHYC Centreboard Club Championship series continued today.
Three races were completed for the Optimist and 29er divisions and two for the 420s. The breeze was a gentle North Easterly of 8 knots building to 12 knots during the afternoon.
Club Championship racing continues on March 15.
To view all the results – click here
By Lisa Ratcliff
Shaun Lane and Quentin Stewart's MC38 Lazy Dog from Middle Harbour out-ran the pack at the class' 2020 reduced national title on Sydney Harbour, posting a low-scoring 13 points that included five wins from eight starts.
The hours Lazy Dog's crew has banked in their campaign translated to top-notch boat work and handling, which in turn delivered the worthy winners their first Australian Championship. "The same guys have been sailing with us for a long time, the same team did the Sydney to Hobart Race on Maverick (Stewart's Infiniti 46r keelboat), and last weekend we used the Sydney Harbour Regatta as training. We put the hours in," Lane said.
The combination of Stewart/Lane and Co. have also put time into identifying any areas that might let them down. "This regatta we went downhill better than we normally do, that was a weak part of our sailing," Lane added.
Full results for the national title.
Video by Tilly Lock https://www.facebook.com/MC38Class/videos/191400285611741/ includes plenty of screaming downwinders in gusty southerlies on the final day of racing.
Next on the MC38 Australian Championship scoresheet was John Bacon's Dark Star from the Royal Prince Alfred Yacht Club, with 26 points. Dark Star also finished bridesmaid in 2019.
Sarah Parker, who looks after the runners on the Pittwater MC38, said at the conclusion: "We had a mixed day, but we were also consistent at times. There are a few things we need to clean up, especially around the corners. It was really good racing, really close and lots of lead changes. My shoes are definitely wet!" she added, referring to the chop and regular showers that dampened the seven challengers on Sunday March 15.
Third overall was Steve Barlow's Lightspeed, the 2018 Australian champion.
With Saturday March 14 blown out due to a high-pressure system extending a ridge along the New South Wales coastline and creating S-SSW winds 30 knots plus on closed waters, the MC38 Australian Championship finished up an eight-race, two-day series.
Middle Harbour Yacht Club ran the pinnacle class title for the MC38 group and race officer Steve Tucker summed up the long weekend perfectly: "Friday was nice and balmy with nor'easters, Saturday was written off, and today it blew solidly from the south, 15-20 knots, showers and grey skies. The umpires were pretty busy at both the top and bottom marks," he added.
Lane is also the MC38 Australian class president and keen to tighten up the one-design fleet's processes. Two on-water umpires and a recap of the rules, plus boat inspections prior to racing at the nationals are all part of a general class tidy up, he says.
After six acts and no drops, Lazy Dog was declared the 2019 MC38 season champion.
The next event on the 2020 MC38 calendar is Act 2, May 16-17.
Facebook page: https://www.facebook.com/MC38Class/
MHYC Event Page with results and more photos - click here
Final day photos by Tilly Lock Media....
The NSWIODA Traveller Trophy series continued at Middle Harbour Yacht Club today with 76 entries.
Congratulations to all the competitors in the Open, Intermediate and Green Fleets and a big thankyou to all the parents who helped out with race management and safety boats.
To view the results - click here