Due to the current Gale Warning, today's Winter Sprints have been abandoned.
MHYC will conduct a Keelboat Safety Forum and MOB Practice Session in July.
The Keelboat Safety Forum will be held in the Harbour View Room from 6.30 to 8.30pm on Wednesday 7 July. Topics will include Harbour Hazards, Vessel Seaworthiness, Safety Equipment, Crew Preparation and Man Overboard Retrieval. There will be opportunity for questions and discussion about any aspect of keelboat safety.
The Man Overboard Practice Session will be held from 10am to 4pm on Sunday 11 July. Owners are encouraged to participate with their own boats and regular crews. Following a briefing ashore, crews will go on the water to practice Man Overboard Recovery, training with different techniques using liferings and a dummy on loan from Volunteer Marine Rescue.
Numbers may be limited for the Keelboat Safety Forum, so please register your interest by emailing This email address is being protected from spambots. You need JavaScript enabled to view it. to advise how many people will be attending the Forum and which boats will participate in the Man Overboard Practice Session.
We have had lots of restrictions put in place since the COVID-19 hit us more than a year ago and we are very lucky in Australia to have mostly contained it even before vaccinations. We thank you all for complying with the special restrictions that been put in for sailing and allowed us to continue enjoying our sport.
For some of these practices, it makes sense to continue in the future. This is especially true for the health and safety issues such as not sharing drinking bottles and food etc. as well as being more aware about hygiene.
One of the practices that we are going to continue is the crew registration for each race. This was not just important for COVID, but also for confirming who is on board in case of an emergency. For that purpose, we have added emergency contact numbers. It also enables us to track Australian Sailing numbers of all crew to ensure those that are sailing are conforming to the rules and regulations of our sport and are insured.
The form is quick and easy to fill in each week as previous details are already populated for you. For most, it is just ticking the box, but if you need to add and additional person, that is also easy. For last minute changes before you leave the dock, you can easily make changes. And for busy boat owners, most boats have a designated person who is responsible for the crew list each week.
From 1st May we will now ask you to fill in the form BEFORE you start racing. It makes sense as we want to know who is on your boat whilst racing just in case. Crew registration for races opens on the Monday prior to each event.
We thank you for you cooperation in assisting us with make sailing safer for all.
For more information, go to the crew registration page on the keelboat sailing section of the club website – click here
MHYC is conducting two informative evenings in July for sailors and race management volunteers.
A Flags & Signals Information Night will be held in the Harbour View Room on Thursday 22 July from 7-9pm. Come along to learn what all those confusing flags mean! This is useful information for sailors competing at MHYC and other clubs, and important for volunteers wanting to build their knowledge of race management.
Following on the following week will be an Australian Sailing Club Race Officer Course that will focus on race management and covers most aspects of keelboat and dinghy racing. Session 2 will be held in the Harbour View Room on Thursday 29 July from 7-9.30pm. Even if you don't want to be a race officer, this session will help sailors and volunteers understand the on-shore and on-water decision making processes that determine how races are conducted. To obtain an Australian Sailing Club Race Officer Accreditation, participants will need to attend both sessions.
Both sessions will be run by National Race Officer David Staley. To register your interest, email This email address is being protected from spambots. You need JavaScript enabled to view it. by Wednesday 21 July.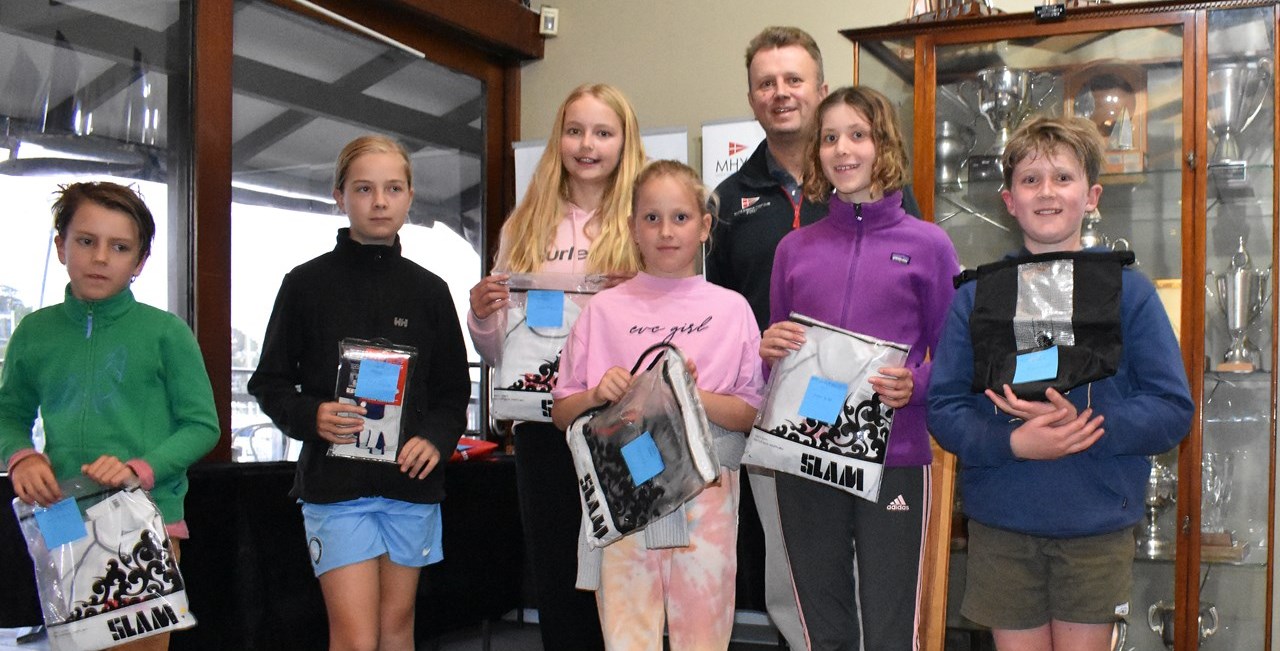 MHYC's Annual Youth Sailing Prizegiving was held this evening after Winter Series racing was completed today.
Key presentations included…
Optimist (Division 3 ) Club Champion – Miles Greenwood
29er (Division 1) Club Champions – Ed Coates & Jamie Stoddart
President's Award – Ben Crafoord
Marian Packer Trophy – Will Rogers
Doris Burke 'Alcyone' Trophy – Will Wilkinson
Seamanship Award – Louis Tilly, Jacob Marks & Ben Crafoord
After presenting trophies and prizes, Vice-Commodore Youth Alister Copley and members of the Youth Sailing Committee reviewed the 2020-2021 season and outlined the year to come.
It was a beautiful winters day on Sydney Harbour today for the second race of the Winter Pursuit Series. However the fading westerly breeze drew the race committee out on the water to shorten at Edwards Beach.
First across the line in Division 1 was Walter Carpenter on Samarkand followed by visiting boat Joss (Roberto Camacho) in second place and Wailea (Neil Padden) in third.
In Divsion 2 John Crawford got the gun on Innamincka followed by Dania (Peter Charteris) in second and Escape (Dean Dransfielf) in third place.
The first round of Winter Sprints kicked off today under sunny skies and a gentle westerly. The series has initially attracted fourteen boats spread over two divisions.
The breeze faded and move into the south as the first race progressed and Division 2 sailed a shortened course. Brendan McAssey's S1 was first home in Division 1 ahead of BlueTack (Brent Lawson & Patrick Delany) and Optimum (Stuart Jordan). Jim Vaughan's Another Dilemma was the best of Division 2 from Innamincka (John Crawford) and Dania (Peter Charteris).
As a south-easterly established itself and freshened, the course axis was changed to a course from the Bombora to South Head. Neil Padden's Wailea took the Race 2 win for Division 1 ahead of S1 and Optimum. In Division 2, it was Another Dilemma from Innamincka placing 1 - 2 and Contentious (Brian Less) finishing 3rd.
S1 (Farr 40) and Another Dilemma (Adams 10) took the One-Design wins for both races.
The next Winter Sprints will be held on June 19.
Results - click here
It was very light wind for the twenty five boats competing in the last race of the Pacific Rigging Non Spinnaker Series 3 today, sending the Race Committee out on Jack Stening to raise the yellow flag and shorten the race at East Channel.
In Division 1 Adrian Walters got the gun on Little Nico closely followed by S1 (Brendan McAssey) in second place and Exile (Rob Reynolds) in third place.
In Division 2 Neil Padden was first across the line on Wailea followed by Farr n Away (Chris Lee) in second place and Stormaway (Jack Stening and Colin Gunn) in third.
Results were close in the series score for Division 1 with Gunther Schmidt-Lindner claiming first place on Austmark with 45 points. Rob Reynolds' Exile inished second on 48 points with Gambler (Stewart McGeady) snapping at their heels on 49.3points.
In Division 2, co-skippers Jack Stening and Colin Gunn were clear winners on Stormaway with 52.8 points. Neil Padden and Wailea came in second and Equinox (Todd Trenear) finished third with 66 points.
For the Series 3 Overall and Race Results - click here
Read more: Austmark and Stormaway winners in Pacific Rigging Wednesday Series 3
MHYC holds two annual Get Checked Days for Equipment Audits, which allows Club Members the perfect opportunity to have their boats audited prior to the new sailing season commencing free of charge. For PFD checks contact Matt Pyne at the Marina Office or email This email address is being protected from spambots. You need JavaScript enabled to view it.. The dates for the 2021-2022 season are Saturday 26th June and Sunday 22nd August 2021.
Bookings for an equipment audit are to be arranged directly through the MHYC Sailing Office or email This email address is being protected from spambots. You need JavaScript enabled to view it..
Presentation of a Boat for Inspection process
• Boat owners are to complete an Equipment Compliance form prior to the inspection. Audit form can be downloaded here
• The owner or his representative should carry out an initial inspection and tick/sign the appropriate box - making sure to check expiry dates and quality of equipment, as well as identifying the location of equipment that may be asked to be presented during the inspection.
• Necessary equipment should be laid out ready for inspection, including copies of service certificates and any additional safety documentation; ie stowage plans, Epirb registration, Life Raft Service Certificates, PFD Service Certificates. (Cat 1 and 2 inspections - owners should have a copy of these certificates on hand to submit to the auditor as a part of the inspection paperwork.)
• The skipper and knowledgeable crew member should be on board during the inspection.
• The owner's Australian Sailing number and vessel registration details and insurance document shall be made available to the Auditor or the Equipment Compliance form cannot be completed.
Equipment Layout for Inspection
All items required for safety inspection should be laid out prior to the Auditor coming on board. Prior preparation will significantly reduce the time taken to complete the inspection.
• Storm boards ready to be put in place.
• Sea cocks and plugs exposed, not hidden by equipment.
• Know the water and fuel capacity of your tanks
• Fire extinguishers taken from brackets so date tags can be sighted.
• First Aid kits open and items with use by dates on the top so that expiry date can be checked.
• Publications and charts on chart table.
• Emergency navigation lights with batteries fitted.
• PFD's, harnesses, tethers and flares laid out.
• Radio installation inspection certificate.
• Life Raft Certificate
• Jackstays rigged.
• Lifelines tightened.
Read more: Free Get Checked Days Saturday 26th June and Sunday 22nd August
MHYC will be introducing an additional handicapping system for Saturday divisional racing from Season 2021-2022. ORC Club will be added to the existing PHS (Performance Handicapping System) that has served the club well for many years.
ORC Club uses the Velocity Prediction Program (VPP) to rate boats of different characteristics. It relies on the measurement of a boat and its sails, affecting their theoretical speed. Unlike PHS, ORC Club does not use the prior performance of the boat and its crew to determine the handicap. With ORC Club, a boat's handicap remains constant from week to week. Identical boats (with the same size sails etc.) will have identical ORC Club handicaps.
ORC Club will only apply to the MHYC Saturday divisional racing (Inshore Series & Ocean Series) and will not apply to any other racing fleet at MHYC. Boats racing in the Saturday series are encouraged to obtain an ORC Club rating before the commencement of the 2021-2022 season.
For more information, click on ORC Club Information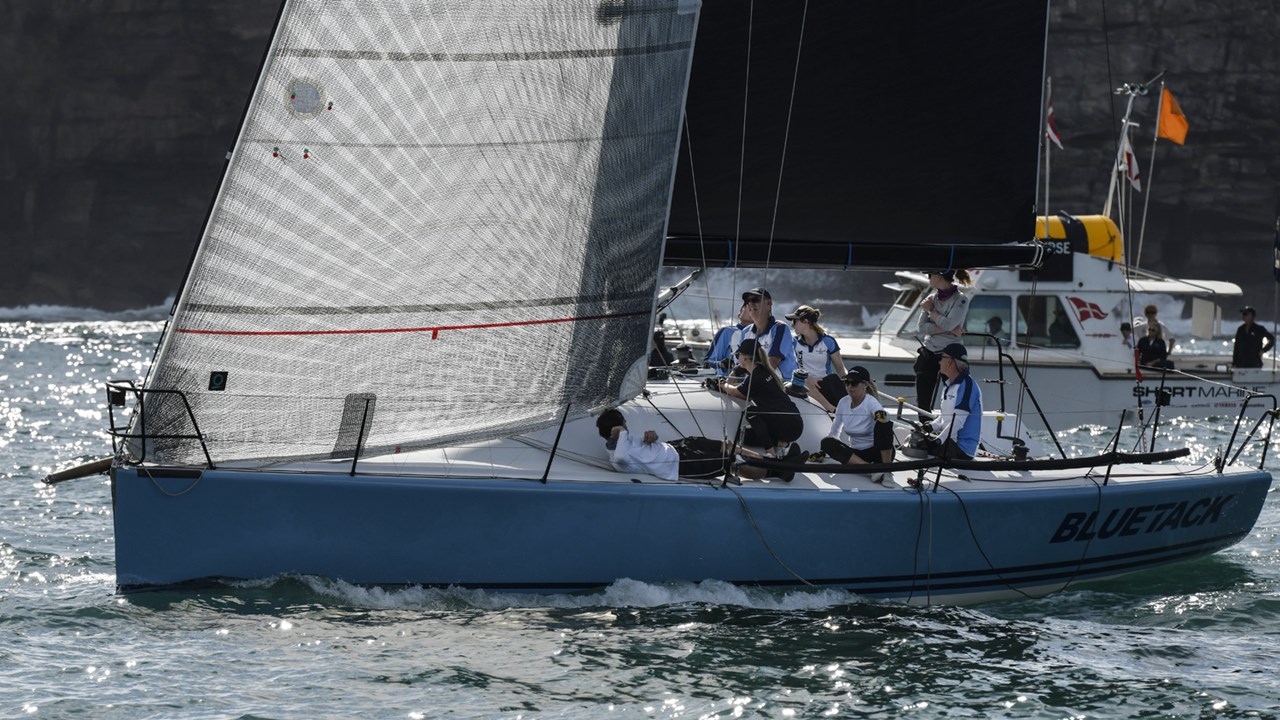 Middle Harbour Yacht Club's 2021 Women's Regatta was held today in light and tricky conditions, testing competitors and the race management team.
The event attracted 18 entries, with a diverse fleet competing with either all-female crews or a female helm and mixed crew. Four J/24s sailed as a one-design division.
Race Officers Robyn Tames and Kathy Johnston set up near Sydney Heads for two windward leeward races in a reluctant westerly. The first race got away on time but the breeze faded, forcing the course to be shortened. With a weak easterly fighting the established but insipid westerly, there was insufficient wind to get the second race started. Race 3 was a passage race running between North Harbour and Balmoral. With the light and unsteady breeze persisting, a shortened course brought all the boats to the line just before 4pm.
Tracy Richardson sailed the Adams 10 Artemis to a win in Division 2, also claiming the Harken Women's Trophy for all female crew. Brooke Wilson's Elliot 7 from RSYS was second and Anna Alvsdotter on Slac'n Off was third in the division.
Sarah Parker steered the Farr 40 Bluetack to the top of Division 1 with two race wins and secured the Harken Women's Trophy for female helm and mixed crew. Deborah Dalziel sailed Exile into second place ahead of Lisa Callaghan's Sydney 38 Mondo, also an all-female crew.
Janette Syme and Ace won the J/24 One-Design series on tie-break from Robertina Varga on Innamincka. Ros Humpreys' Okavango Delta was third.
Many thanks to the race management volunteers, to Sail Racing for prizes and to the owners who made their yachts available for the day.
Results for the Mixed Keelboat Divisions – click here
Results for the One-Design Division – click here
Thankyou also to Marg Fraser-Martin for the photos.............