Ben Crafoord (MHYC) and Walter Heeley (WSC) have been presented the Open and Intermediate first place medals today at Middle Harbour Yacht Club.
The second and final day of MHYC's Summer Optimist Regatta was sailed in a moderate north-easterly freshening to 20 knots as the afternoon progressed. Intermediate sailors did well to get around the course in race six.
At the conclusion of the series, Ben Crafoord ( Underdog - MHYC) claimed the Open Division win from Spencer McKay (No Regrets - WSC) and Isaac Freeman (Problem Child - WSC). In the Intermediate division, Walter Heeley (Fish - WSC) finished on top ahead of Levi Harrison (Wallygator - RPAYC) and Angus Griffin (Pixel - MHYC).
Presentations were conducted by MHYC Vice Commodore Youth Alister Copley and Regatta Coordinator Lisa Wilkinson. Many thanks to Lisa and all the parents who volunteered to make the regatta such a great success.
To view the results - click here
Day one of MHYC's Summer Optimist Regatta was warm and sunny with a light east south-easterly shifting north east during the afternoon. Races were held on The Sound between Grotto Point and the Gowlland Bombora for the twenty five strong fleet.
After the three races completed today, Ben Crafoord (Underdog) leads from Will Wilkinson (Rocky) and Miles Greenwood (Rallar) in the Open Division. In the Intermediate division, Levi Harrison (Wallygator) is ahead of Walter Heeley (Fish) and Angus Griffin (Pixel).
A further three races are scheduled for tomorrow.
To view the results - click here
We are well into the festive season and people are bursting to have fun, especially in our club's famed Thursday Twilight Racing!
Following a couple of "interesting" races with incidents and near incidents recently I would like to remind ALL Skippers and Crew of a couple of things to be aware of during these fun evenings:
Please remember:
These evenings are for FUN - we are not competing for sheep stations here!
The starting area is quite congested, both at the Start and the Finish
Many of the crews, (and skippers) are not necessarily at championship racing skills levels and they may not be able to react instantaneously to developing situations,
The Racing Rules of Sailing apply, and NOR 16.6 and 16.7 in the Sailing Handbook on page 32 applies.
NOR 16.6 - The Pumphouse Pre-Start area is defined as the area between the start line and the extension of the A-Arm outer walkway (southern marina arm).
NOR 16.7 - When the Pumphouse Start Line is in operation, no boat shall enter the Pre-Start Area before her Preparatory Signal unless transiting the area under motor.
Drink driving laws apply, on the water as well as in your car... (Would you drive down Military Road with a beer in your hand, having just consumed a couple at the bar??)
SAFETY of crews and boats is paramount on these evenings.
So, the request from the club is….
Be SAFE at all times - put your perceived "rights" aside in favour of caution
DO NOT
"drink & drive"
Put your sails up in the Start Area, which is the zone between the Pumphouse start line and D arm
DO
Abide by the Racing Rules of Sailing
Stay out of the Pre-Start Area until you are actually starting
Avoid the following behaviours:

Pushing people up,
Barging into "no go" areas,
Performing risky port / starboard crossings

Reduce the testosterone levels and put aggressive sailing tactics aside in favour of enjoyment and safety of your crew and the boats around you
Give people room to manoeuvre
Provide mark room
Give room at continuing obstructions
Stay away from the MHYC jetties - they are expensive AND much harder than your boat and crew!
After you finish, proceed beyond D arm before dropping your sails and
Be mindful of other finishing boats when returning to the dock (the dockside celebrations can wait for a few minutes!!)
MHYC treasures the fantastic opportunity to sail in daylight saving twilights - let's keep on making it enjoyable and safe for EVERYONE.
Kind regards,
Geoff Charters
Vice Commodore - Racing

Phil Clinton Photo
There was Chaos at Bedlam Point today during the annual running of the MHYC Feature Race to Abbotsford and return for the Chaos Cup and Bedlam Point Cup, this year sponsored by Telstra Business Technology Centre.
Sydney put on a beautiful sunny day with a moderate south westerly for the 11am pursuit start. As forecast, the breeze moderated and became flaky before building again in the south-east. It was at its flakiest when the fleet bunched up and arrived at the Bedlam Point turning mark. It is reported that there was a great deal of discussion between boats at this point!
Winner of the Chaos Cup for first boat in the spinnaker fleet to cross the line was Ian Box's Toy Box 2. Toy Box 2 was the Division 1 winner ahead of Little Nico (Adrian Walters) and Khaleesi (Sandy Farquharson). Division 2 winner was Brian Lees' Contentious from Farr 'n Away (Chris Lee) and Alliance (Ben Thompson).
Winner of the Bedlam Point Cup for the first non-spinnaker boat home was Tim Horkings and Carl Crafoord on Sail Exchange.
The Jeanneau Cup Series, supported by Performance Boating, included today's Division 3 racing. The winner was David Ferguson's Starstruck, ahead of Galan (Mike Gallagher) and Ca Va (Peter Lewis).
Winners of the Cock of the Club Teams Trophy were Team #3 – Kayimai (Rob Aldis), Contentious (Brian Lees) and Galan (Mike Gallagher).
Thankyou to Telstra Business Centre for their support of the Chaos and Bedlam Point Cups. The Telstra Business Centre North Sydney will focus on a complete technology solution for your business. Visit them at 53 Berry Street North Sydney or call 9900 9900.
To view the race results – click here
To view the Cock of the Club Teams Trophy Results – click here
Marg Fraser-Martin was an eye in the sky today, getting some great images from a very different perspective. A big thankyou once again Marg!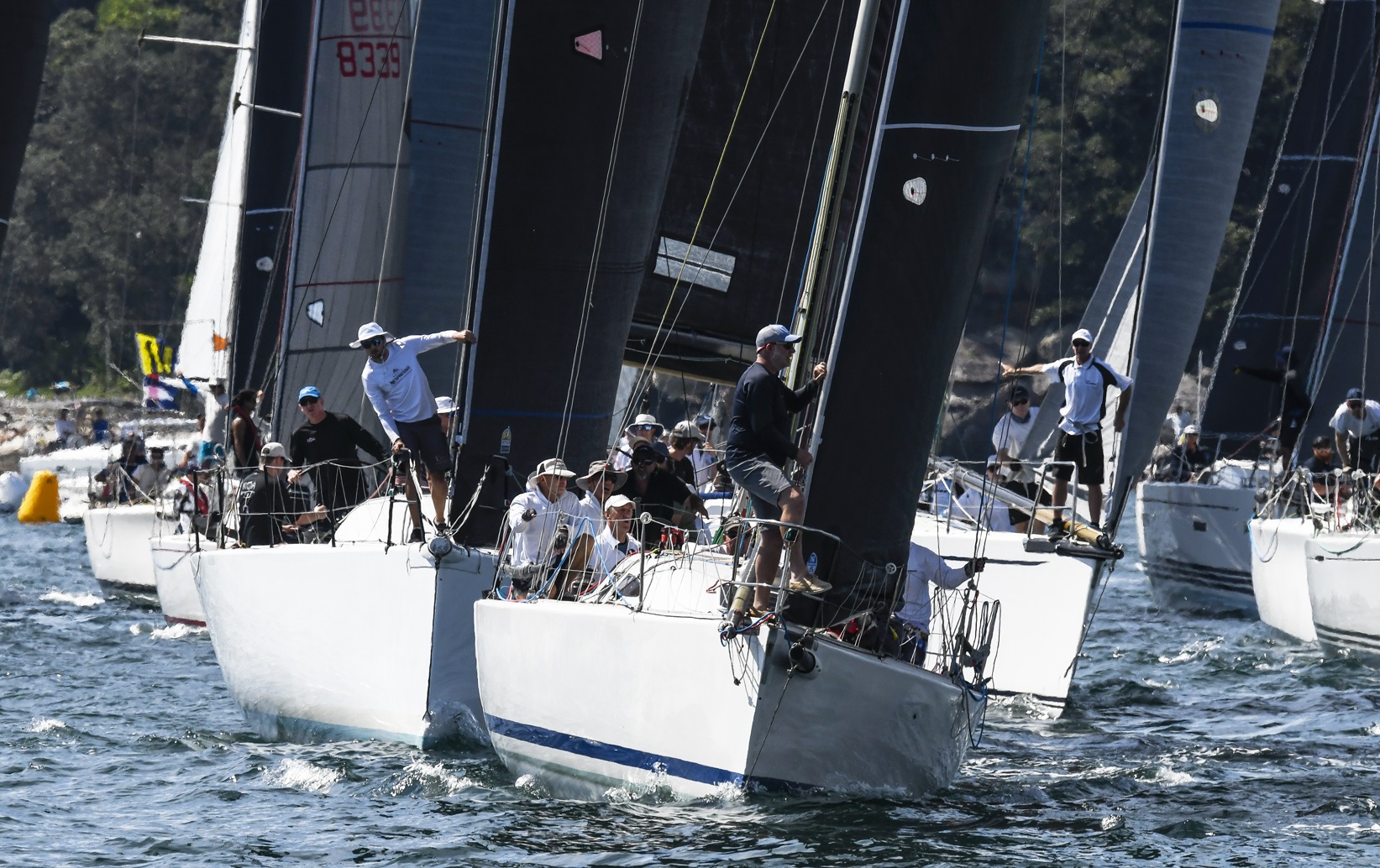 Middle Harbour Yacht Club's Sydney Short Ocean Racing Championship (SSORC) coincided with Sydney's record-breaking hot weather weekend, 28 crews enduring 40 knot gusts for race two and brutal temperatures in the low 40s both days of the longstanding annual series.
A gale warning moved racing inshore on the Sunday, Race Officer Denis Thompson designing special courses to suit a second day of fresh north-westerlies. Hot winds really kicked up in the closing stages of the Sydney Harbour passage race, testing reaction times and causing sail damage and a few knockdowns.
The icing on top of Keiran Mulcahy's resounding IRC, ORCi and PHS division 1 victories with his King 40 called Soozal was beating nemesis and Royal Prince Alfred clubmate Bushranger, Gerry Hatton's Mat 1245 also from Pittwater.
"We come to SSORC to beat Bushranger – this result has been two years in the making. I'm walking around at Middle Harbour Yacht Club now with a bucket for their tears and handing out tissues. I've been through three boxes already," Mulcahy joked before heading to the podium to collect the team's six trophy haul.
"Though we would have liked windward/leewards on the Sunday, Soozal is an all-rounder and a monster when it gets going so we were equally happy doing another passage race. We saw 41 knots coming up to Manly and tore one jib. We had a good time on the water," the winning skipper added.
Day One video by Tilly Lock Media
IRC division 2 went to Jack Stening and Colin Gunn's Stormaway, a Sydney 36 sailing for the host club. Tactician and trimmer Nicky Bethwaite said they were relieved to finish Sunday's passage race with no damage or injury. "I don't think I've raced on the harbour in 30-40 knots before, watching the spray lift off the white caps up the track knowing that was a 40 knot gust was pretty challenging."
ORCi and PHS division 2 top honours went to another Pittwater boat, Mark Hellyer's Italia 11.98 Cicero.
The winning Sydney 38 was David Hudson's Conspiracy (RPAYC). The TP52s only managed one race on the Saturday, Andy Kearnan's Koa from the Cruising Yacht Club of Australia the top-scoring boat on TPR. Gordon Ketelbey's Zen (MHYC) claimed the Gunboat Trophy for the fastest elapsed time.
Saturday was equally challenging to Sunday with 41.9 degrees recorded at Sydney Airport. All SSORC divisions and the CYCA Ocean Pointscore fleet started together on a long line at Steele Point, the outgoing tide causing OCS headaches which prompted a general recall from Race Officer Steve Kidson.
On the way to Lion Island, at the mouth of the Hawkesbury River, the boats that went offshore found lighter NE winds whereas those that stayed closer to the coastline enjoyed the fresher north-westerly. It was a long day in the heat with the last of the 37 finishers reaching the Watsons Bay finish line after 5pm.
Inshore for Saturday's 22 nautical mile Seven Islands pursuit race, a fleet of 37 boats had some great racing in the puffy north-westerly wind. It was an upwind work from Shark Island to Spectacle Island followed by a nice run under spinnaker or poled out headsail back from Cockatoo Island to Clarke Island. Teams finished the big day spent and very thirsty.
Thanks to Cruising Yacht Cluib of Australia for their race management support and SSORC sponsors Helly Hansen, Club Marine, Robert Oatley Wines and Short Marine.
SSORC Website - click here
By Lisa Ratcliff
The January Cup kicked off MHYC's Saturday sailing for 2021 today under sunny skies and a moderate south-easterly - a lovely day to be on the Harbour. A Two-Handed Race was held in conjunction with the January Cup, attracting ten entries across the two divisions.
Well done top David Ross and Kukukerchu for taking the double in Division 1. Second in the January Cup was Advanced Philosophy (Peter Sorensen) with Stormaway (Jack Stening & Colin Gunn) third. In the Two-Handed, Kayimai (Rob Aldis was second, ahead of Anitra May (Dion Hart).
Ben Thompson's Alliance also claimed the double win for Division 2 today. Ace (David West) was second in both races, with Innamincka (John Crawford) claiming third in the January Cup and Kaotic (Catherine Rofe) third in the Two-Handed.
To view the January Cup results – click here
To view the Two Handed Race results – click here
Marg Fraser-Martin kept a lens on the fleet from Middle Head today. Here are some of her images…
The 2020 Seven Islands Race was sailed in forty degree heat and a fresh gusty north westerly on Saturday. Thirty seven crews competed, including fourteen Division 3 boats contesting another race in the Jeanneau Cup Series.
Congratulations to division winners – Div 1 Foreign Affair (Matt Wilkinson), Div 2 Farr 'n Away (Chris Lee), Div 3 Beyond Cool (Mark Clement)
For the full results – click here
Marg Fraser-Martin and Tilly Lock were on the water to capture the action…………….
The 2021-2024 version of the Racing Rules of Sailing will apply from January 1, 2021
Competitors should be aware of a few of the important changes:
Start & Finish Definitions have been amended...
The difference is that previously when any part of a spinnaker or bowsprit or even a crew member hiking out crossed the start or finish line, they started or finished. Now it is only when a part of the hull crosses.
Sailing the Course Definition has been updated...
A boat sails the course provided that a string representing her track from the time she begins to approach the starting line from its prestart side to start until she finishes, when drawn taut,
(a) passes each mark of the course for the race on the required side and in the correct order,
(b) touches each mark designated in the sailing instructions to be a rounding mark, and
(c) passes between the marks of a gate from the direction of the course from the previous mark.
Race Signals have been amended...
Code Flag V has been added - Monitor communication channel for safety instructions. Rule 37 has been added - When the race committee displays flag V with one sound, all boats and official and support vessels shall, if possible, monitor the race committee communication channel for search and rescue instructions.
Rule 40 Personal Flotation Devices and Y Flag has been updated for clarification.
Rule 43 Exoneration has been updated.
Appendix G has been updated to increase the visbility of Sail Numbers...
G1.2 Specifications
(a) National letters and sail numbers shall be:
(1) in capital letters and Arabic numerals,
(2) of the same colour,
(3) of a contrasting colour to the body of the sail, and
(4) of a sans-serif typeface.
In addition, the letters and numbers identifying the boat shall be clearly legible when the sail is set.
There are a number of other important amendments along with a large number of "tidy ups" in this edition of the RRS.
Competitors are advised to download and review the 2021-2024 Study Version of the Racing Rules of Sailing - click here
World Sailing Racing Rules of Sailing Index - click here
Australian Sailing Blue Book 2021-2024 - click here
Read more: Racing Rules of Sailing 2021-2024 apply from January 1
Pirates of the Middle Harbour gathered for their Twilight Race tonight, with almost fifty scurvy crews engaging in battle through the Grotto Shoals and the Balmoral Straits.
Winner of the Black Pearl Division 1 was Mark Spring and Highly Sprung fighting off BlueTack (Grant Dawson) and Zen (Gordon Ketelbey). In the Skull and Crossbones Division 2, it was Peter Gibson's Madge first home ahead of Moonshadow V (Lloyd Bennet) and Renaissance (Michael Lowry). Claiming the spoils for the Dead Man's Chest Division 3 was Stephen Smith and Freedom from St Elmo's Flyer (Richard Royle & Gil Burton) and Azlan (Peter Butcher). Plundering the Jolly Roger Division 4 was David Field's Bluebottle, leading home Happy Hour (Harry Bridgen) and Thiseldo (Kevin Bloor).
Some special awards were presented following racing for the Best Dressed Boat Afloat - Zen and the Best Dressed Crews Ashore – Slac 'N' Off and Sanctum.
A fun evening at the club followed a great sail, with several wines and much pirate talk.
For the Twilight Pirate Results – click here
The NSW Optimist Championships concluded today at Middle Harbour Yacht Club with Aidan Simmons from Geelong in Victoria winning the Open Championship and MHYC sailor Jacob Marks crowned NSW Champion for 2020.
Light and shifty conditions prevailed for the Saturday, challenging race management teams and sailors alike. Open & Intermediate Fleet RO Jeremey Atkinson managed three races on The Sound, while Green Fleet RO Robyn Tames completed four shorter races closer to the club at Chinaman's Beach.
A moderate north-westerly, forecast to lighten today, instead freshened to 20 plus knots at start time. Green and Intermediate Fleets were unable to race in these conditions and when the Open Fleet lined up for race five, the breeze strengthened further with gusts to 30 knots. Racing was abandoned for the day and prizes were awarded based on the abbreviated program.
Results Summary
NSW Champion – Jacob Marks (MHYC)
Open Boys
1st – Aidan Simmons (IHYC/RGYC)
2nd – Jacob Marks (MHYC)
3rd – Spencer McKay (WSC)
Open Girls
1st – Hanako Tomishima (WSC)
2nd - Sara Bruce (RPAYC)
3rd – Harriet McLachlan (RSYS)
1st 11 Year Old – Callum Simmons (IHYC/RGYC)
1st 10 Year Old – Zara Marks (MHYC)
Intermediate Boys
1st – Stirling McKay (WSC/RSYS)
2nd – Max Coroneos (WSC)
3rd - Rocco Springer (RPAYC)
Intermediate Girls
1st – Billie Robbins (RPAYC) and 1st Overall
2nd – Pia Hooper (HHSC)
3rd - Meg Bates (MHYC)
Many thanks to the race management volunteers and especially the large number of MHYC parents who supported the event.
To view the results - click here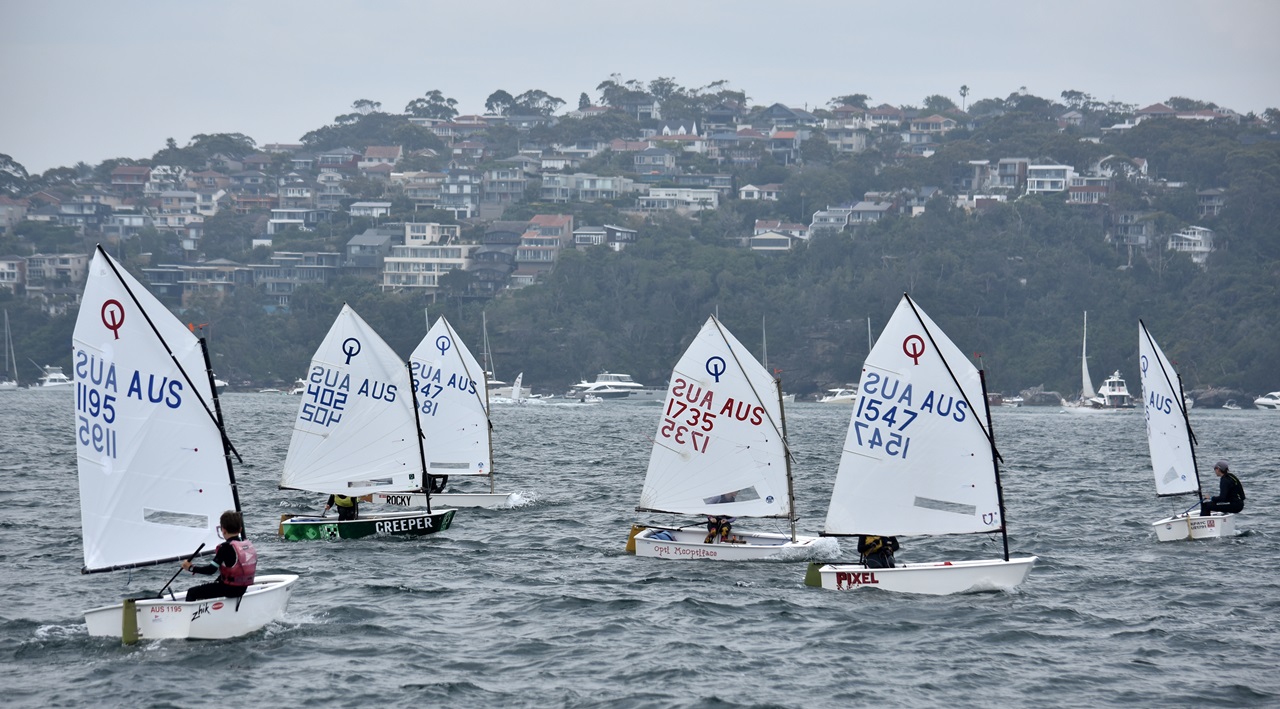 Last Sunday was warm and overcast with a moderate north easterly, providing excellent conditions in Balmoral for three more races on the MHYC Centreboard Club Championship. While the 29er fleet were competing in the NSW Championships at Lake Macquarie, thirteen Optimists were racing at home.
Division 3 race wins went to Sara Bruce, Miles Greenwood & Will Wilkinson and Miles is now leading the Series Pointscore. Will Rogers posted two race wins in Green Fleet.
Many thanks to all the parent volunteers who assisted with race management and safety.
The Centreboard Club Championship resumes on 28 February after the holiday and regatta season.
To view the latest Centreboard Results – click here